Sarah Michelle Gellar on the Brilliance of Buffy and Turning Back to TV
The Nineties icon is set to star in two new series.
---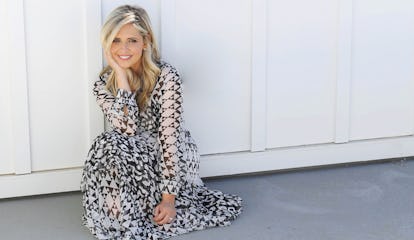 It's been 16 years since television audiences said goodbye to Buffy Summers, the spunky heroine played by Sarah Michelle Gellar on Buffy the Vampire Slayer, but, still, love for the series runs deep—both among fans and for the actress herself. "I'm so proud of what we did," Gellar told W in September. "It's hard in the moment. You're so busy, you're focused, you're working, and then you leave and realize what an important show you were a part of. People discover that show today and it still means the same thing: standing up to your oppressors, female power, all of those things. It's once in a lifetime."
Gellar has worked steadily in the years after Buffy killed her final ghoul, starring in movies and landing a series regular role on The Crazy Ones with Robin Williams, which ended in 2014. She had two children with her husband (and fellow '90s icon) Freddie Prinze, Jr., launched an organic baked goods company called Foodstirs, and mastered social media. (She's more fond of Instagram—where she can be seen partnering with family-friendly brands like Colgate Optic White, her preferred teeth whitening product—than Twitter, which she considers "too much".) And now, she's slated to return to the small screen with not one, but two shows: Sometimes I Lie, a thriller based on Alice Feeney's debut novel that she is starring in and executive producing alongside Ellen DeGeneres; and Other People's Houses, a suburban dramedy akin to an East Coast Big Little Lies. At this point, she's not ready to reveal to much about either series. "I think towards the end of the year I'll have more specifics," she said. "Right now it's about fine tuning everything. I'm a control freak, I don't know if you've noticed."
Complicating matters, she says, is that the industry has changed dramatically since she wrapped The Crazy Ones five years ago. "It's such a different business. It used to be like, this time of year you shot a television show, and this time of year it aired, and that was it. That's just gone by the wayside, which I think is for the better of creativity," Gellar said. "It's not how we consume entertainment anymore. It's about getting the product right and then giving it to the audience."
The fact that Buffy has withstood the test of time, even in the face of all those changes, makes it all the more impressive—and cements Gellar's status as a 90s icon. But while Gellar is proud of the series' subversive take on feminism, she's not comfortable with such a lofty label. "I think that the Buffy the Vampire Slayer show is iconic. I can say that. I don't know where I fall," she said. "I try to separate myself as much as I can. I always say, there's Sarah Michelle Gellar and there's Sarah Prinze. And they're two different people."
Sometimes, however, those two different people overlap. For example: she is preparing for the day she will introduce her 10-year-old daughter to Buffy. "I'm sure there will come a time where my daughter wants to see it and I'll probably have to sit down with her for a little bit," she said. "My kids are still a little young. I think to really understand Buffy you have to be a little older. Sure, she would probably love the fight scenes and the relationships and the costumes, absolutely. But what it means, she wouldn't be ready for yet, so I'd rather wait until the time is right. And only if she wants to!"
On the other hand, the actress is not looking forward to the day her daughter discovers another one of her iconic late '90s roles: Kathryn Merteuil, the sharp-tongued, conniving coke head of a posh Upper West Side private school in Cruel Intentions. "I don't want to explain 'You can put it anywhere' to my child. Ever! Ever!" Gellar joked, before quipping that if Kathryn were alive and well today, she hopes she would be "In rehab! A really good rehab, one that sticks. And maybe some therapy."
Cruel Intentions was just as much of a turning point in Gellar's career as Buffy. While getting the chance to play the bad girl, Gellar was able to work with then-up-and-coming '90s idols like Ryan Phillippe and Reese Witherspoon, as well as screen and stage legends Christine Baranski and Swoozie Kurtz. She also worked with one of her still-close friends Selma Blair. "It was almost like having an acting troupe. It felt very intimate at the time," she said. "We knew we were pushing the envelope so far. We were just excited to be a part of that."
And as far as returning to the small screen goes, she's not concerned about how audiences will receive her. "I have accomplished more in my career than I think I could have ever anticipated. I've been a product of not one but multiple shows that resonate, that people still watch, that people still love and talk about. So, for me, it's all gravy," she said.
Like Buffy, Gellar has a confidence in herself that is palpable, and the quick wit to match. "[I'm proud] that I've been able to use storytelling to make a difference in people's lives," she said. "Life is really hard, and if for an hour or two I can help you escape and maybe even take a lesson from that and give somebody the strength or the courage to fight for themselves and what they believe in? That's a good day's work."
Related: Watch Charly Bliss' Buffy the Vampire Slayer Remake