Sarah Paulson Still Doesn't Get (or Care) Why People Think It's "Fascinating and Odd" She's Dating Holland Taylor
"To me, it's the least interesting thing," the 42-year-old actress said in a new interview.
---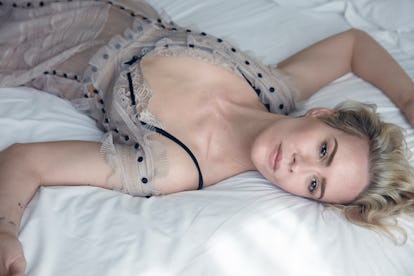 It seems impossible that a person as wonderful as Sarah Paulson could ever have trouble getting a date, but back in 2014, the actress lamented to New York magazine that "guys don't ask me out because they think I like women." And women, well, just couldn't seem to figure her out.
Fortunately, though, Paulson, 42, hasn't had to face that conundrum as of late: She's been dating the actress Holland Taylor, 74, for two years now, which has by all accounts been a glorious time for the couple—making it all the more surprising to Paulson that some have found their pairing to be rather shocking. "Early on, when people found out I was with Holland, some said: 'I think you have to be careful, I'm afraid it's going to affect your career negatively'. I was like, what? It never occurred to me at all," she said in an interview for The Edit.
Many found out just how serious their relationship was when Paulson said "I love you" to Taylor during her 2016 Emmy Awards acceptance speech—a moment in fact that was the only time Paulson actually did pause to consider if her relationship would affect her career. "It occurred to me, should I not do that?" she said, apparently looking puzzled that she would ever even ask that question. "And then I thought, why would I not? The fact I'm having this thought is wrong. But I had a moment of societal concern; wondering if, maybe, people who didn't know that about me would be like, wait, what?"
She added with a grin: "But then, you know, I did it anyway." (She also drove her point home afterwards by telling a reporter, "I want to shout from the rooftops all the time about how much I love that person, so if I can do it in front of millions of people, why not?")
Previously, Paulson has dated Cherry Jones, an actress who's 19 years her senior, and before that, she—gasp—also dated a string of men. All of this seems rather pointless to mention, though, when you consider it from Paulson's perspective. "My life choices are, um, unconventional. I'm with a much older person and people find that totally fascinating and odd, and, to me, it's the least interesting thing," she told The Edit with a shrug.
Her unconventionality, she continued, instead lies in the fact that she's "a woman of a certain age who chose not to have children, and who has made my career my priority. I am the captain of my own ship, and I've never looked to anyone else to validate that, or tell me it's okay."
And Paulson has another thing filling her life with joy these days: She's currently in a group chat that sometimes goes off for hours with none other than Cate Blanchett, Mindy Kaling, Sandra Bullock, Anne Hathaway, Helena Bonham Carter, Awkwafina, and Rihanna—aka her fellow castmates in in Ocean's Eight. "I'm not going to lie, it is a very cool chain to be part of," she added sheepishly.
Related: Sarah Paulson Won't Be Typecast, On Screen or Off
"I Will Not Be Silent": Hollywood's Biggest Names Pledge to Speak Up Against Sexual Assault: