Sasha Luss, Star of Anna with Helen Mirren, Is Luc Besson's New Supermodel Muse
The Russian model is Besson's new Milla Jovovich.
---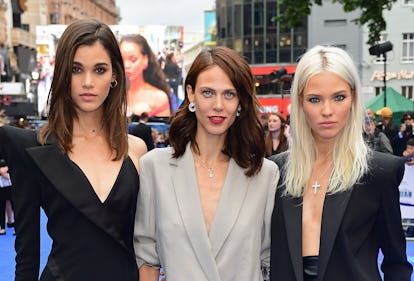 Ian West – PA Images/Getty Images
Earlier this year, Luc Besson's science fiction epic Valerian and the City of a Thousand Planets premiered to tepid reviews and a dismal box office showing. But the film, which also starred Dane DeHaan and featured Rihanna as an alien stripper, did manage to make a bona fide action star of its lead actress, the former model Cara Delevingne, who had previously starred in the film adaptation of John Green's Paper Towns and in Suicide Squad with Margot Robbie and Jared Leto. The film also featured Russian model Sasha Luss in her big-screen debut—and it seems the experience agreed with her, or, at least, she agreed with Besson, for Luss has been announced as the new star of the French director's next sci-fi flick, currently titled Anna .
Luss, who plays the titular Anna, is part of a predictably A-list cast that comprises Luke Evans, Helen Mirren, and Cillian Murphy. Little else has been revealed about the film, which was announced Monday, but this much is certain: Luss is just the most recent in a quite notable lineage of supermodels Besson has nurtured in Hollywood. Model-turned-actress Milla Jovovich had just appeared in a handful of films, including Richard Linklater's Dazed and Confused, before she starred in The Fifth Element and became a science-fiction-slash-action star who would go on to lead the Resident Evil franchise. Then came Delevingne, who similarly had just a handful of credits to her name before Valerian—and now has three more films and a television pilot on her docket. But unlike Delevingne and Jovovich, Luss was entirely untried before she signed onto Valerian—and Anna will be her first-ever starring role. (She did, however, appear in an episode of Fashion Police as far back as 2015, as herself.)
Valerian was, in fact, amply populated with models: Luss played the Princess Lihö-Minaa, who passes her soul over to Valerian when her home planet is destroyed, and Aymeline Valade and Pauline Hoarau also play members of the same extraterrestrial imperial family. Cindy Bruna, the 23-year-old French model, played a guard. And Elizabeth Debicki might not be a model by trade, but the actress, who plays Emperor Haban-Limaï, certainly has the height.
Unlike Delevingne, who had resigned from modeling around the time she embarked on her film career, Luss is still very much a part of the fashion sphere. Amid duties promoting Valerian, the 25-year-old model still found time for fashion month; she walked in Balmain's Spring 2018 show during Paris Fashion Week earlier this month. (She also starred in the brand's Fall 2016 campaign with Kim Kardashian.) Over her career, she's appeared in campaigns for the likes of Chanel, Valentino, and Dior, and she has additionally walked for Prada, Calvin Klein, and Lanvin—and many others.
It's early days yet for Anna, but it looks like Besson has found his latest supermodel obsession in Sasha Luss.
Dane DeHaan of 'Valerian and the City of a Thousand Planets' always gets carded at bars and R-rated movies, even though he's 31: