Saturday Night Live and Tina Fey Went Inside the Royal Wedding Reception
The cast's British accents are so funny.
---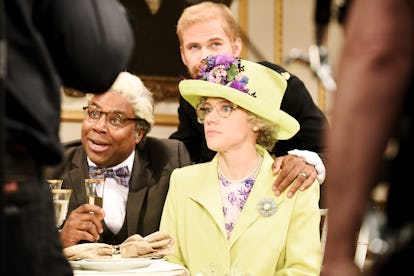 Photo by: Will Heath/NBC/NBCU Photo Bank via Getty Images
Rather than spoof the royal wedding broadcast itself, Saturday Night Live's season finale last night, with host Tina Fey, took us into the exclusive after-party at Frogmore House, where Prince Harry (Mikey Day) brought the royal videographer on a tour of the festivities. In attendance were Prince William (Alex Moffat), holding onto baby Louis, Meghan Markle's great uncle (Kenan Thompson), Queen Elizabeth II (Kate McKinnon) and even a former co-worker from Meghan's days as a briefcase-holding model on Deal Or No Deal (Heidi Gardner). In typical British fashion, everyone was pretty tipsy but no one could really dance.
One of the best impressions in the bit (and props to the whole cast on their accent work) is Pete Davidson as shirtless, bead-bedecked Russell Brand, just happy to have found himself at a table with Elton John (Aidy Bryant).
Now, we don't know if the SNL gang had a spy on the inside or what, but they did get a few of the party details right. There was, according to sources, plenty of drinking and dancing, and not only was Elton John there, but he even performed. Really, there could be three or four sketches written about this collection of celebrities. We're thinking Cecily Strong as Diana's Ghost, Colin Jost as Trying-To-Crack-A-Joke-Charles and Maya Rudolph making an appearance as Meghan herself. But ah well, this was fun, too.
And if nothing else, this is the sketch that gave us Tina Fey in a giant purple hat making out with Chris Redd. Honestly America, what more do you want?
Check out the sketch here, and pay special attention to the Queen's loud outfit. At first it seems like a Saturday Night Live parody of what Elizabeth II would wear but it was actually just… accurate!
Related: Everything We Know About Harry and Meghan's Royal Wedding Reception and After-Party