Tokyo It Girl Sayo Yoshida Reveals the Very Best Vintage Store in a City Full of Amazing Vintage
Plus the rest of the model and DJ's hidden gems in Tokyo.
---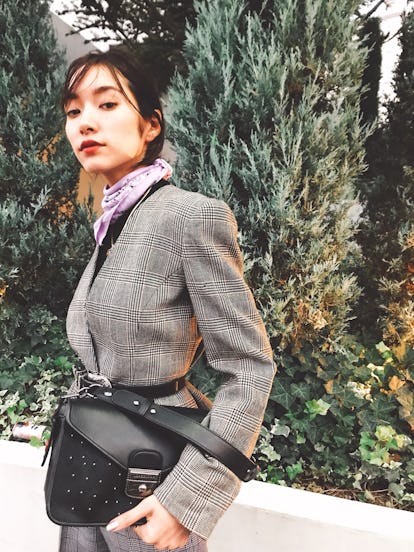 The Japanese It girl Sayo Yoshida has modeled for everyone from Dolce & Gabbana to Koche to Coca-Cola and Shiseido, and is one of Tokyo's most in-the-know insiders. But she hadn't seen an installation quite like the one in the Trunk Hotel, a minimalist, only-in-Shibuya style boutique establishment that recently got transformed into a lush garden complete with VR and light installation pieces by the French champagne house Perrier-Jouët. The VR experience in particular, made by the Chicago-based art duo of Sean Gallero and Petra Bachmaier (known as Luftwerk), created a fantasy garden straight out of the ideal champagne buzz, a little secret cellar Eden in the middle of Tokyo. "It feels like we're in a garden!" said Yoshida. Here Yoshida gives us the 411 on the hottest spots in the city, while sipping a little Perrier-Jouët in the afternoon.
Favorite places to shop: I've noticed that there are a lot of vintage stores in Tokyo that attract attention from people overseas. Among them though, my favorite is probably Birthdeath Tokyo in Shibuya. They have a constant stock of European luxury vintage from the 60's and 70's. I also really enjoy Kalma Tokyo in Shimokitazawa. The shop really reflects the owner's style, which is why I love it.
Favorite venue to see an underground band: I think the best place to listen to Tokyo's best underground music is at VENT TOKYO nightclub.
Restaurant you're a regular at: There's a restaurant in Shisen-cho, Shibuya called Kaika-ya that specializes in cooking fresh fish! I always bring my friends from abroad here when they're in town.
Favorite coffee shop: Fuglen Tokyo. The Nordic vintage-style interior combined with delicious coffee makes this place my recommendation.
Best spot for a stiff drink: Tractor(Bar) in Naka-meguro. From 8 a.m. to 4 p.m., they serve lunch plates called "Tractor morning," but it converts to a music bar at night that doesn't close until 3 a.m. It's a very small space but it's a place where musicians, DJs, and creatives come together.
Staycation spot: Definitely Yakata-bune! I've always wanted to ride on that particular tourist attraction. It looks like your meal will be prepared on board and you can do karaoke, too.
Favorite record store: There's a shop near my place that sells a good selection of jazz and disco records, but my recommendation is Technique Tokyo in Shibuya. Japanese DJs who have active careers overseas often recommend records with their own taste in mind. Customers are allowed to listen to the records in store, so it becomes a rather relaxing space.
Favorite gallery or museum: Wako gallery in Roppongi. KAWS, Gerhard Richter, Ryan McGinley, and other various famous artists have shown their work at this space.
Favorite spa: I don't have a spa that I frequent, necessarily, but I make sure to always to Bloc Japan hair salon for regular hair maintenance. I highly recommend their intensive moisturizing treatment for damaged hair.
Go-to workout: I highly recommend aerial yoga at avity Daikanyama. For running, I recommend a round in Komazawa Park.
Designer of the moment in Tokyo: I think knitwear designer Mame Kurogouchi is going to be the next big thing!