The Perfect Jeans Are All About Flattering Fabrics and the Right Proportions
According to Scott Morrison, founder of 3×1 Denim.
---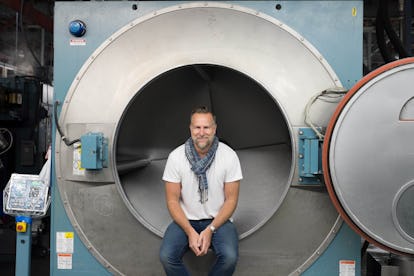 Since launching 3×1 denim in 2011, Scott Morrison has become a street style favorite thanks to his fashion-forward shapes and premium materials. (See recent fashion week photos for proof.)
How did you fall in love with denim? Unbeknownst to me at the time, my love for denim probably started around age 4 or 5, with me wearing a new pair of Levi's while soaking in our bathtub at home. That was the end of the shrink-to-fit era, thankfully, and I still have memories of Miller's Outpost and what felt like cardboard clothing at the time. That being said, my life really changed with a pair of Replay jeans I bought in 1997. They happened to be a limited edition pair of 914's made from Japanese denim. It was pretty rare to find Japanese denim in the early-to-mid '90s, and apparently it had to come from an Italian company, but I'll always remember how amazing those jeans felt. It became the catalyst for sourcing denim in Japan and Italy, and opened my eyes to the world of denim outside America.
What denim styles are you most excited about right now? I'm pretty excited about our Crop Fringe jeans at the moment. They're 100 percent cotton and selvedge, which is a rarity in the women's market. We sold out of the indigo version in less than a week. It's exciting to see something capture people's imagination – especially since the market has been so obsessed with skinny jeans and super stretch denim these past few years.
What do you try to accomplish with every season/collection? Every season is different, but I'm usually trying to tap into something that feels really relevant in the world of fashion that will translate into something relevant in our world of denim. Our fringe group is a great example of interpreting the leather fringe trend last season and working with our laundry in Los Angeles to develop a way to do something similar with denim. The feat is in the process itself, which is proprietary, leaving only the indigo dyed yarns dangling.
Other than that, we're trying to move the brand forward every season, and as our business grows, so does our customer base and their expectations. On a personal level, I want to see our customer responding to the more directional things we do which in turn allows us to be more creative and take more risks.
Why do you love working with denim? That's a great question. I certainly never planned on becoming a denim designer, but I entered into the business at a really incredible time, right before 'premium denim' became a big thing, and I fell in love with the process: fabric selection, design, wash/laundry… it's so different from any other part of the fashion business and I think that the small group of denim people operating in our industry really do bleed blue. It's a very unique thing to be a denim designer.
What's your secret to creating the perfect pair of jeans? Finding a really flattering fabric, and playing with proportion. Fabric is the fundamental starting point for any denim designer, and depending on what you want to create, you've got to choose the right fabric. Once you've done that, I'm a stickler for proportion – specifically getting the back and front pockets and j-stitch shape, size, and placement correct.
What's the one denim trend you would love to resurrect from the grave? The one thing I wish more women embraced was authentic, rigid denim or 99/1 percent denim. Not raw, unwashed denim, but the more traditional, close to 100 percent cotton denim that looks better than just about anything else you can wear if you're willing to break them in and make them your own. It's certainly not as comfortable as super stretch denim, but there's something incredibly sexy about a woman in a great pair of jeans that fit her just right.
What place most inspires your designs? New York City is my home, and my one consistent inspiration for the better part of 18 years. It's hard not to get drawn into the pace, the energy, the excitement of knowing anything can happen at any time, in ways you simply never expected. That being said, Tokyo is probably the one place in the world that literally transforms me creatively. I've never been to a place where I can find inspiration in everything, from packaging to food presentation, the mixed architecture, the appreciation for denim and indigo dying, wabi-sabi, etc. There's inspiration everywhere in Japan, and I hope to continue going there each year to experience it all over again.
Who is your denim style icon? It's funny … I think I would have answered this differently if you'd asked me 5-10 years ago, and probably referenced early film icons (McQueen, Brando, Monroe, etc.) that played a critical role in bringing denim to the forefront of consumer culture, but more recently I've been obsessed with the '90s supermodels like Claudia Schiffer, Stephanie Seymour, Karen Mulder, etc. and NYC rock icons like Debbie Harry and the Ramones. Classic 5 pocket jeans, high rise silhouettes, and that timeless, could care less attitude … that resonates with me today more than ever, and I think at continually shapes my opinion and my inspiration.
Photos: The Perfect Jeans Are All About Flattering Fabrics and the Right Proportions
Photo by Daniel Bernauer.
3×1 box top fringe in Peru, $245
3×1 crop fringe in Lima, $295
3×1 box top fringe in Sierra, $245
3×1 crop fringe in Tango, $295