Sean MacPherson's Montauk
A true insider's guide to every New Yorker's favorite spot to live it up out east, from the hotelier who has called it home for over a decade.
---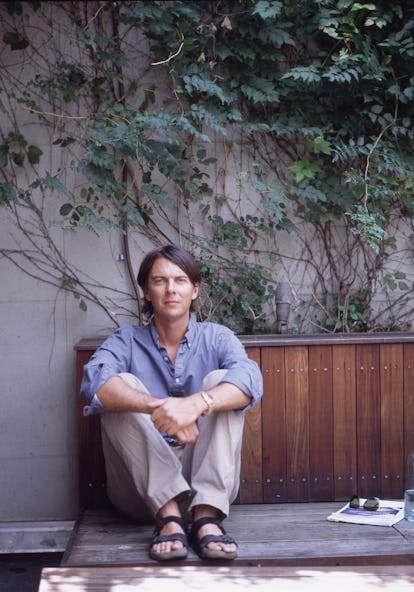 The hotelier Sean MacPherson, who operates a slew of notable Manhattan properties celebrated for their fun times and, well, celebrities, might even feel more at home out east in Montauk, where he has been spotted around town since the late 90's, before it became the weekend circus it is now. After he got married in 2011, he and wife Rachelle Hruska built themselves a Montauk beach shack for their now-growing family; by then, he had already taken over the Crow's Nest and turned it into a stylish hotel and restaurant that begat an entire wave of newcomers. Here's MacPherson's insider guide to Montauk, from a true insider.
Tell me about your neighborhood in Montauk. We live in a beach shack on a dirt road in Ditch Plains, which is the most popular surf spot in Montauk and one of the best on Long Island. Ditch Plains's small, funky homes and boho-surf community remind me a bit of Malibu in the 70's, where I grew up.
Describe in three words the style of your home there. Robinson Crusoe luxe.
Local spots so good they make the traffic in and out of the city worth it. Sitting on the beach while enjoying a coffee and donut from The Ditch Witch, a sandwich truck in the sand on Ditch Plains beach, is just about my favorite breakfast in the world—and definitely worth the trek.
Where must you stop on the way in from or back to the city? Pierre's in Bridgehampton is an ever-reliable pit stop and serves the best croque monsieur in the Hamptons.
Favorite shop. Melet Mercantile is the most interesting vintage shop on Long Island. Bob Melet, the owner, applies his unique mix of exuberance and scholarship to curating a shop full of treasures. (Full disclosure: he has a small outpost in the Crow's Nest.)
Local delicacy you can't live without. The local flounder is fresh and excellent at almost any restaurant in Montauk.
Favorite diner. If you're in the mood for an American breakfast, John's Pancake House won't disappoint.
Best spot for coffee. Naturally Good, the local health food store, serves excellent coffee—and even better local gossip.
Favorite locals bar/hangout. Many say that a local rite of passage is singing Karaoke at Liar's.
One insider tip for Montauk visitors in summer. Mid-week Montauk is rarely crowded and still something of a paradise.
What's your date night restaurant? Dave's Grill is a not-so-secret-oasis from the Montauk mayhem.
When in the mood to get dressed up for drinks, you head to … The city. Montauk is decidedly casual and something of a respite from fancy cocktails.
Everyone claims to have a perfect beach spot. What's yours? Culloden Point, the opening to the Long Island Sound, is spectacularly beautiful and never crowded. Walking its beach, one feels as if it could be 1839, when the Amistad anchored on its shore.
Is that also your favorite surf spot? If not, what is? My favorite surf spot is Poles, in front of my house. At sunset when most people leave the beach to go out for the night, I get to surf alone.
What's a local gallery that you patronize? If you're fortunate enough to be invited to Peter Beard's home, it's about the best window into Montauk's cultural history available (Rolling Stones, Andy Warhol, Jackie O., etc.).
Local motto/philosophy you've picked up. Travel light; be heavy.
Photos: Sean MacPherson's Montauk
Photo by @rachellehruska.
Photo by @rachellehruska.
Photo by @rachellehruska.