Selena Gomez Will Tweet You Now
How Disney's reigning pop princess texted, Twittered, and YouTubed her way to the top.
---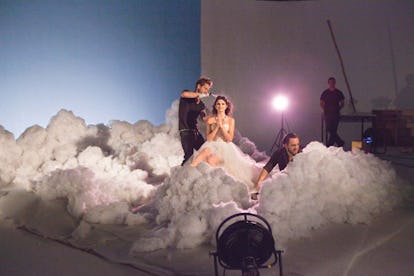 Heading over to the Disney Channel Studios here in Spain for over 20 TV and Magazine interviews, today is going to be a looooong day. I will check back with you guys later tonight.—Facebook, March 28, 2010 **
What are the odds……Today I graduated from high school and got my diploma!!!!! I also filmed my graduation ceremony in the upcoming movie Monte Carlo. So in a weird way I was able to experience an official graduation, LOL. How is everyone doing? What are your plans for the summer? Miss you all and I will update again soon.—Facebook, May 10, 2010
One bright Saturday afternoon last July, in a field in Old Westbury, New York, Selena Gomez was tossing around a Frisbee, dressed in a pink-striped T-shirt, a floppy knit cap, and jeggings (translation for anyone over 18: leggings that look like jeans). Behind her a gaggle of girls holding clusters of balloons were laughing and dancing, while nearby, her stepfather, Brian Teefey, and one of her CAA agents, Christian Carino, were throwing a ball back and forth. It was precisely the kind of leisurely summer day you might expect a teenage girl to be having—were that girl not Selena Gomez, one of the most bankable brands on the planet. The scene in question was, in fact, just another workday for Gomez, who was shooting a commercial for Kmart that was meant to evoke—what else?—a day in the life of Selena Gomez. Her Dream Out Loud by Selena Gomez clothing line was due to hit 1,308 Kmart stores in August, and while a wind machine gave her chestnut mane that freshly blown-in-the-breeze look, she was flinging the Frisbee not to a friend but to an off-camera assistant.
Gomez is a multiplatform Disney phenom whose Google Calendar rivals that of a presidential candidate, though hers is still overseen by her mom and manager—her "momager," in Disney-speak—Mandy Teefey. As a momager myself, albeit of a nonfamous nine-year-old, I make it a point to meet my daughter's friends. And as it happens, her virtual BFF is Gomez. The two have never met in person, but they've spent untold hours together just about everywhere else: online, at the multiplex, on iTunes, at the store, and—all too regularly, I sheepishly admit—on Wizards of Waverly Place, the hit Disney Channel show that propelled Gomez to the pinnacle of teen stardom.
Disney has famously spawned the careers of many child performers, from Annette Funicello to Britney Spears. Long ago, teen stars reached out to their fans via the TV show, movie, or concert they headlined, or through interviews with mainstream media and fanzines. But thanks to Disney's synergistic multiplatforming—its ability to move young talent across all distribution channels—Gomez and her Disney cohorts are now movie, music, and TV stars simultaneously.
What's more, Gomez embodies a new breed of star, one whose success rests on her ability to connect directly with fans on Facebook and Twitter. Where once celebrity would have put them on a pedestal, at a carefully cultivated remove, today's brand names want to be wherever their fans are. And, increasingly, it's in cyberspace. Goodbye, Garbo; hello, Google. Via Twitter and Facebook, Gomez and company perpetuate the illusion that they've erased the line between official appearances and their personal lives. It's as if they've granted each fan an all-access pass to their real, authentic selves.
"Twitter and Facebook and a clothing line and music videos and personal appearances and autograph sessions all allow you to have a much more intimate relationship with your fans than ever before," says Abbey Konowitch, executive vice president of Disney-owned Hollywood Records, which has overseen the music careers of Gomez, Miley Cyrus, the Jonas Brothers, and Demi Lovato, all of whom followed a similarly synergistic path to fame. Gomez's success, insists Konowitch, is no fluke: "She's very focused on being a big star. To take six months off, to these kids, is almost like an obscenity." While Disney insists that it counsels its charges to slow down, "no one wants to," he says, "because it's now and it's competitive, and everyone is afraid that someone will take your slot."
In July alone, after spending months in Europe shooting her first grown-up movie—Fox 2000's Monte Carlo (costarring Leighton Meester)—and touring with her band, Gomez was at the center of a media blitz to plug her clothing line; her debut feature film, the family-friendly Ramona and Beezus; her last season on Wizards; and her new single, "Round & Round." The music video premiered in June on the Disney Channel, during the episode of Wizards my daughter was watching—which is how the song ended up on her iPod 30 minutes later.
When Gomez launched her Facebook page in February 2009, she had 350,000 friends; 18 months later that number had grown to 8 million. More than 2.5 million people follow her on Twitter, among them real-life friends and fellow pop stars Taylor Swift, Khloé Kardashian, and Justin Bieber, who tweeted to his 4 million followers on Gomez's birthday in July: "HAPPY BDAY to my amazing friend @selenagomez who not only turned 18 but has her movie Ramona & Beezus coming out THIS WEEKEND! Proud of U!!"
"I don't look at my schedule because I would freak out," Gomez told me on a rainy July morning in her suite at Manhattan's London hotel. Her cousin Priscilla was asleep in one adjoining room; her mother and publicist were listening in from another. She was dressed in shredded boyfriend jeans and a shape-hugging white camisole, and her face was makeup- free, save for a touch of pink lip gloss. "It looks like a lot on paper," she went on. "And it really is a lot. But it's a whole lot of what I love. I just did a tour in Europe and it was really hectic. Every time I got in the car, I would ask my mom, 'What's next—fans or business?'"
It was nine days after the Kmart shoot, and she'd been working nonstop, having gone home to Los Angeles for the first time in four months, where she shot the cover for her second album, due out September 21, and recorded a few songs. ("Feels so good to be home! Shot my album artwork for the next record today! Ah, I can't wait for yall to see/hear all the new stuff!" she enthused via Twitter.) She had also sung "Round & Round" on America's Got Talent, wearing stilettos and a cocktail dress in what was likely a bid for the non–Mouse House viewer. That same night she'd hopped the red-eye to Miami to attend a Hispanic awards show and do an all-day press junket for Ramona and Beezus with 10-year-old costar Joey King. She even found time to join Kim Kardashian at the Beach Bunny Swimwear fashion show, and photos of the pair in conversation quickly made their way online. "When I hear people say things about her in the press, they're like, 'she doesn't really do anything and that's so not true,'" Gomez said of Kardashian. "She's one of the most loving, hardworking people I've ever met. She signs for all her fans and I really look up to that. She came to my Sweet 16. She's just a really nice person. That whole family is."
For all the demands of fans and business, Gomez is strikingly grounded and warm in person, with an easy, raspy laugh and preternatural poise. Her artistic output, like the girl herself, is upbeat, accessible, and, above all, winsome. "What blows me away about Selena is her uncanny ability to be both 40 years old and seven years old," says Swift, a close pal and fellow traveler on the supernova circuit, who met Gomez two years ago, when they were double-dating Jonas Brothers. "She has this button she can push for which age she wants to be. One minute she's in a meeting with people three times her age making career decisions and holding her own, and the next she'll go to Disneyland and get cotton candy." Gomez may be "loud and fun," Swift adds, "but that should never be confused with someone who is not in complete control. She knows exactly what she wants and what she wants to come next."
If Miley Cyrus has decamped for a more knowing milieu, Gomez is clearly her fresh-faced heir. (My daughter, for one, has soured on Cyrus, confused by her newfangled edginess. And like any parent who worries about her kid falling in with the wrong crowd, I'm happy to discourage the friendship.) Gomez is actually older than Cyrus, but she seems younger, owing as much to her heart-shaped face, wide chocolate eyes, and purity ring as to her references to her curfew and her Christian homeschooling near the Wizards set. There are no pole dances on Gomez's résumé, and she is determined to bring her fans along with her as she navigates the path to a post-Disney world.
"Selena won't do anything without the approval and love of the fans," says veteran designer Tony Melillo, co-owner of Cynosure Holdings, the branding firm that created Gomez's boho-feminine, budget-conscious juniors line for Kmart. "She's mass. She appeals to everyone."
Her Hispanic heritage was key to Disney's casting of her—as it was to Kmart's, a sizable percentage of whose customers are Latino. But Gomez (whose father is Mexican-American) doesn't speak much Spanish, and says she didn't really think a lot about being Latina until she attended the 2009 ALMA Awards and heard host George Lopez describe the difficulties he'd encountered as a Hispanic entertainer. "I was completely floored by that," she told me at the hotel. "I didn't realize it was such a big deal."
Raised in Grand Prairie, Texas, by her divorced mom, who was 16 when she was born, Gomez landed on TV at age seven in Barney & Friends. She was 12 when Disney picked her out of thousands, after holding open calls in five cities, and several supporting roles later she was cast as a sassy teen with magical powers in Wizards, among the top-rated shows for six- to 14-year-olds. The series debuted three years ago; two years later, a spin-off Disney Channel movie delivered 13.5 million viewers, making it cable TV's second-highest-rated scripted telecast to date. A recording contract with Hollywood Records soon followed, as did plenty of play on Disney Channel movie soundtracks and Radio Disney, which helped Gomez break into the mainstream with her upbeat pop-dance tunes.
Just what it takes to fuel this new breed of teen stardom was apparent in July, when Gomez hit New York in promotional high gear. In the halls of Sirius radio one morning, she was running through interviews and posing for pictures with execs, DJs, and their kids. She was dressed in skinny jeans, a peach silk camisole, and six-inch Christian Louboutin peep-toe pumps, and her hair was curled into soft waves. "First spin of 'Round & Round' in America! Right here!" one DJ bragged as onlookers snapped pics with their camera phones and told Gomez how much they loved her.
It was a refrain she would hear everywhere she went. "Selena! Your entourage has grown!" Taylor Strecker, the boisterous Cosmo Radio host, greeted her as she caught sight of Gomez's team, which, apart from her mother, cousin, and publicist, included a security guard, a makeup artist, and two PR guys from Hollywood Records. In their rowdy live interview, Strecker plugged Gomez's films, concerts, music, and clothing line before bringing up Gossip Girl actress Taylor Momsen, who was in the news for telling a journalist that her vibrator was her best friend. "There are so many girls your age who are just so slutty and out of touch," Strecker said. "How have you escaped being an asshole?" Gomez laughed. "My mom—my mom goes everywhere with me." Earlier that week I'd asked her what age she relates to most. "Fifteen," she'd replied. "I'm about to be 18, but I don't have enough experience in a teenager's world. My cousin's 18, and her friends are talking about college and fighting with their boyfriends, and I've never experienced any of that stuff, because I guess I'm living a different lifestyle. I've been raised around adults, but I'm still very naive."
Thirty minutes and umpteen autographs later, Gomez was sitting in front of a laptop at Z100's studio in TriBeCa, answering questions culled from the 4,000 submitted for her live online chat. Afterward, she went off to change for the New York premiere of Ramona, and I chatted with her mother. "Two nights ago she wanted to go to Times Square with Priscilla, and I said, 'You can't go there,'" she explained when asked what restrictions her daughter's fame necessitates. "So that was a bummer for her. She can't go to the mall—that's too hard. But we try to keep it normal, so if she wants to go to a movie, we go." Minutes later her daughter emerged from the bathroom completely made over, in satiny white shorts, a white camisole and jacket, and heels, and wearing a bright-red mouth. "This is so Blake Lively," Gomez said, laughing, "only she'd be wearing this without the top underneath."
By 4:30 p.m. she had changed again, this time into a flirty bustier with a bow and a black Valentino pencil skirt, for her first appearance on the Late Show With David Letterman. Inside she may feel 15, but this was late-night TV—a whole new demographic. "I know you're a kid, but you don't look 17," Letterman told her awkwardly on air, suddenly holding up a photo taken earlier that day that showed Gomez on a visit to Hooters. "Here's what I'm talking about," Letterman said. Gomez, who practically grew up on camera, was all composure, treating Letterman as if he were some crazy relative she was humoring. "I like Hooters!" she said, describing her love of fried pickles and curly fries. "I'm from Texas, we fry everything: fried butter, fried Oreos, fried Twix, fried Twinkies."
By 9 a.m. the next day, Gomez was in a dressing room backstage at The View. She had already made a quick trip to Rockefeller Center to chat live with the Today show gang, done a run-through of the Dream Out Loud fashion show she'd narrate on The View, and was about to sit for an interview with Latina magazine. By the end of the day, she would have plugged five different projects, sometimes all in the same segment.
Carol Channing was another View guest that day, and the two were introduced. "Shelena? Shelena?" the 89-year-old Channing said, trying to make out her name. The pair made a curious picture—old showbiz meets new—and when Channing learned that Gomez was to turn 18 the next day, she handed her a gift. "It's just out!" Channing said of her new CD of gospel songs. No sooner had Gomez returned to her dressing room than Lindsay Lohan's courtroom mug shot flashed on the flat-screen TV. "I'm praying for her," Gomez, girlish in a floral-print chiffon blouse, said of the onetime Disney star, this year's cautionary tale. "People are way too judgmental. Everybody goes through bad times. I think she's talented. I loved her in Mean Girls." Rounds of interviews later, Gomez was backstage at Late Night With Jimmy Fallon, all glammed up in a lavender strapless minidress, with smoky eyes and a wavy Forties 'do. Her team was clearly exhausted—her cousin was napping on a nearby settee, and her mom was ill and back at the hotel. But Gomez seemed to be enjoying herself. ("Had a good day! Now my mom is sick :/ gonna make sure she is good! Love you guys!") While she waited to follow Steve Carrell into the guest chair, she blew out the candles on the huge cupcake presented to her, the first of a slew of birthday treats that would come her way in the next 24 hours—so many, in fact, that the next day a sedan would be designated "the cake car" to ferry them all.
All week long Gomez had talked about her 18th-birthday plans on network television, and, finally, that weekend she celebrated at home—with a karaoke barbecue. Among the 250 guests were family, friends, assorted Disney execs, and the casts of Wizards, Ramona, and Monte Carlo. One cake re-created her first album cover; another was crowned with edible icons of the past year: a driver's license, a cap and gown, her two movies, and the new CD and clothing line. Plugging them all, however, had taken a toll on Gomez's voice. Though she went ahead and appeared on George Lopez's talk show, using a speech synthesizer à la Stephen Haw­king, Gomez reluctantly canceled a slate of concert dates. She hit Facebook to explain why, supplying the kind of intimate detail once reserved for bedside diaries. Stars have always been just like us, but these days they're eager to show and tell us firsthand just how real they really are:
Hey guys, by now I'm sure most of you know that my voice is gone and that I had to cancel some of my upcoming shows. After my 2 week promo tour with Joey [King] I started to feel pain in my throat from talking too much. As soon as I came home I went to see my doctor and he said that I had damaged my vocal chords and that I had acid reflex (probably from pickles). He put me on medication and wanted to see me in a few days. When I went back my voice had gotten much worse. He then told me that I had to cancel my shows and be on vocal rest for a week. I felt so horrible that I couldn't perform. I begged the doctor to give me more medication to last me through these shows, he said if I went I could lose my voice completely and have permanent damage. I had to give up and agree to not go but I WILL make it up. We are doing the best we can to reschedule all of the shows and I will do a 2 hour meet and greet in each city that I missed when I come back into town. We are also trying to see who was planning on coming to the shows so we can give you all tickets to the rescheduled shows. I am SO sorry about all of this and really hope I can see you all when I'm better….
I'm sorry, I'm sorry, I'm sorry. 🙁
I love you all so much and can't wait to see you. Thank you for understanding. It means so much.
While all this connectivity allows cyberstars like Gomez to be everywhere at once—on our phones and laptops, in our living rooms and multiplexes—it can also bite back. "I've learned that I need to have a tougher skin," Gomez told me, acknowledging that there always seems to be someone around with a camera phone ready to instantly upload her mistakes to the world, something celebs of an earlier generation never had to contend with. "It makes you really paranoid. It's not like 'Cut—that's a wrap!' and you can continue to be a normal person. You have to continue to be on. It's scary that you constantly have to be looking around. My mom always reminds me," she added, suddenly sounding like a kid again, "that if this isn't fun anymore, then I shouldn't do it."