Selena Gomez's "Boyfriend" Video Turns Prince Charming Back Into a Frog
The singer puts a dark spin on a classic fairytale in her newest music video.
---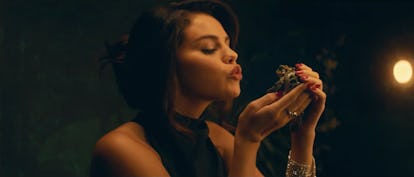 Photo courtesy of Selena Gomez/YouTube.
Recently, Selena Gomez has been quite open about how she hasn't had the best of luck in the romance department.
It's something she touched on with her third studio album, Rare, and something that she continues to explore in the newly released deluxe edition, which includes three new tracks. One of them is "Boyfriend," the musician's latest addendum to the chronicles of her quest for for love.
Justin Bieber's "Boyfriend" posits what he wold do "if" he was in a relationship with you and Ariana Grande's "Boyfriend" insists that you are absolutely not her paramour, but Gomez just wants to know, "Are there any good ones left?"
With lyrics like "She knows she'll find love / Only if she wants it," "I needed to lose you to love me, and now, "I want a boyfriend / But I just keep hitting dead ends," many of the songs on Rare serve as reminders that sometimes dating is necessary, but also it really is a horrible experience most of the time.
Just before she released the track, Gomez acknowledged on Instagram that releasing new music amid the coronavirus pandemic could be dicey, especially when the song's title might suggest frivolity. But she wanted to be clear that "a boyfriend is nowhere near the top of my list of priorities" right now and that she was "praying for safety, unity and recovery during this pandemic."
In the music video for "Boyfriend," the famously unlucky-in-love singer takes matters into her own hands, going on date after date with dud after dud, eventually turning these could-be Prince Charmings into frogs. It's like a dark fairytale version of Hustlers, with Gomez and her girls getting revenge on all the men who do not deserve them.
Related: Selena Gomez Practices Social Distancing By Dancing Alone in "Dance Again"