Just Kidding: Selena Gomez's Instagram is Public Again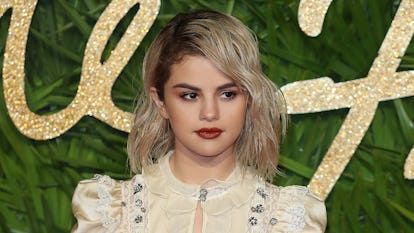 Neil Mockford/FilmMagic/Getty Images
When you're the most-followed person on Instagram for two years running, you can pretty much do whatever you want on the social media site—which is why Selena Gomez turned her Instagram account private early Tuesday morning, just a few hours after she posted and deleted a cryptic message on her Instagram Story.
Update: Less than 24 hours after the social media power move, Gomez has restored full public access to her Instagram feed, and the nation has sighed a breath of relief. The original story of how she came to temporarily make it private continues below.
People first noticed that the world's most popular Instagram account had locked out new followers around 7 a.m. ET, when major fan account @SelenaHQ tweeted out the news. Selena's fans reacted with shock and worry: "So Selena Gomez made her insta private. Guys am shook and happy at the same time. Like I want someone else to take that most followed title. So they can leave my baby alone. All the slander against her is just too much," one concerned fan tweeted. Others, however, found it funny that an account followed by hundreds of millions of people was now "private." "Selena has half of ig following her, what's the point of putting her account on private ?" one wrote.
Gomez flipped the switch shortly after posting and deleting a message seemingly criticizing her Billboard "Woman of the Year" profile to her Instagram Story, according to a screenshot captured by JustJared. "Never will I let another human guess my words ever again. Or invite them in my home. That is so hurtful. The most 'ridiculous' part of that is no one knowing my heart when I say things," she captioned a zoomed-in screenshot of the Billboard article, which was published last week.
The section of the article in Gomez's photo also uses the word "ridiculous," which was attributed to the "Wolves" singer. Here's that part, the article's opening paragraph, in full: "There's a five-foot teddy bear sprawled across the kitchen floor in Selena Gomez's North Hollywood home. 'I know, I know,' says Gomez, rolling her eyes, acknowledging that the stuffed animal doesn't quite blend with the trio of armchairs nestled in the inviting, marble-accented nook. 'It was a gift, and at first I thought, 'This is so ridiculous, I can't wait until I give it away to another person.' But Gomez, 25, hasn't let go of it—yet."
It's unclear what exactly offended Gomez about that seemingly innocent description, although it appears that she feels that she was misquoted about her feelings toward the teddy bear. The situation is made even more confusing by the fact that Gomez posted her Billboard cover on Twitter and thanked the magazine last Thursday, immediately after the article was published—which would imply that she had read and approved of the article at that time. And over the weekend, after attending the Billboard Women in Music 2017 event on Saturday, she posted the magazine cover on Instagram. "Thank you beyond for your acknowledgment and honor @billboard but honestly thank you more for the event you held for women. That night was so inspiring and every woman spoke eloquently and with such force. I'll try to continue to give my best to even remotely live up to a title. In the mean time I hope we all continue to give our best when the world wants to give us the worst. We aren't stopping the fight," she wrote.
Neither Billboard nor Brooke Mazurek, the profile's author, have commented on Gomez's unexplained criticisms. And while the only way we'll find out what exactly was so "hurtful" about the Billboard story is from Gomez herself, she's previously acknowledged that she prefers to step back from the spotlight than offer up long, drawn-out explanations when things get overwhelming—so we many never solve the mystery of the five-foot teddy bear in her marble-accented nook.
Selena Gomez's Style Evolution, From Disney Days to Fashion Forward Superstar
Selena Gomez arrives to the 23 Annual IMAGEN Awards on August 21, 2008 in Beverly Hills, California.

Getty
Selena Gomez arrives at the Teen Choice Awards 2009 held at the Gibson Amphitheatre on August 9, 2009 in Universal City, California.

Getty
Selena Gomez arrives at the 2009 ALMA Awards at Royce Hall on the UCLA Campus on September 17, 2009 in Westwood, Los Angeles, California.

Getty
Selena Gomez arrives at the People's Choice Awards in Los Angeles, California on January 5, 2011.

Getty
Selena Gomez arrives at Nickelodeon's 23rd Annual Kids' Choice Awards held at UCLA's Pauley Pavilion on March 27, 2010 in Los Angeles, California.

Getty
Selena Gomez attends the "Justin Bieber: Never Say Never" Los Angeles Premiere at Nokia Theatre L.A. Live on February 8, 2011 in Los Angeles, California.

Getty
Selena Gomez arrives at The 53rd Annual GRAMMY Awards held at Staples Center on February 13, 2011 in Los Angeles, California.

Getty
Selena Gomez arrives at the Vanity Fair Oscar party hosted by Graydon Carter held at Sunset Tower on February 27, 2011 in West Hollywood, California.

Getty
Selena Gomez arrives at the 2011 American Music Awards held at Nokia Theatre L.A. LIVE on November 20, 2011 in Los Angeles, California.

Getty
Selena Gomez arrives at Nickelodeon's 24th Annual Kids' Choice Awards at Galen Center on April 2, 2011 in Los Angeles, California.

Getty
Selena Gomez attends the 2012 Nickelodeon Kids' Choice Awards at Galen Center on March 31, 2012 in Los Angeles, California.

Getty
Selena Gomez arrives at the 2012 Vanity Fair Oscar Party at Sunset Tower on February 26, 2012 in West Hollywood, California.

Getty
Selena Gomez arrives at the 2012 Teen Choice Awards at Gibson Amphitheatre on July 22, 2012 in Universal City, California.

Getty
Selena Gomez arrives at the 2013 Billboard Music Awards at MGM Grand Hotel & Casino on May 19, 2013 in Las Vegas, Nevada.

Getty
Selena Gomez attends the German premiere of 'Spring Breakers' at the cinestar Potsdamer Platz on February 19, 2013 in Berlin, Germany.

Getty
Selena Gomez attends the 2013 Vanity Fair Oscar party at Sunset Tower on February 24, 2013 in West Hollywood, California.

Getty
Selena Gomez attends the 2013 Teen Choice Awards at Gibson Amphitheatre on August 11, 2013 in Universal City, California.

Getty
Selena Gomez attends the 2014 LACMA Art + Film Gala Honoring Barbara Kruger And Quentin Tarantino Presented By Gucci at LACMA on November 1, 2014 in Los Angeles, California.

Getty
Selena Gomez arrives at the "Rudderless" – Los Angeles VIP Screening at the Vista Theatre on October 7, 2014 in Los Angeles, California.

Getty
Selena Gomez arrives at the 2015 Vanity Fair Oscar Party Hosted By Graydon Carter at Wallis Annenberg Center for the Performing Arts on February 22, 2015 in Beverly Hills, California.

Getty
Selena Gomez attends the premiere of 'Getaway' presented by Warner Bros. Pictures at Regency Village Theatre on August 26, 2013 in Westwood, California.

Getty
Selena Gomez attends the 2014 American Music Awards at Nokia Theatre L.A. Live on November 23, 2014 in Los Angeles, California.

Getty
Selena Gomez attends the "China: Through The Looking Glass" Costume Institute Benefit Gala at the Metropolitan Museum of Art on May 4, 2015 in New York City.

Getty
Selena Gomez attends the 2014 Vanity Fair Oscar Party hosted by Graydon Carter on March 2, 2014 in West Hollywood, California.

Getty
Selena Gomez arrives to the 2015 MTV Video Music Awards at Microsoft Theater on August 30, 2015 in Los Angeles, California.

Getty
Selena Gomez attends 2015 Glamour Women Of The Year Awards at Carnegie Hall on November 9, 2015 in New York City.

Getty
Selena Gomez arrives at The 58th GRAMMY Awards at Staples Center on February 15, 2016 in Los Angeles, California.

Getty
Selena Gomez arrives at the 6th Biennial UNICEF Ball at the Beverly Wilshire Four Seasons Hotel on January 12, 2016 in Beverly Hills, California.

Getty
Selena Gomez arrives at the 2015 American Music Awards at Microsoft Theater on November 22, 2015 in Los Angeles, California.

Getty
Selena Gomez arrives at the 2016 Vanity Fair Oscar Party Hosted By Graydon Carter at Wallis Annenberg Center for the Performing Arts on February 28, 2016 in Beverly Hills, California.

Getty