Selena Gomez Cried Through Her Emotional Billboard Woman of the Year Speech: "I've Never Felt This Proud To Be a Woman in the Industry"
The actress broke down during her speech on Thursday evening.
---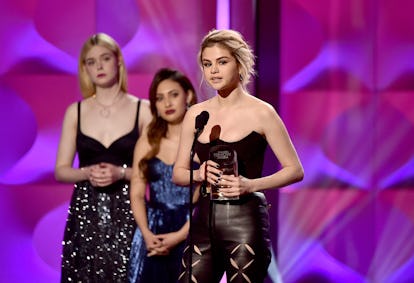 Frazer Harrison
It has been quite a year for Selena Gomez. In the past twelve months, she's executive produced a hit Netflix series, released a series of hit singles, and filmed a new starring role in Woody Allen's upcoming film. She's embarked on a new relationship with a popular Canadian popstar, broken up with said Canadian popstar, and then reconciled with her ex boyfriend, another Canadian popstar. She's held on to her title as the most followed person on Instagram. And, as she revealed earlier this fall, over the summer she underwent a full kidney transplant to help cure aliments related to her Lupus disease.
It was the latter that reduced the superstar to tears on Thursday evening, as she received her latest accomplishment: Billboard's Woman of the Year. Presenting the award to Gomez was her upcoming co-star Elle Fanning and best friend Francia Raisa, who donated her kidney to Gomez back in July. "To be honest, I think Francia should be getting this award because she saved my life," Gomez said upon accepting the award, immediately bursting into tears.
The singer quickly recovered, but continued to seem to be holding back more waterworks as she continued her speech. "I want people to know that I respect the platform that I have so deeply because I knew that I wanted to be a part of something great and I wanted people to feel great because I love people," she said. "With my music, I have been really been able to illustrate the things that I want, and I am reminded by a team of people who believe in me, even when I don't myself. I've never felt this proud to be a woman in the industry as I do today, and that is because I actually feel comfortable with every single woman who has encouraged me about how crucial it is that the voices that are being heard for the first time is so great. And I am so grateful for the older women who have lifted us up, because I couldn't be here without any of you, so thank you for inspiring so many girls who don't feel like they have a voice."
It was an emotional speech to cap off what has surely been an emotional year for the singer. But she didn't leave the stage without teasing more to come in 2018: "I don't know how I'll ever repay it but maybe I'll make an epic album next year for you guys."
Related: Selena Gomez Reveals She Received a Kidney Transplant This Summer
Behind the Scenes of Selena Gomez's W Magazine Cover Shoot