Selena Gomez Opens Up About Justin Bieber With a Very Zen Answer
"That doesn't mean caring for someone ever goes away."
---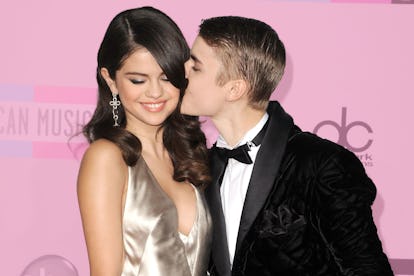 Composite. Steve Granitz/Getty Images
"You have no idea! I'm allowed to do this! And make these choices!" Selena Gomez explains in a new Billboard interview. This is not her reacting to the public's fascination with her rekindled romance with Justin Bieber. Nor is it her explaining her decision to work with Woody Allen. That is actually Gomez demonstrating how she might have privately reacted to negative publicity five years ago. These days, you see, she's much more serene. Zen might be the best word. Chilled out, at least. She does end up answering questions about Bieber, Allen, and her ex, The Weeknd, but her responses are more like tranquil meditations on the situation than they are gossipy confessions. It seems someone has ascended to a higher state of being.
Gomez says she's now made peace with the fact that people have an intense interest in her personal life and career, and she's learned to live with it. "Would I like people to care about worldly things that matter? Things that should actually be discussed more? Yes. But I can't control that. And I don't want to."
So, yes, she will answer Billboard's question about Bieber being back in her life if they want.
"I'm 25. I'm not 18, or 19, or 20. I cherish people who have really impacted my life," she says. "So maybe before, it could have been forcing something that wasn't right. But that doesn't mean caring for someone ever goes away."
She also explains that, despite the gossip, her relationships with her former Disney Channel comrades like Demi Lovato, Miley Cyrus and the two Jonas brothers she mentions by name (sorry, Kevin), are about as normal as your relationship with people you went to high school with all things considered.
"I grew up with Demi [Lovato]. Nick and Joe [Jonas] and Miley [Cyrus]—we've gone through seasons in our lives," she says. "I don't think it's as serious as people make things out to be half the time. It's just my life. I grew up with all of these people, and it's so cool to see where everybody is. It comes back to the idea of me remaining full. I think a true representation of love is beyond just yourself."
As for her relationship with The Weeknd, she actually thinks it ended beautifully.
"Something that I'm really proud of is that there's such a true friendship [between me and The Weeknd]," she says. "I truly have never experienced anything like that in my life. We ended it as best friends, and it was genuinely about encouraging and caring [for each other], and that was pretty remarkable for me."
In the midst of her shifting relationship status, Gomez also wrapped filming on a new project with controversial director Woody Allen. While filming, sexual abuse in Hollywood became a hot button issue thanks to the Harvey Weinstein scandal, and members of Allen's family maintain that he molested one of his adopted daughters. Gomez, though, isn't sure what to think of it.
"To be honest, I'm not sure how to answer—not because I'm trying to back away from it. [The Harvey Weinstein allegations] actually happened right after I had started," she said. "They popped up in the midst of it. And that's something, yes, I had to face and discuss. I stepped back and thought, 'Wow, the universe works in interesting ways.'"
Though, Gomez certainly is for victims speaking out, noting that while she's never experienced sexual harassment or abuse, she knows women who have.
"As people speak out, I hope that feels powerful to them, because they deserve to feel that," she says.
As for why Gomez suddenly seems so zen about everything, well that's not exactly a kōan. She says she had a profound shift in consciousness after undergoing a kidney transplant due to complications of Lupus earlier this year.
"I just kept thinking about how much my body is my own," she says. "Ever since I was 7, my life always felt like I was giving it to someone else. I felt really alone even though I had a lot of great people around me. But the decisions I was making, were they ever for me? [After the surgery] I had this sense of gratitude for myself. I don't think I've ever just stopped and been like, 'I'm actually grateful for who I am.'"
Related: Selena Gomez Has Some Important Advice for Her Little Sister