Selena Gomez Has Some Important Advice for Her Little Sister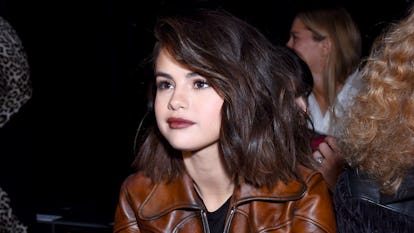 Presley Ann/Patrick McMullan/Getty Images
Selena Gomez is ready to be her little sister's cheerleader.
Gomez posted an adorable video of her sis, four-year-old Gracie Teefey, to Instagram, featuring the tot confidently declaring, "I'm not scared," before Gomez dubbed her "fearless" and told Gracie she knows she's "not scared of anything." The singer captioned the clip, "I will forever let my sister know she is strong, bold, and beautiful. She will be raised to know her voice matters. She is going to understand the importance behind being a leader and inspire others by her truth."
Gomez has proven her commitment to lifting up young girls' voices before. This past March, the "Hands to Myself" singer partnered with Coach to observe World Kindness Day at two Los Angeles high schools. There, Gomez acted a mentor for the teen girls, writing of the young students she spoke to (and took selfies with), "It's crazy to me how much they are willing put others before themselves."
Even Gomez's fashion collaboration has an inspirational bent. Her Coach x Selena Gomez collection, released this summer, featured purses with "Love yourself first" embossed on the outside and a patch reading "To be you is to be strong" found inside.
Though she's praising her sister's fearlessness, Gomez has shown her own strength in the last few months, talking publicly about receiving a kidney transplant as a result of her battle with lupus. She's been vocal about the importance of speaking out about her health battles, both physical and mental, realizing vulnerability and openness are kinds of strengths, not weaknesses. As she explained in an interview with Vogue, "We girls, we're taught to be almost too resilient, to be strong and sexy and cool and laid-back, the girl who's down. We also need to feel allowed to fall apart."
Related: Want To Be BFFs With Selena Gomez? You Better Like Horror Films and Fiona Apple
Behind the Scenes of Selena Gomez's W Magazine Cover Shoot: