Selena Gomez Surprises Dakota Johnson For Her Birthday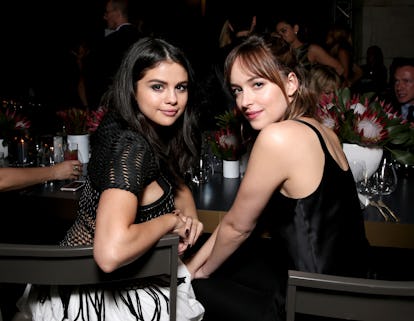 Todd Williamson
Celebrities, they're just like us. Really! Being a good friend isn't just a real world concept.
Dakota Johnson discovered this in the most delightful way on Tuesday, when her good pal Selena Gomez gave her a cute sneak-attack while Johnson was attending the New York Film Festival on Tuesday evening. Let's set the scene for you: Johnson, who was a day away from celebrating her 28th birthday, attended the screening of Luca Guadagnino's awards season drama Call Me By Your Name at Alice Tully Hall. (Johnson previously worked with Luca on another film, the equally dramatic and sensuous A Bigger Splash, which is likely why she was in attendance.)
Gomez surprised her outside the screening, and the two immediately starting hugging and giggling and chatting like a couple of, well, close friends. They were in such good spirits about seeing each other that they even took a few selfies with fans and socialized with the crowd around them.
While the two ingénues are usually quite candid in interviews, neither has actually expounded about the genesis of their friendship in the past. Instead, they let their friendship status be known to the world by accompanying each other to some of Hollywood's most glamorous events. And, of course, Gomez and Johnson have been a part of Taylor Swift's inner circle of friends for awhile now—the "squad," if you will—along with other lovely ladies such as Cara Delevingne and Lorde.
And, as Elle notes, they also share a popular celebrity stylist, who curates their red carpet wardrobes. So, how Alex Russo and Anastasia Steele officially met is up to your imagination.
Either way, expect exciting things from this friendship duo in the upcoming months. Gomez's third solo album might be out by early next year, while Johnson will be seducing us in theaters once again when Fifty Shades Free arrives on Valentine's Day.
Take a #MetaSelfie like Selena Gomez
RGB nail color in oxblood, $18, rgbcosmetics.com.
Jin Soon nail polish in nocturne, $18, jinsoon.com.
Deborah Lippmann gel lab pro polish in Dirty Little Secret, $20, sephora.com.
Serge Lutens Beauté nail lacquer in Sang Bleu, $65, barneys.com.
Marc Jacobs Beauty enamored hi-shine nail polish in confession, $18, sephora.com
Zoya nail polish in indigo, $10, zoya.com.
Behind the Scenes of Selena Gomez's W Magazine Cover Shoot
Related: Harry Styles Just Paid Tribute to Selena Gomez, and I'm Crying