An Expert's Guide to the Best Korean Beauty Destinations in Seoul, South Korea
Peach and Lily's founder Alicia Yoon offers her ultimate city guide.
---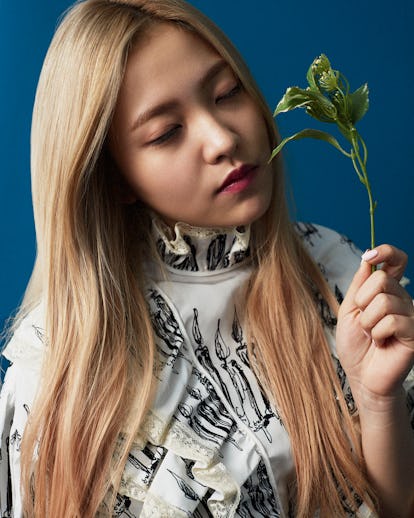 Seoul, South Korea, is quickly becoming the beauty and skincare capital of the world.
Korean beauty, or k-beauty as it's sometimes called, has become increasingly popular in recent years, and more and more people are flocking to Seoul to buy products and get unique treatments. But the truth is, Seoul can be overwhelming if you don't know what you're looking for.
So, we asked K-Beauty expert Alicia Yoon, the Founder & CEO of e-commerce destination Peach & Lily, to share her guide to the city's best beauty destinations, from Nail Tam2Na, the trendy nail salon adored by nail art lovers and K-pop stars, to Dr. Yoon Ji Soo's Clinic, for those looking for a more holistic approach to skincare and nutrition.
Dr. Yoon Ji Soo Clinic
"One of the things I love about Korean beauty is that skincare is approached in a holistic manner. Skin is an organ and is affected by everything from what you eat, how you work out, how well you sleep, and of course, what products you're using. There's a movement in Korea where skincare clinics take all this into consideration and alongside acne-focused facials and botox treatments, nutrition plans and health checkups are offered. One of the star-studded holistic clinics that's making a splash is Dr. Yoon Ji Soo Clinic. If in Korea, this place is definitely worth visiting to improve skin health from the inside out for radiance that truly lasts."
Skin Lab L
"A facial is mandatory when in Korea, and Skin Lab L guarantees you a glow. You walk in, get your skin analyzed by an imaging device, estheticians and the device help determine the specific ingredients your skin needs, and then the fun begins. You pick up an entire IV bag filled with the specific ingredient — but fear not, there are no injections. Instead the IV bag is hung on a gurney as you lay down in a plush, comfortable reclining chair and a nanospray device sprays the whole bag of goodness into skin. The liquid elixir is especially formulated for skin to drink up. You're then handed an herbal tea that suits your skin's needs and walk out with a glow that lasts all week."
Nail Tam2Na
"If you need your nails done, Nail Tam2Na is a must-visit salon. You may run into a few K-pop stars there, and you'll leave with nail art that can dress up your entire outfit instantly."
Chaum
"For a super-elite experience, head over to Chaum. Here, you'll be able to have a bevy of both Eastern and Western doctors evaluate your health, and then customize a treatment plan from head-to-toe that includes massages, facials, bone alignment, even stem cell banking, personal training, and a chef who will cook a meal based on your health needs. You can also swim in their gorgeous pool and walk up and down their serene and grand meditation steps. Created by one of the leading health institutions in Korea, this center brings every medical advance to life in a futuristic, chic and luxurious way. We're also in love with the brand, Saturday Skin ($6-$49, peachandlily.com), they created with heavy-duty science to support their formulas. Don't let the pretty pink bottles fool you, inside lay top-notch cutting-edge formulas to really help prevent premature photo-damage."
The Best Street Style at Seoul Fashion Week Includes Chanel Tweeds and Bold Primary Colors
Street style in Seoul during Seoul Fashion Week Spring/Summer 2018. Photo by Adam Katz Sinding for W Magazine.

2017 Adam Katz Sinding
Street style in Seoul during Seoul Fashion Week Spring/Summer 2018. Photo by Adam Katz Sinding for W Magazine.

2017 Adam Katz Sinding
Street style in Seoul during Seoul Fashion Week Spring/Summer 2018. Photo by Adam Katz Sinding for W Magazine.

2017 Adam Katz Sinding
Street style in Seoul during Seoul Fashion Week Spring/Summer 2018. Photo by Adam Katz Sinding for W Magazine.

2017 Adam Katz Sinding
Street style in Seoul during Seoul Fashion Week Spring/Summer 2018. Photo by Adam Katz Sinding for W Magazine.

2017 Adam Katz Sinding
Street style in Seoul during Seoul Fashion Week Spring/Summer 2018. Photo by Adam Katz Sinding for W Magazine.

2017 Adam Katz Sinding
Street style in Seoul during Seoul Fashion Week Spring/Summer 2018. Photo by Adam Katz Sinding for W Magazine.

2017 Adam Katz Sinding
Street style in Seoul during Seoul Fashion Week Spring/Summer 2018. Photo by Adam Katz Sinding for W Magazine.

2017 Adam Katz Sinding
Street style in Seoul during Seoul Fashion Week Spring/Summer 2018. Photo by Adam Katz Sinding for W Magazine.

2017 Adam Katz Sinding
Street style in Seoul during Seoul Fashion Week Spring/Summer 2018. Photo by Adam Katz Sinding for W Magazine.

2017 Adam Katz Sinding
Street style in Seoul during Seoul Fashion Week Spring/Summer 2018. Photo by Adam Katz Sinding for W Magazine.

2017 Adam Katz Sinding
Street style in Seoul during Seoul Fashion Week Spring/Summer 2018. Photo by Adam Katz Sinding for W Magazine.

2017 Adam Katz Sinding
Street style in Seoul during Seoul Fashion Week Spring/Summer 2018. Photo by Adam Katz Sinding for W Magazine.

2017 Adam Katz Sinding
Street style in Seoul during Seoul Fashion Week Spring/Summer 2018. Photo by Adam Katz Sinding for W Magazine.

2017 Adam Katz Sinding
Street style in Seoul during Seoul Fashion Week Spring/Summer 2018. Photo by Adam Katz Sinding for W Magazine.

2017 Adam Katz Sinding
Street style in Seoul during Seoul Fashion Week Spring/Summer 2018. Photo by Adam Katz Sinding for W Magazine.

2017 Adam Katz Sinding
Street style in Seoul during Seoul Fashion Week Spring/Summer 2018. Photo by Adam Katz Sinding for W Magazine.

2017 Adam Katz Sinding
Street style in Seoul during Seoul Fashion Week Spring/Summer 2018. Photo by Adam Katz Sinding for W Magazine.

2017 Adam Katz Sinding
Street style in Seoul during Seoul Fashion Week Spring/Summer 2018. Photo by Adam Katz Sinding for W Magazine.

2017 Adam Katz Sinding
Street style in Seoul during Seoul Fashion Week Spring/Summer 2018. Photo by Adam Katz Sinding for W Magazine.

2017 Adam Katz Sinding
Street style in Seoul during Seoul Fashion Week Spring/Summer 2018. Photo by Adam Katz Sinding for W Magazine.

2017 Adam Katz Sinding
Street style in Seoul during Seoul Fashion Week Spring/Summer 2018. Photo by Adam Katz Sinding for W Magazine.

2017 Adam Katz Sinding
Street style in Seoul during Seoul Fashion Week Spring/Summer 2018. Photo by Adam Katz Sinding for W Magazine.

2017 Adam Katz Sinding
Street style in Seoul during Seoul Fashion Week Spring/Summer 2018. Photo by Adam Katz Sinding for W Magazine.

2017 Adam Katz Sinding
Street style in Seoul during Seoul Fashion Week Spring/Summer 2018. Photo by Adam Katz Sinding for W Magazine.

2017 Adam Katz Sinding
Street style in Seoul during Seoul Fashion Week Spring/Summer 2018. Photo by Adam Katz Sinding for W Magazine.

2017 Adam Katz Sinding
Street style in Seoul during Seoul Fashion Week Spring/Summer 2018. Photo by Adam Katz Sinding for W Magazine.

2017 Adam Katz Sinding
Street style in Seoul during Seoul Fashion Week Spring/Summer 2018. Photo by Adam Katz Sinding for W Magazine.

2017 Adam Katz Sinding
Street style in Seoul during Seoul Fashion Week Spring/Summer 2018. Photo by Adam Katz Sinding for W Magazine.

2017 Adam Katz Sinding
Street style in Seoul during Seoul Fashion Week Spring/Summer 2018. Photo by Adam Katz Sinding for W Magazine.

2017 Adam Katz Sinding