September Release: Kate Hudson
Kate Hudson Talks About Her Dating Life, Her Close Relationship With Ex-Husband Chris Robinson And Sacrificing Partying For Son, Ryder
---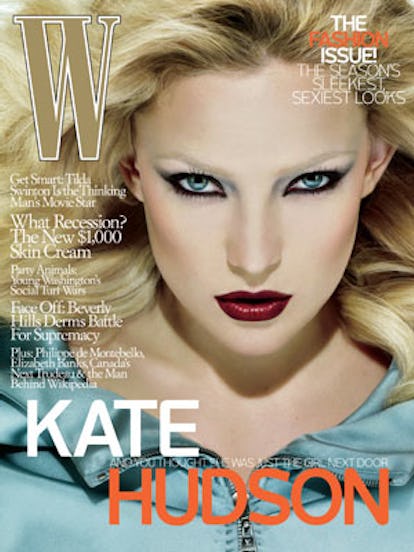 (August 7, 2008, New York, NY) Kate Hudson talks to W magazine about exposing details of her dating life… "It's so hard for me, because I'm so open, to hold back. I could really just go on forever about this stuff. We can talk about Chris till the dogs come home. I married Chris, I had a baby with Chris, Chris will be in my life for the rest of my life. But everything else – I've learned that things are better left private until you're actually planning the wedding."
Following are other comments from Kate Hudson's interview found in the September issue of W:
ON SHE AND RYDER MAINTAING A CLOSE RELATIONSHIP WITH EX-HUSBAND CHRIS ROBINSON…"We iChat with Chris constantly. No matter what is going on in my life, relationship-wise, Chris takes absolute precedence. It's important for Ryder to hear me say how wonderful Chris is, and how much Chris misses him."
ON SPENDING THE "PRIME HOLLYWOOD PARTYING YEARS" OF HER EARLY 20'S CARING FOR RYDER…"Am I gonna look back and say, God, I wish I could have gone to that…that…concert? I'd rather be listening to my son sing songs. I'd rather be watching him sleep."
ON HOW THE CHARACTERS ANNE HATHAWAY AND SHE PLAY IN BRIDE WARDS MIMIC THEIR ACTUAL PERSONALITIES …"I play the classic extrovert, and she's the classic introvert. She sort of goes with the flow, gets a bit walked over sometimes, while I'm that got-it-all-figured-out, everything-needs-to-be-done-my-way, take-care-of-everything type. And that's kind of how we are."
ON EMULATING THE PARENTING STYLE OF HER PARENTS, GOLDIE HAWN AND KURT RUSSELL…"I watched my parents go through ups and downs in their careers. At the end of every day, as soon as they walked through the door, it was about us kids. About watching Scooby Doo or The Three Amigos or whatever we were interested in. I guess that's what you wind up emulating. I love acting, but I can be present on set, and then at the end of the day I come home, and it's about family. Eventually it all goes away. So you just gotta keep enjoying yourself."
ON BEING A RISK TAKER…"I have this personality – and there's a downside to it too – but I have this thing where it's like, okay, I've chosen to bungee jump off this ledge. I have to do it. And if the cord snaps, well, I might as well enjoy the ride down."
ON TOURING WITH EX-HUSBAND, ROCKSTAR CHRIS ROBINSON OF THE BLACK CROWES…"I miss living on the road. I'll always miss it."
ON HOW THE "PURSUIT OF FUN" IS THE KEY TO PARENTS' GOLDIE HAWN AND KURT RUSSELL'S LASTING RELATIONSHIP…"I think it's their trick. When the hard stuff starts to hit, they meet at this fun place where they can play. I think you need to find somebody you can play with."
ON THE IDEAL WEDDING…"You know how, with Martha Stewart, there's an aesthetic consistency – like you look at it and you know: This is Martha Stewart. That's how a wedding should be. From the ribbons on the bridal party's bouquets to the ribbons on the place cards to the ribbons tied around the menus. Will your look be woodsy? Will it be modern? Everything. Must. Be. Consistent."
ON FALLING IN LOVE…"Every girl wants a fairy-tale ending. And I believe it's possible. Absolutely."
ON THE IMPORTANCE OF FAMILY AND FRIENDS…"I have a supersolid family. We have the best time together, just a blast. A real solid group of girlfriends, about six of us who are really tight. A lot of them are from when I was little, and we're still superclose. A solid group of girls will get you through anything – believe me, I know. I feel bad for the women who don't believe that."
Please credit the September issue of W for the above. For additional information or to schedule an interview with a W editor, please contact Engelman & Co. at 212.645.9222. Thank you.