Serena Williams Sings "I Touch Myself" by the Divinyls While Topless in Breast Cancer Awareness PSA
Touch yourself. Seriously, do it.
---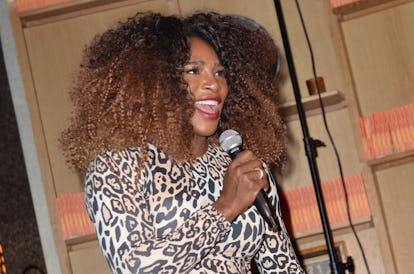 Photo by Vivien Killilea/Getty Images for Imagine LA
Are you alone? Great, now touch your chest. Do it! It is important to familiarize yourself with the feel of your breast tissue so that you'll find a lump, if you have one, during a self-examination. (And yes, people of all genders can get breast cancer.) Not inspired yet? Okay, allow tennis champion Serena Williams to help.
Williams, who recently placed second in the U.S. Open, just released a PSA on Instagram about checking yourself for signs of breast cancer. In the video, she sings (rather well) and cups her own chest. The song is "I Touch Myself" by the Divinyls, a cheeky '90s pop tune about having a hot and heavy crush. But in this rendition, it's much more somber and meaningful. The Divinyls lead singer Chrissy Amphlett died of breast cancer in 2013, notes Elle.
Williams explained her involvement in the project in the video caption, writing, "This Breast Cancer Awareness Month I've recorded a version of The Divinyls global hit "I Touch Myself" to remind women to self-check regularly. Yes, this put me out of my comfort zone, but I wanted to do it because it's an issue that affects all women of all colors, all around the world. Early detection is key – it saves so many lives. I just hope this helps to remind women of that. The music video is part of the I Touch Myself Project which was created in honor of celebrated diva, Chrissy Amphlett, who passed away from breast cancer, and who gave us her hit song to remind women to put their health first. The project is proudly supported by @BerleiAus for Breast Cancer Network Australia."
Berlei is the same company that makes Williams's bra line, so their collaboration is well-established. The company is based in Australia, where Amphlett and the Divinyls were from.
It's a lovely reminder of an important habit. Now touch yourself, friends.
Related: Celebrities Are Supporting Serena Williams and Naomi Osaka After Their Controversial U.S. Open Final