Sergio Rossi's Angelo Ruggeri and Bianca Brandolini d'Adda Are The Perfect Pair
Bianca Brandolini d'Adda teams with Sergio Rossi on a shoe collection.
---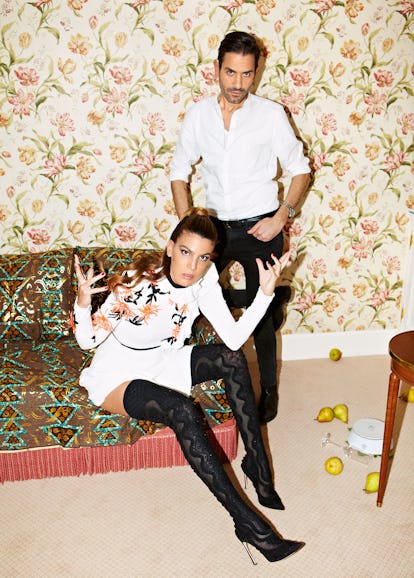 Since being named design director of Sergio Rossi two and a half years ago, Angelo Ruggeri has developed a clear notion of the woman he wants to see in his shoes: "She's strong but delicate, confident yet feminine, naturally elegant," he says. But it wasn't until he met ­Bianca ­Brandolini d'Adda at a dinner party in Paris last year that he was able to put an actual face to the Rossi ideal. "Bianca perfectly embodies our woman," says Ruggeri of the Italian-Brazilian socialite. "It was love at first sight." After bonding over their similar taste in footwear—"classic with a twist," Ruggeri says—they hatched the concept for a collaboration. Debuting this month, their 15-piece collection runs the gamut from suede pumps and calfskin penny loafers to tuxedo-inspired satin sandals and one standout pair of Lycra and mesh over-the-knee boots that slip on like a pair of stockings. "The idea," says d'Adda, who favors the flats, wearing them with both jeans and short dresses, "was to create the perfect wardrobe of shoes."
Set design: Daphnee Lanternier; photography assistant: Gabrielle de Beaumarchais; fashion assistant: Garance Chaplain. D'Adda wears Giambattista Valli dress; Sergio Rossi boots.