Seth Meyers Helped His Wife Give Birth in Their Apartment Building Lobby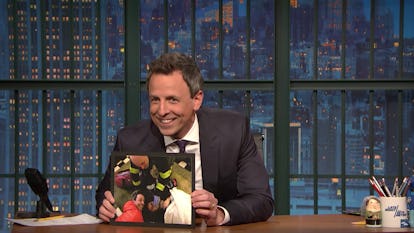 NBC
Seth Meyers has some huge news: the 44-year-old host of Late Night welcomed his second child with wife Alexi Ashe on April 8. Though the birth of a new child is always an exciting event, little Axel Strahl made a particularly dramatic entrance into the world right in the lobby of the couple's apartment building. One day after all of the excitement, Meyers returned to work to share the entire story with viewers.
Meyers said that after waiting for an Uber to arrive to take him, his wife, his mother-in-law, and their doula to the hospital after labor began, Alexi said she could not get in the car. "I looked at my wife and the only way I can describe how my wife looked was she looked like someone who was hiding a baby in a pair of sweatpants," Meyers said. "Then we had to decide if we're going to go back into the lobby or onto the elevator. Both of those are terrible options when what you're looking for is a hospital."
Then, Meyers said he and the rest of the group gathered around Alexi, who had laid down on the lobby floor. From there, the whole process happened so quickly that in the course of one minute on the phone with 911, he said, "We're about to have a baby. We're having a baby. We had a baby." The family was soon joined by "the entire NYPD department," and one officer even cut the umbilical chord. Neighbors pitched in, too, by loaning the family blankets and putting towels in their dryers for warmth. This being a late night show, of course, Meyers, while thanking his wife for her incredible strength and poise, began to tear up and stopped himself. "I'm still getting choked up thinking about how brave I was," he quipped.
Meyers also noted that the birth of their first son, Ashe Olsen, 2, almost happened in an Uber on the way to the hospital. The couple narrowly made it, and at the time, they thought it would be the most intense birth experience they would endure. So it seems the moral of the story is, if the Meyers decide to expand their family again, maybe they should consider moving a little closer to the hospital.
Watch the emotional explanation, below.