Shania Twain Is Finally Impressed With Brad Pitt
Finally, Brad Pitt's Oscar win has impressed Shania.
---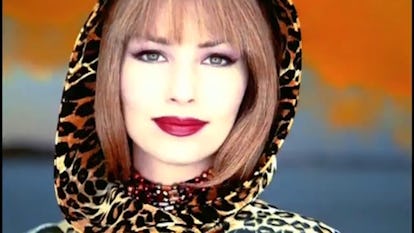 In the long history of celebrity-on-celebrity shade and digs, has anyone accidentally launched as lasting of an insult as Shania Twain at Brad Pitt? At the peak of her success in 1998, Twain released "That Don't Impress Me Much," and while wearing a indelibly iconic leopard hood in the video she purred the almost as indelible lyrics, "So you're Brad Pitt? That don't impress me much."
Twain even reignited the fire earlier this year by retweeting a viral meme in which someone points out that in his movie Ad Astra, Pitt plays a rocket scientist with a car, hence incorporating the holy trinity of things that don't impress Twain much in one character.
But now, over 21 years after the song was last in the Billboard top ten, Twain would like to clarify that she does find Pitt impressive. Very much so.
Twain told Britain's Stellar magazine that she's "thrilled that reference has lasted the test of time," but she always meant it as more of a joke than a dig at Pitt.
"I must say, I'm very impressed by Brad's wonderful career," she told the magazine. "He's been getting some great accolades recently, so I'm very proud of Brad. I hope he takes it with the sense of humor that was intended."
Pitt, of course, took home numerous awards, including an Oscar, for his performance in Once Upon a Time in Hollywood…, and his long tour of acceptance speeches were full of self-deprecating humor, proving that Pitt, can indeed, take a joke.
Still, it's at least nice to know in these turbulent times that, finally, this has been all put to bed. Peace between Pitt and Twain, finally.