Modern Savages
Jewelry designer Shaun Leane on working with Alexander McQueen.
---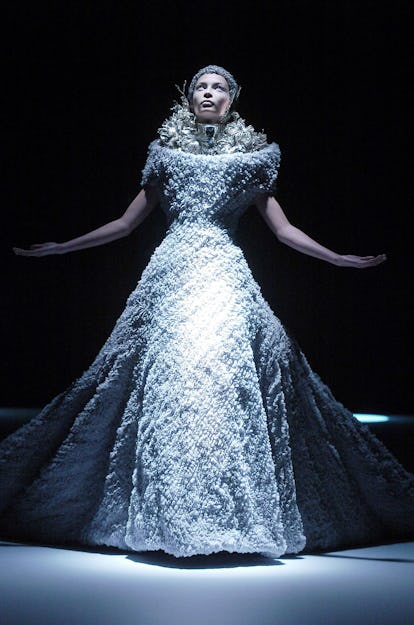 "People thought I was crazy," recalls Shaun Leane, the goldsmith and all-around master metalworker, of the jewelry he has designed for Alexander McQueen's runway shows for the past 17 years. "They just didn't understand the vision and the direction of what we were doing." It's not hard to understand why: together, Leane and McQueen dreamed up some seriously out-there pieces, including an elaborate metal-coil bodice and a ferocious steel mouthpiece. This month, those creations will be among those on display when an edited and extended rendition of the sell-out 2011 New York exhibition Savage Beauty opens at London's Victoria & Albert Museum. Here, Leane takes us behind the scenes of the revolutionary collaboration.
How would you describe London when you started working with McQueen? The early '90s was a very innovative and daring time. Everybody was energized and excited to push boundaries and create something new. There were no mobile phones—a lot of our business was done in bars and restaurants, where people really brainstormed and came up with completely unique projects.
When exactly did you first start working together? People think it was The Hunger collection (Spring 1996), but it was actually Highland Rape (Fall 1995). At the time, I was restoring antique Victorian and Edwardian pieces in Hatton Garden, and Lee had noticed these old Albert T-bar chains for fob watches. He asked me to recreate some for his collection. For the next season's collection, The Hunger, he wanted to extend that. That was one of the beautiful things about our relationship, each season we would evolve.
What inspired your iconic Tusk earring in The Hunger collection? Lee asked me to create these little antlers. We were playing around and both felt like it would make an amazing earring, and that is where the Tusk came from. We fell in love with that silhouette because it was very refined and elegant but it was very powerful. From that point, our work relationship and friendship blossomed.
What is your favorite piece within the exhibition? I think it is the coiled corset. It was one of the most taxing pieces to make, and it was where I really evolved. Me and Lee crossed a line, where the jewelry actually became the garment. It was like armor, but so beautifully created that it flattered the female form. It was quite hard but so feminine at the same time. It is engraved with both our signatures.
Another innovative piece I love is the moon headdress. We loved creating new silhouettes with historical connotations, and I think the moon headdress is a good example of that.
What is the story behind the spear dress? There was a very gaudy, bullfighting influence to the Spring 2002 collection, and Lee wanted to give the illusion of placing a spear through a girl's chest as a dramatic finale piece. The way that Lee and I would work is that we would create a concept, and I would execute the piece in London, while Lee and his atelier were in Paris. I would turn up a day before the show, the piece would be fitted and it would then hit the runway. We had that level of trust. The spear dress looked simple, but it was actually quite complicated, and was constructed by gravity and weight. Lee had said he would drape some fabric from one of the spearheads. Unbeknownst to me, it was not just a piece of fabric, it was a 10-foot train. When he put this on, the spear bent down and it was completely unbalanced. Lee took everything to the ultimate; a piece of fabric to him was a 10-foot train. However, we improvised, we worked through the night, and we did it.
Where did you two hang out in London? We loved Hoxton in the early days. There were just a handful of creatives scattered about the place. We loved the raw energy. But we loved to party in the West End. It was somewhere we always went. I don't go anymore, as it was something I always did with him. We were creatures of habit. We used to do little pub crawls, and we had our favorites. Comptons is still there, and The Three Compasses. It was where we drank as students, and then continued to go. We always visited the V&A to feel inspired, which is why it is so lovely that history has now come full circle.
'Crown of Thorns' headpiece, Dante AW 1996 – 1997, Shaun Leane. © firstVIEW
'Coiled' Corset, The Overlook AW 1999 – 2000, Shaun Leane. © Victoria and Albert Museum, London
Pantheon Ad Lucem AW04-05, Alexander McQueen Orchid shoulder piece by Shaun Leane. © firstVIEW
Silver finger, It's a Jungle out There AW 1997 – 98, Shaun Leane. © Victoria and Albert Museum, London
Grill and dress, La Dame Bleue SS08, Shaun Leane and Alexander McQueen. © Anthea Simms
Porcupine fan earrings, Orere SS 2003, Shaun Leane. © Victoria and Albert Museum, London
Pheasant claw and pearl neckpiece, What a Merry Go Round AW 2001-02, Shaun Leane. © firstVIEW