She-Ra: Princess of Power Is Getting a Netflix Reboot
Because we need another ass-kicking wonder woman in our lives.
---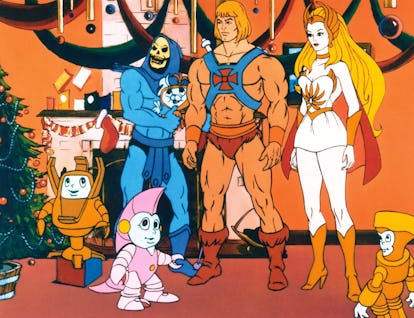 Group W/Everett Collection
Because our quota for sword-yielding women with fashionable capes is never totally filled—thanks to [Wonder Woman]https://www.wmagazine.com/topic/wonder-woman), naturally—this week we got the announcement that She-Ra: Princess of Power is getting a well-deserved reboot on Netflix next year. While not exactly a household name, the original She-Ra series aired in the U.S. in the mid-'80s and revolved around the titular character, an alter-ego of the royal Princess Adora, as she fights baddies and protects her world of Etheria from general evil doings. (Interestingly, the character was created as a female counterpart to the male He-Man, her long-lost twin brother. She got the better name, we'd say.) Lindsay Lohan is a fan of her accessories, as if you needed more enticement.
"The trailblazing girl power icon originally debuted in 1985 to satisfy overwhelming demand for a female lead fantasy series," Deadline's official synopsis of the show reads. "With [showrunner] Noelle Stevenson's unique voice at the helm, fans are in store for an epic and timely tale that celebrates female friendship and empowerment, lead by a warrior princess tailor-made for today." We can expect to see it air sometime in 2018, but if you're itching for some kickass lady content right now, the original She-Ra series is steaming in full on Netflix—all 93 episodes. What's more, Stevenson is an award-winning writer in the comic book industry.
Netflix and Dreamworks are also teaming up for several other of other animated programs for our viewing pleasure in the next few months, Deadline reports. The Boss Baby, for instance, is getting its very own spin-off show, as is Trolls and Trollhunters. They sound perfectly fine and all, but do any of them involve a warrior princess leading a rebellion in her planet to free everyone from tyrannical rule? We thought not.
Related: Margot Robbie and Gal Gadot Are Now Super Friends
Brit Marlin was She-Ra: Princess of Power on her favorite birthday: