Anonymous Models Poke Fun at the Industry with an Instagram Meme Account
"Shit Model Management" is exactly what it sounds like. Here, its creators get candid about the worst aspects of being a model.
---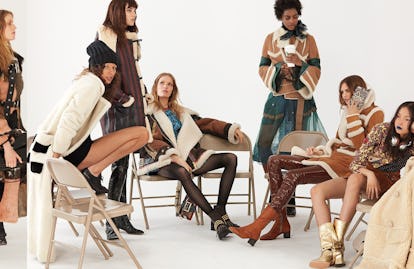 Roe Etheridge
Fashion Week may look glamorous from the outside, but for models it can be insanely stressful. Long hours, little pay, and constant critique add up to lots of emotional and physical stress. A few months ago, two models (who prefer to remain anonymous) started "Shit Model Management," a hilarious Instagram meme account to help them laugh at the stress, so that they don't cry.
When did you start this account and why? We started it a few months ago. We needed a way to turn our frustrations into something good, and to us, humor is a great way to get through hard times.
Three hashtags that describe your Instagram: Hashtag lol, hashtag try again, hashtag crying.
Greatest hits: Anything about body measurements.
Do you read your comments/DMs? We read some, but our favorites are models saying that they agree! It's cool to see that were connecting with the audience. Some people send us their digitals and ask if they can be signed by our agency. They think we're a real modeling agency. It's hilarious. We do have some haters. But obviously, they are also our motivators.
5 favorite model accounts to follow: Lily Aldridge, Ajak Deng, Imaan Hammam, and Magdalena Frackowiak.
Model Instagram pet peeve: Only posting modeling photos.
How important is it for models to have good Instagram accounts? And not just "good," but also well-curated and stylish? The industry is hyper-focused on Instagram right now, and a lot of clients and casting directors want girls with large Instagram followings and online popularity. There is a lot of pressure to have the perfect Instagram consisting of "cool girl" street style, selfies, captions, BTS shots, and modeling photos. But then again, there is a double-standard because a lot of times it's "cool" to not have a perfect Instagram. So, it's up to the model to find a balance.
What do you think makes a "good" model Instagram? There's no right or wrong way to use Instagram. Some of the most successful models, stylists, and designers don't even have Instagram accounts. My one piece of advice for models with Instagram would be to just show your personality and express yourself, because clients and casting directors want to be able to see the real you.
What's your least favorite thing about being a model? Waiting hours for a casting that you know you probably won't even get is never fun. I once waited all night to see a casting director who told me to leave right when they looked at my face. It's also horrible to be on hold for a life-changing show and then get dropped the night before when your hopes were up. And there are so many worsts, (see our account for details). But one of the worst things for me is leaving my family, friends, and home for extended periods of time, with no idea when I'll be able to return.
What's the best part about modeling? The best part of modeling is having the opportunity to meet and work with some of the most influential people in fashion, and to travel the world while doing so.
What can the industry be doing better? What do you want to see change? The industry still needs so much improvement, but it is making some changes. The industry still needs to reform its dangerous size standards for models, continue to improve the amount of diversity in the casts, take models' payment more seriously, and ensure transparency from the agency to the model.
What's your dream job? My dream job would be a beauty campaign like Tom Ford or Maybelline. Those babies will have you set for life.
If you dislike modeling so much, why do you continue? What keeps you going? This question is so difficult because honestly, most of us have no idea why we are still modeling. The best explanation that I can give is that there are life-changing opportunities right in front of us. Like I said in one of our posts, modeling is like gambling: There is a chance that we could book this job that we're on option for and become the new it-model, gracing every runway, landing every cover, booking every campaign, etc. — leaving us financially stable for a long, long time. And when you don't book that job, you know that there will be another one. So, you stick it out and wait for that next option. We're all just working and waiting for that career-launching job. And if you get it, there's no backing out now.