Aidy Bryant Has the Best Day of Her Life at a "Fat Babe Pool Party" in New Shrill Trailer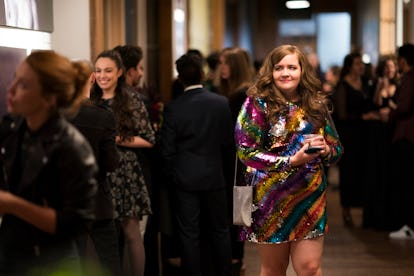 Allyson Riggs/Hulu
In the new trailer for upcoming series Shrill, which Hulu released on Monday, Aidy Bryant's character Annie's life could be separated into two parts: before she attends the "Fat Babe Pool Party," and after she attends the "Fat Babe Pool Party."
Before the party, Annie is stuck in a rut. She's hooking up with a guy who makes her creep out the back door of his apartment and climb over a fence to avoid his roommates—though he'll certainly get his comeuppance, since a previously released teaser shows him getting pepper-sprayed in the face—she's an assistant calendar editor at a publication but dreams of writing feature stories, and she's following something called the "Thin Menu," which has her subsisting on pale, unappetizing pancakes (if you can even call them that) and a handful of almonds every few hours.
After the pool party, which Annie describes as possibly "the best day of my life," she seems to have had multiple epiphanies in nearly every aspect of her life. She starts going on actual, public dates with the aforementioned hookup, suddenly learns to appreciate her body exactly as it is, and defies her editors by self-publishing a story about the party's message of body positivity on her publication's website. The article goes viral, amassing 19,000 clicks right away and even bringing Annie her very own vulgar comment-writing internet troll, hidden among a whole host of much more supportive commenters.
According to a synopsis from Hulu, the rest of the six-episode series will be equally enlightening for Annie. She starts "asking more from the people in her life than she has before," and realizes that she "wants to change her life—but not her body." Watch the full trailer for the show, below, before all the episodes arrive on Hulu on March 15.
Bryant is joined in Shrill by Luka Jones, playing her maybe-boyfriend Ryan; Lolly Adefope, as Annie's friend Fran; John Cameron Mitchell, as her patronizing editor; and Julia Sweeney, as Annie's mother. The series, executive produced by Elizabeth Banks and Lorne Michaels, is based on writer Lindy West's 2016 memoir of the same name, and counts West as a writer and producer.
Related: Aidy Bryant to Star in Hulu Series Shrill, a Body-Positive Comedy Adaptation