Sia, Zoe Saldana, and Julianne Moore Team Up For a Powerful Music Video to Help #endHIV
Sia enlisted Zoe Saldana for dance duty and Julianne Moore to narrate her new video for "Free Me," a song to benefit HIV/AIDS charities.
---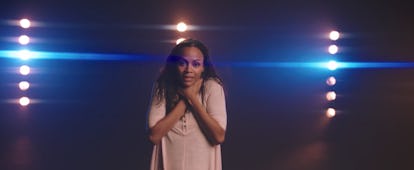 Through her music videos and live performance, Sia has enlisted the likes of Maddie Ziegler, Lena Dunham, Shia LaBeouf and Kristen Wiig for dance duties. Now it's Guardians of the Galaxy star Zoe Saldana's turn, and this time it's for a good cause. Oh, and Julianne Moore is involved too.
The three join forces in the latest video for Sia's new single "Free Me," and it's not just another album single. It's part of the Abzyme Research Foundation's #endHIV campaign, and it packs a serious message.
As Moore narrates, Zaldana plays a young expectant mother who finds out that she's contracted HIV; if she doesn't receive treatment, there's a risk that she could pass on the virus to her unborn child. As the music kicks in, the scene switches from a doctor's office to a dark room where Zaldana is met with dancers who literally lift her up and guide her.
"Free me from the shame I've been running from," Sia sings. "I'm lost and I've been calling."
Eventually, Zaldana's character takes center stage, dances it out, and is ready to do what she needs to do to protect her unborn child.
All proceeds from the track will support the #endHIV campaign, which ultimately hopes to support FDA approval for human trials of a potential e-vaccine to combat HIV.
"The HIV/AIDS epidemic is one that can affect anyone," said Sia in a statement to Dazed. "I've proudly joined forces with the Abzyme Research Foundation and the #endHIV Campaign for the release of my song, 'Free Me,' to help raise funds and awareness for a potential breakthrough cure of the epidemic."
Related: Rooney Mara and Sia Team For a Very Artsy Movie About a Pop Star
"Hideaway" Is Mykki Blanco's Artful Exploration of HIV Stigma: