Silence—Yes, Silence—Is the Most Sought-After Luxury Trend of 2017
From the surge of popularity in meditation centers to silent art exhibitions, everyone just wants to shut up these days.
---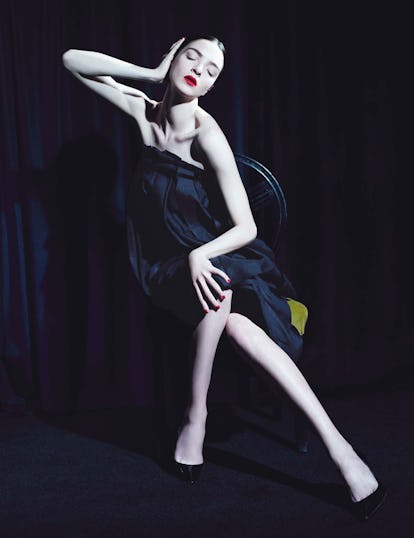 Photograph by Willy Vanderperre for W Magazine, March 2011.
Ten years ago, Khajak Keledjian, then the owner of the Intermix stores, was skeptical of meditation and its benefits. But a friend posed a challenge: Find 15 minutes of complete, uninterrupted silence in New York City, and then tell me how you feel. This friend happened to not only be a mindfulness practitioner, but also a successful hedge fund manager, and the wager was $15,000. So, naturally Keledjian accepted. How hard could it be?
Keledjian first tried meditating in his own apartment, but soon found that the sound of neighbors and outdoor traffic filled both the space and his head. He then tried locking himself in the bathroom at his office, but soon someone came knocking at the door. He visited libraries, museums, and finally a church, where he had the most success, but the challenge ultimately felt like an impossible one. Instead of going back to his friend with his head hanging however, Keledjian offered a solution: Let's open a meditation center in the heart of New York City where visitors can, in so many words, pay for silence. In November 2016, Keledjian finally opened the Inscape meditation center in Flatiron.
Perhaps 22-minute meditation sessions that cost $18 were not what the wise man meant when he said, "Silence is golden," but in 2017, it's become one of the most sought-after luxuries. Between "fake news" blaring through the television, Twitter notifications constantly interrupting us, and the combined noise of everyday life, it's become a privilege to shut the f— up for a few minutes, or even a few days.
Back in December, New York's elite got a taste of the silent treatment when the performance artist Marina Abramović asked guests to partake in 70 whole minutes of silence before the "Entertainment" portion of her 70th birthday party at the Guggenheim. Noise-cancelling headphones were distributed and participants were told to "refrain from verbal communication" until they heard the ring of a gong.
Needless to say, party guests like Naomi Campbell and Bella Hadid were conveniently late for for Part 1 of the evening. However, Abramović's curated meditative experiences, which she also shops out at the Marina Abramović Institute, have a cult celebrity following that includes Lady Gaga. And if there's anyone that can both see the value in peace and quiet—and be able to afford it—it's musicians and celebrities.
This March, another noise-free experience came to the Guggenheim in the form of Doug Wheeler's no-phones, no-photos, no-talking exhibition, PSAD Synthetic Desert III. He built an all-white room inside a room—or a "hermetic realm," as the museum advertises—that is meant to minimize noise and "induce a sensate impression of infinite space," specifically like the deserts of northern Arizona. Five visitors are allowed in at a time (he originally requested one, but that was impractical), and reservations are recommended. Admission is $25 and the experience lasts 10 minutes.
While those examples of silence are in service of emotional and mental escapism—and perhaps born out of today's depressing lack thereof—silence can also be sexy and fun, too. Take the autonomous sensory meridian response (ASMR) fetish, for example, that is still going viral online. It can be described as a euphoric, orgasmic tingling brought on by a perfectly calibrated whisper, and the most popular videos of such have received millions of views. The best part about it: It's free.
In Williamsburg, there's also a new ramen restaurant called Ichiran, where diners sit alone in cubicle-like "flavor concentration booths" and are told to turn off their phones. You don't even make contact with waiters, as you order with the press of a button. In this case, silence even tastes good.
When timed meditation sessions, ASMR videos, and a solo bowl of ramen just aren't doing it for you, though, more and more people are checking themselves into silent retreats for some seriously extended me-time. In the hit BBC mini-series Fleabag, the titular character and her sister are gifted an all-female, silent retreat package by their clueless father, who doesn't realize that not only do they not want to spend time together, but also that Fleabag is incapable of keeping her mouth shut.
"It's about leaving your voice in your head and trapping your thoughts in your skull," explains the meditation leader on the first day, at which Fleabag raises an eyebrow. "Think of it as a thought prison in your mind." In addition to meditating, they also perform mindless tasks like trimming the lawn with scissors. In case of an emergency, they are instructed to write on a small chalkboard.
The Fleabag silent retreat illustrates both the ridiculousness of paying for peace and quiet today (to be bored to tears, essentially) but also its emotional and philosophical benefits. It's a trend that comes with the recent "self care" movement, and perhaps with more people raising their voices in the streets, over the phone, and online, we need to dedicate more time to the opposite, too. Silence can also be political, and "days of silence" have long been used to raise awareness about silenced communities. However, because the trend is now so linked to the luxury industry, it feels less like necessary self-care and a little more like self-indulgence.
For some, silence is exactly what the doctor ordered, but for others, even a silent retreat can't drown out the noise. In fact, it's too loud. At the end of the Fleabag episode, her sister decides to go end her stay early, leaving a note on the chalkboard: "Gone home for a bit of quiet."
Watch Cara Delevingne try out ASMR, below.