Simon Denny, New Zealand Pavilion
The artist discusses the inspiration behind his monumental installation.
---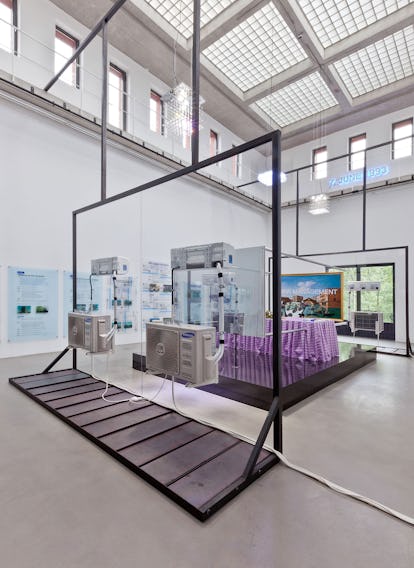 Visiting Venice last year to scout locations for his biennale show, the artist Simon Denny, who is representing his native New Zealand, was stunned by the 16th-century Marciana Library. Designed by Jacopo Sansovino, it is filled with portraits of philosophers by the Italian Renaissance painter Paolo Veronese. "Yougo up these amazing golden stairs, like an allegorical form of learning," Denny says. Known for sculptures and installations that highlight the uneasy interplay between technology and politics, Denny, 32, will examine the darker applications of learning today, when governments vociferously hunt and share digital information. "I'm looking at contemporary imaging of geopolitical space," says Denny of his show, in which sculptures outfitted with computer servers—today's answer to the library—and now-public government documents are likely to figure prominently. It even spills over to the city's airport—a first for a biennale artist. There, vinyl photos of the library will stretch through Customs—perhaps alluding to knowledge flowing across borders but out of reach.