Simon Porte Jacquemus Gets Personal
The up-and-coming designer talks about his burgeoning brand.
---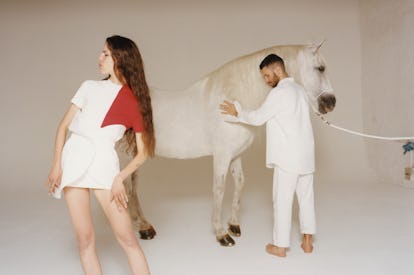 When he was 18, Simon Porte Jacquemus moved to Paris from the Provençal countryside to enroll in ESMOD International fashion school. He was there only a month before his mother passed away. Realizing that life is short, he quit school, procured a job at the local Comme des Garçons boutique, and worked on his own designs at night, producing his first collection while still a teenager. With a millennial's instinct for social media, he began posting pictures of his eminently Insta­grammable clothes, their obvious avant-gardeness influenced by a Rei Kawakubo sensibility. With the added support of Comme des Garçons president Adrian Joffe, it wasn't long before the French press, eager to promote one of their own, pounced. Now 26, Porte ­Jacquemus and his label, ­Jacquemus—so called for his mother, whose maiden name the designer has adopted—is one of the most promising designers in a decade to emerge in a country where young talent now tends to get fast-tracked into the giant, battling mother ships of Kering and LVMH. While he remains independent, with a staff of 12, Porte ­Jacquemus did, in fact, win an LVMH Special Jury Prize last year. "I guess you have to be crazy to start your own label," he says over a pot of Moroccan mint tea in a café in the Marais around the corner from his atelier. "There aren't enough crazy people in Paris."
Crazy, or just very, very confident—a characteristic that the designer says he owes to his mother's immense support. His father was a farmer, and Porte Jacquemus grew up surrounded by horses; Saturdays were spent selling fruit and vegetables at the markets. "It's weird for me now not to wake up every morning and pet the donkeys," he says. But his parents were also creative people. When not tending to the farm, his father was a musician, and his mother, a bit of a fashion fanatic. "She'd show up in some hot pink getup or a 1930s dress to school meetings. She was an eccentric, but I loved that." When he was 9, he had a seamstress make a skirt for her of his own design, and though he admits that it was "pretty ugly," his mother proudly wore it, proclaiming it beautiful. At that point, Porte Jacquemus was already five years into what would be a decade-plus career as a child model and actor in the South of France, fostered, as junior careers tend to be, by his mother. (Today, he posts the occasional tear sheet from those days on Instagram; a picture of him jubilantly holding up a package of diapers received an overwhelming amount of "likes.") "Imagine me going to Marseille for shoots on Saturdays, followed by visits to museums with my mother, and then having beignets on the beach," he remembers. "It was a good childhood." So perhaps it's no wonder that his designs started out as a celebration of infantile regression. Flat to the point of almost two-dimensionality, in geometric shapes with dashes of primary colors, the dresses, tops, and skirts looked straight out of a Colorforms sticker set. "I want to stay innocent my whole life, even if I don't want to stay a kid. I wish fashion were more innocent."
Styled by James Valeri. Hair by Alexis Parent; makeup by Kathy Le Sant at Airport Agency; photography assistants: Simon Wellington, Christian Bragg; fashion assistant: Lamia Lagha.[/caption]
Some critics have questioned the wearability of his clothes, but despite their challenging silhouettes, exaggerated grommets, and color-block and striped patches, they continue to sell out at Le Bon Marché, Dover Street Market, and on Net-a-porter. "It's always our most out-there pieces that do the best," Porte Jacquemus says. While Lady Gaga has been spotted in Jacquemus, and Miley Cyrus is a devotee, too, such celebrity accolades were never the designer's goal. "Sure, we loan to famous people, and I'm happy when I see Marion Cotillard shot in my clothes," he says. "But that whole red-carpet machine is done for me. I prefer to put up on Instagram a photo of a real girl in my clothes, because that speaks to people and touches their lives." And Jacquemus himself speaks extra loudly, posting each image not once but three times, as if to say, "No, really, look at this!"
Call him an oversharer, if you must—it doesn't bother him in the least. Porte Jacquemus's spring 2016 collection, arguably his most accomplished, is also his most personal. "I said to myself, 'I'm sick of laughing, I want to make people cry,' " he recalls. "Of course, what I didn't realize was that it would make me cry, too, and I'd be crying the whole time." There was not a dry eye in the audience, either, as models glided out in deconstructed pinstriped suiting and white shirts, and as the designer emerged at the end of the show, somberly leading a white horse. "It was a poetic way for me to say there is always hope. And honestly, now I'm ready to laugh again."
3 Paris Provocateurs: Vetements, Jacquemus, and Courrèges
Clothes Encounter
From left: Vetements designer Demna Gvasalia, with stylist Lotta Volkova and DJ Clara 3000, at a friend's apartment in Paris. Volkova wears Vetements parka. DJ Clara 3000 wears Vetements jacket.
Gvasalia, in bed, with Vetements model and muse Maud Escudie at her apartment in Paris. Escudie wears Vetements.

Photographer: Colin Dodgson
Vetements fit model Lily Standefer, at home in Paris, wearing pieces from the Vetements spring collection.
Styled by Lotta Volkova
DJ Clara 3000 wears a Vetements jacket and pants.
Styled by Lotta Volkova.
Photography assistant: Simon Wellington; fashion assistants: Ting, Laura Tanzer.
Mixed Breed
Simon Porte Jacquemus, with Baco the horse and the model Hayett McCarthy, in Paris. McCarthy and Porte Jacquemus wear Jacquemus.
The actress and singer Joana Preiss, wearing Jacquemus.
Styled by James Valeri.
Hair by Alexis Parent; makeup by Kathy Le Sant at Airport Agency; photography assistants: Simon Wellington, Christian Bragg; fashion assistant: Lamia Lagha.
Future Perfect
Top, from left: Courrèges style director Lolita Jacobs, wearing a look from Sébastien Meyer and Arnaud Vaillant's debut collection, with Meyer and Vaillant at their home in Paris.
Jacobs wears Courrèges.
Hair by Joseph Pujalte at Atomo Management; MakeUp by Mayumi Oda at Calliste; production by Laura Holmes Production; photography assistants: Simon Wellington, Christian Bragg.
Styled by James Valeri. Hair by Alexis Parent; makeup by Kathy Le Sant at Airport Agency; photography assistants: Simon Wellington, Christian Bragg; fashion assistant: Lamia Lagha.