Welcome to the Wild West of Eastern Europe: 6 Reasons Why Estonia Should Be Your Next Vacation Destination
From medieval stone towers, to vegan restaurants, night clubs, and abandoned Soviet prisons, this fairytale country has limitless charm and adventure.
---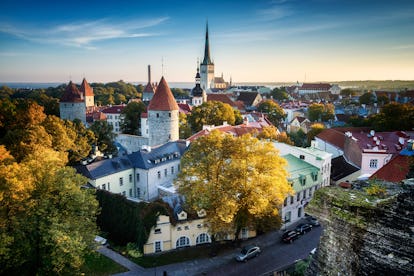 Photo by Getty Images.
"Who goes to Estonia?" my friends asked when they got wind that the country's capital was the next spot on my off-the-beaten-path travel list. The answer? Not many. But that's slowly changing. Especially if fashion folk are any indication—Jonathan Anderson, shot his campaign there last year, and other trailblazing designers such as Gosha Rubchinskiy and Balenciaga's Demna Gvelasia hail from the region. Eastern Europe is finally having its moment. And it's a moment well-deserved.
Located on the Baltic Sea, Estonia shares a border with Russia and Latvia, and is one of the three Baltic States (Latvia and Lithuania being the others) that were part of the Soviet Bloc until they declared their independence from the USSR in 1991. While that may seem like old news, it's relevant in that it's a young country in the most exciting, early stages of development.
At the very tip of Estonia, just a one-hour boat ride away from Helsinki, you'll find the magical city of Tallinn, Estonia's capital, where each neighborhood is more enchanting than the next. Unlike most European cities, Tallinn's Old Town is not swarming with tourists. Locals dwell in medieval stone towers (yes, really) which date back as early as the '00s–the 1200s!. The developing areas of Kalamaja and Telliskivi, are teaming with creativity and excitement (think Brooklyn in the early aughts) with burgeoning art scenes and a thriving social life.
While there's no direct flight from the United States (one stopover if you're lucky) Tallinn can be reached through all major European airports. But you won't complain once you're there-its remoteness has helped it to retain its charm and authenticity.
The History It is a country riddled with history, from medieval castles to untouched Soviet towns and other vestiges. Start your journey in Old Town, a UNESCO heritage site which looks like a village from your favorite fairy tale. Begin the day by climbing local towers and monasteries scattered throughout nd tour the Bastion Passageways, a network of over 380 winding secret tunnels hidden beneath a 17th century ammunition tower. Make sure you visit Paterei Prison, an eerie abandoned Soviet penitentiary. The building and remnants are remarkably intact, in the exact state the Soviets left them in when they fled the country overnight in 1991. Old Soviet telephone books, papers, posters, medical charts, and untouched blood-stained blankets litter the floors-and anything you find is yours to take.
The Adventure While you can easily fill your time with local sites, the day trips are well worth the trek. Book your excursion through the tour company Like a Local, and reserve a day (at least) to see the medieval castles outside of Tallinn. For those interested in Soviet history and more alternative excursions, this is your mecca. Venture outside city center and visit abandoned airstrip bases, sit in the cockpit of a Soviet fighter plane in the middle of an open field, or go to an original, fully functioning oil shale-mining town, virtually unchanged since Soviet rule. On your way back to Tallinn, make sure to stop by Rummu, an abandoned Soviet prison now partly submerged underwater. You won't want to miss this, so make sure to bring your swimsuit and swim out from the cement beach and dive off the top. Welcome to the wild west of the East.
The Nightlife You've heard New York is the city that never sleeps. Well Tallinn doesn't either. Start your night with a cocktail at Manna La Roosa, a multi-roomed fun house with bohemian decor. From there head upstairs to Thai Bo, their eclectically decorated thai restaurant, or head to F-HOONE in Telliskivi for Mediterranean fare and great cocktails in an old factory space. Tallinn is known for their pop up clubs and parties that rage well into the following day (as in 4pm), so make sure to check out the VÄLK parties (the next one is in March). If no party is scheduled during your visit, you can count on Lekker, a small, underground Berlin-style club located in Freedom Square in the city center. The club is instrumental to the underground music scene, and features a great rotation of international DJs and a killer crowd.
The Food When a Parisian foodie friend of mine told me she went to Tallinn on a food tour, I didn't believe her. Rid yourself of any preconceptions of rationed bread and potatoes because Tallinn has a thriving culinary scene, and a staunch commitment to organic produce. Start your day with breakfast at one of the cozy cafes that line Old Town, such as Kohvik August, a retro inspired coffee shop serving pastries, coffee, and salads, or take a rum hot chocolate at Pierre Chocolaterie, a café situated in an enchanting garden courtyard. Even if you're not a vegetarian, be sure to check out Vegan Restoran V for lunch. They use locally sourced, organic ingredients, to concoct incredible soups, homemade breads, and other creative vegan fare that tastes so good you'll forget it's healthy. For a coffee break head to Gourmet Coffee next to the Presidental Palace; although it just opened, it's already considered to be the best coffee in Tallin by locals. If you find yourself in Kalamaja head to Kukeke OÜ, an unpretentious bistro located in a Czarist railway depot building. For those who want a lavish dining experience, head to NOA Restaurant, a three story eatery that overlooks the Baltic sea and was voted the best restaurant in Tallinn in 2014.
The Digs Cute, medieval European nooks abound. Surround yourself with warmth and charm and make sure to stay in Old Town. Stay at Hotel Schlössle, a luxury boutique hotel housed in a renovated medieval stone tower, with enchanting low beamed ceilings and traditional Estonian decor. For equal charm and a lower price tag, try the Cru Hotel, which you'll find hidden away down a charming stone-laden alley way. It also happens to have one of the best restaurants in Tallinn.
The Charm, Crafts, and Culture Twists and turns, cobblestoned streets, enchanting courtyards and pastel colored gabled houses. Tallinn feels like a fairy tale, a place to lose yourself, unwind and relax. Just when you feel you've seen it all, there's another Diagon Alley-looking passageway to wander down. Make sure to go into the artisanal shops you'll run into along the way, such as Eesti Käsitöö, where you'll find ceramics and other crafts such as hand-bound notebooks, eskimo slippers, and colorful knitted gloves and hats adorned with regional designs. Rent a bike and ride through Tammsarre park before checking out Balti Jaam market, a Soviet market where you'll find everything from fresh picked apples, to Soviet alarm clocks and medals. Make sure you venture beyond Old Town and check out Tallinn's neighborhoods of Telliskivi and Kalamaja.
Gosha's Gang: A Who's Who of the Designer's Inner Circle
Who: Andrei, model
Handle: N/A
Who: Seva Vsevolod Cherepanov, model, muse, and merch king
Handle: @amoureuxpeintre
Who: Avdotja Alexandrova, founder of Lumpen Modeling Agency
Handle: @vidunja
Bella Hadid, a Bubble Bath, and Jenga: What More Could You Want?
Bella Hadid, a Bubble Bath, and Jenga: What More Could You Want?