Meet Snow Xue Gao, the Parsons Grad Who Is Dressing Rihanna
The up-and-coming fashion designer was one of the breakout stars from New York Fashion Week.
---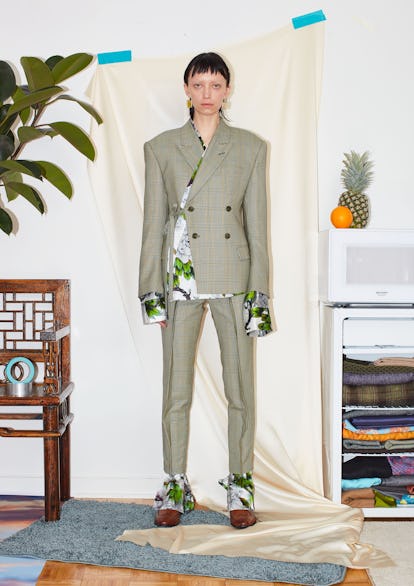 Courtesy of the designer
When she started art school in her native Beijing, Snow Xue Gao was such a fashion neophyte that she didn't know who Coco Chanel was. "I thought I was going to be an architect or an artist," says the 25-year-old, who now counts Dries Van Noten and Martin Margiela as influences. An assignment that involved filling sliced-open produce with shredded fabric sparked an interest in textiles, and a fashion design competition convinced her to rethink her focus. Eventually, she landed in Parsons's Fashion Design and Society M.F.A. program, from which she graduated last year. She's since shown her fall collection at New York Fashion Week, as part of VFiles Runway; gained a superfan in Rihanna; and opened a studio in Manhattan's Garment District.
It's there that Gao works out her distinctive ensembles—mash-ups of traditional Asian garb and Western clothes that she wraps and ties around a live model (usually her best friend), a process she developed while working as a stylist in China. For Gao, twisting is both technique and metaphor. A strong-shouldered jacket with peekaboo printed silk cuffs riffs on both 1980s power dressing and Qing dynasty floral painting; a Chinese brocade dress straddles East and West with one magua-style raglan sleeve and one shoulder strap fashioned from a necktie. "My jackets are not going to be kimono jackets or Western jackets," she says, "but Snow Xue Gao jackets."
See Snow Xue Gao's Spring 2018 Collection
A model at the Snow Xue Gao Spring Summer 2018 fashion show during New York Fashion Week on September 8, 2017 in New York. Photo by Getty Images.

EDUARDO MUNOZ ALVAREZ
Models at the Snow Xue Gao Spring Summer 2018 fashion show during New York Fashion Week on September 8, 2017 in New York. Photo by Getty Images.

EDUARDO MUNOZ ALVAREZ
A model at the Snow Xue Gao Spring Summer 2018 fashion show during New York Fashion Week on September 8, 2017 in New York. Photo by Getty Images.

EDUARDO MUNOZ ALVAREZ
Models at the Snow Xue Gao Spring Summer 2018 fashion show during New York Fashion Week on September 8, 2017 in New York. Photo by Getty Images.

EDUARDO MUNOZ ALVAREZ
Models at the Snow Xue Gao Spring Summer 2018 fashion show during New York Fashion Week on September 8, 2017 in New York. Photo by Getty Images.

EDUARDO MUNOZ ALVAREZ
A model at the Snow Xue Gao Spring Summer 2018 fashion show during New York Fashion Week on September 8, 2017 in New York. Photo by Getty Images.

EDUARDO MUNOZ ALVAREZ
A model at the Snow Xue Gao Spring Summer 2018 fashion show during New York Fashion Week on September 8, 2017 in New York. Photo by Getty Images.

Andrew Toth
A view of backstage at the Snow Xue Gao presentation during New York Fashion Week on September 8, 2017 in New York City. (Photo by Andrew Toth/Getty Images)

Andrew Toth
A model at the Snow Xue Gao Spring Summer 2018 fashion show during New York Fashion Week on September 8, 2017 in New York. Photo by Getty Images.

EDUARDO MUNOZ ALVAREZ
A model at the Snow Xue Gao Spring Summer 2018 fashion show during New York Fashion Week on September 8, 2017 in New York. Photo by Getty Images.

Andrew Toth
Models get ready at backstage before the Snow Xue Gao Spring Summer 2018 show during New York Fashion Week on September 8, 2017 in New York. Photo by Getty Images.

EDUARDO MUNOZ ALVAREZ
A model at the Snow Xue Gao Spring Summer 2018 fashion show during New York Fashion Week on September 8, 2017 in New York. Photo by Getty Images.

Andrew Toth
Models at the Snow Xue Gao Spring Summer 2018 fashion show during New York Fashion Week on September 8, 2017 in New York. Photo by Getty Images.

Andrew Toth
A model at the Snow Xue Gao Spring Summer 2018 fashion show during New York Fashion Week on September 8, 2017 in New York. Photo by Getty Images.

Andrew Toth
A model at the Snow Xue Gao Spring Summer 2018 fashion show during New York Fashion Week on September 8, 2017 in New York. Photo by Getty Images.

Andrew Toth
A model at the Snow Xue Gao Spring Summer 2018 fashion show during New York Fashion Week on September 8, 2017 in New York. Photo by Getty Images.

Andrew Toth
A model at the Snow Xue Gao Spring Summer 2018 fashion show during New York Fashion Week on September 8, 2017 in New York. Photo by Getty Images.

Andrew Toth
A model at the Snow Xue Gao Spring Summer 2018 fashion show during New York Fashion Week on September 8, 2017 in New York. Photo by Getty Images.

EDUARDO MUNOZ ALVAREZ
A model at the Snow Xue Gao Spring Summer 2018 fashion show during New York Fashion Week on September 8, 2017 in New York. Photo by Getty Images.

Andrew Toth
A model at the Snow Xue Gao Spring Summer 2018 fashion show during New York Fashion Week on September 8, 2017 in New York. Photo by Getty Images.

EDUARDO MUNOZ ALVAREZ
A model at the Snow Xue Gao Spring Summer 2018 fashion show during New York Fashion Week on September 8, 2017 in New York. Photo by Getty Images.

Andrew Toth
A model at the Snow Xue Gao Spring Summer 2018 fashion show during New York Fashion Week on September 8, 2017 in New York. Photo by Getty Images.

EDUARDO MUNOZ ALVAREZ
Related: Rihanna, Eternal Supporter of Young Fashion Designers, Speaks to Parsons School of Design Grads: "We Need To Invest In You"
Watch: Fall Fashion Advice from a Very Young Stylist