Exclusive Song Premiere: Sofi Tukker Cuts Loose With an Ode to Profanity
The Grammy-nominated duo teamed up with Scissor Sisters frontman Jake Shears to write their brash new track about creative independence.
---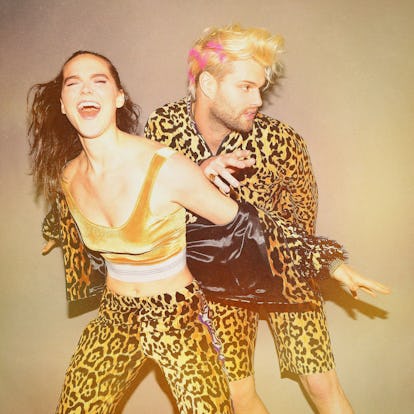 Shervin Lainez
Nearly a year ago, Sophie Hawley-Weld and Tucker Halpern, the duo behind the electronic dance outfit Sofi Tukker, visited the musician Jake Shears, the former frontman of Scissor Sisters, at his home in Los Angeles. Though Halpern now remembers the occasion as the first time they met Shears, they must have hit it off: They ended up writing an off-the-cuff, early version of their new song "F— They," which premieres exclusively here on W.
Halpern and Hawley-Weld were in the Antibes, fresh off an appearance on a panel discussing "independence and creativity" alongside director Lee Daniels at the Cannes Lions festival when we connected over Skype to discuss the track in late June. "He's this really awesome, eccentric, funny guy," Halpern said of Shears. "We were just like, 'Let's make this weird, fun thing.'" The resulting demo was "real old-school," Halpern added, and "really goofy," Hawley-Weld said. "There were lines about broccoli and—"
"—wigs," Halpern finished. But after that initial session, Halpern and Hawley-Weld tabled the song. "It's different than anything else we have written before because of Jake's influence," Hawley-Weld said. "It was tongue-in-cheek and kind of goofy in a way that was new to us."
They revisited "F— They" several months later, dismantling it, preserving its call-and-response chorus of "I don't give a f— about they," "Who's they?" "Who gives a f— about they?" "Who's they?" and its playful spirit, and reassembling the song into a more recognizably Sofi Tukker track.
"The whole premise is 'f— they'—the people that are trying to hold us back from being who we are, being ourselves really loudly," Hawley-Weld explained. "The profanity's even part of it." (The New York-based duo are independent artists and, as they pointed out, labels might be reticent towards putting out a profanity-laced lead single. "They" have also encouraged Sofi Tukker to translate their Portuguese tracks, to tone down their wardrobe, to "dictate our creativity," Hawley-Weld said.)
Still, "F— They" marks a departure from the sound Sofi Tukker established on their first EP, 2016's Soft Animals. On their debut, the pair synthesizes a distinct blend of Portuguese lyrics, bossa nova rhythms, bongo drum beats, and electronic synthesizers and bass lines; "Drinkee," a track they wrote as seniors at Brown University, and for which they earned their first Grammy nomination late last year, adapts its lyrics from the Brazilian poet Chacal.
Hawley-Weld described "F— They" as a "thesis statement" for their upcoming releases. "The next group of songs we've been working on definitely have a cheekier edge," she said. "They're sassier," Halpern added.
At the Coachella festival earlier this year, Sofi Tukker reunited with Shears onstage to perform "F— They."
"Writing about it and getting to repeat it every time we perform is a powerful thing," Hawley-Weld said. "Whenever we perform this song, it's just so ecstatic to say the words."
Try it: F— they. Who's they, anyway?
Claire Foy was very, very pregnant when she auditioned for The Crown: