Watch Out, Kristen Stewart: Personal Shopper Co-Star Sigrid Bouaziz Is Fendi's Newest Muse
The actress, who currently stars in the Olivier Assayas film, describes her dream night out, the allure of Chloë Sevigny's syle, and playing a modern day Marie Antoinette.
---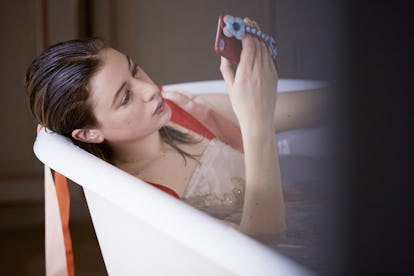 In Personal Shopper, Kristen Stewart plays Maureen, a—wait for it—personal shopper who learns she can still communicate with her dead brother Lewis. Unsurprisingly, the film has quickly become known as the movie where K.Stew talks to ghosts, or the movie that Stewart promoted with her newly shaved head. Of course, then there are those who have actually seen the film. And for them, the real news is the emergence of French actress Sigrid Bouaziz.
Bouaziz stars as Lara, the ex-girlfriend of Lewis, who provides a grieving Maureen with a sense of calmness and clarity. Through the screen, Bouaziz emanates a similar feeling; there's a sense of familiarity, though the actress is still unknown in the Hollywood realm, that makes you wonder why you haven't seen her before—and when you can next.
Though the Olivier Assayas film is her first major breakthrough stateside, Bouaziz has been starring in French films steadily since 2012, including the 2013 short Pour la France, for which she received the Best Actress award at the Festival du Film de Vendome.
Though she may not exactly be tabloid fodder like Stewart just yet, the French actress does have plenty in common with her American co-star, including a starring role in the fashion world; namely, the lead in Fendi's new fashion film titled Girls Secret, premiering exclusively on W. In the film, Bouaziz plays a modern day Marie Antoinette, galavanting around Paris with her friends, wearing the latest from the house's pre-fall 2017 and spring 2017 collections, in all their girly glory. The clip, which clocks in at just under two minutes, is directed by French film director and screenwriter Rebecca Zlotowski, who also directed the film Planetarium, starring Natalie Portman and Lily-Rose Depp, and captures Bouaziz taking in a whirlwind evening out in the City of Lights, complete with plenty of covetable accessories. Here, the actress talks Fendi, her personal style, and her most memorable night out.
What was it like playing a 2017 version of Marie Antoinette in the Fendi short? The film is about the night out of a modern Queen of France, who, hiding her secret identity, wanders around Paris from sunset to dawn with her court of coquette friends. I loved playing the role of a nowadays Marie Antoinette and put myself in the shoes of such an emancipated, free, and self-confident woman, just like she was at her time.
What does your own ideal night out include? My most memorable night out was in Cadaques in Spain during the summertime, where my friends and I had a crazy night dancing on the beach for the full moon party. The best nights out involve best friends, good music to dance to, and the feeling that the present could never end.
Describe your personal style. It's a mix of a lot of styles.
What is your most prized possession in your closet? A Chloé vintage dress designed by Karl Lagerfeld.
Who are your style icons? Chloé Sevigny, because she's modern and sensual. Or Kristen Stewart; boyish, ultra-feminine, and sensual all at the same time.
You just worked with Stewart, as well as directer Olivier Assayas in Personal Shopper. What was that experience like? I loved it so much. Both of them were so caring; it was a deep, rare, and generous exchange between us.
From 'Twilight' to Chanel: Kristen Stewart Grows Up
"It shouldn't be embarrassing because I was so young," Stewart told Marie Claire UK of photos that remain from her child-star days. And yet, she says, it is.
Kristen Stewart at the premiere of Panic Room in Los Angeles, California, March 18, 2002. Photo by SGranitz/WireImage.
Three years later, Stewart starts to work with her hair but still keeps her wardrobe choices fairly neutral. Kristen Stewart at a screening of Fierce People at the Tribeca Film Festival in New York, New York, April 2005. Photo by Evan Agostini/Getty Images.
With the premiere of Into the Wild, Stewart starts to dabble in high fashion — here, with an ultra-feminine Rodarte frock.
Kristen Stewart in Rodarte at the Los Angeles premiere of Into the Wild in Los Angeles, California, September 2007. Photo by Toby Canham/Getty Images.
Newly brunette, Stewart arrives at the VMAs in Derek Lam to present alongside her Twilight cast mates.
Kristen Stewart in Derek Lam at the MTV Video Music Awards in Los Angeles, California, September 2008. Photo by Steve Granitz/WireImage.
Stewart makes a rare foray into color with this bright teal and green Proenza sweater and skirt, showing off a freshly bobbed hair style.
Kristen Stewart in Proenza Schouler at a Twilight Saga: New Moon event in London, England, November 2009. Photo by Eamonn McCormack/WireImage.
Stewart plays up the Hollywood glam look with a red lip and smoky eye at a Cinema Society screening.
Kristen Stewart in Valentino at the Cinema Society's Welcome to the Rileys screening in New York, New York, October 2010. Photo by Getty Images.
Stewart's red carpet looks become more dramatic, and more sophisticated, as she neared the end of her Twilight tenure — often favoring black and dark neutrals. Kristen Stewart in Roberto Cavalli at the U.K. premiere of Twilight Saga: Breaking Dawn Part 1 in London, England, November 2011. Photo by Getty Images.
Here, the gilt detailing and two-piece silhouette mark a departure from Stewart's previous, more classically inspired looks.
Kristen Stewart in Balmain at the Australian premiere of Snow White and the Huntsman in Sydney, Australia, June 2012. Photo by Getty Images.
In recent years, Stewart has been known to favor menswear-inspired looks, but this 2012 ensemble is one of its first appearances.
Kristen Stewart in Balenciaga at the AFI premiere of On the Road in Hollywood, California, November 2012. Photo by Getty Images.
Prior to her fashionable friendship with Karl Lagerfeld, Stewart briefly favored Lebanese designer Zuhair Murad.
Kristen Stewart in Zuhair Murad at the premiere of Twilight Saga: Breaking Dawn Part 2 in Los Angeles, California, November 2012. Photo by Getty Images.
The jumpsuit makes another appearance, albeit this time with a jewel-toned overhaul.
Kristen Stewart in Stella McCartney at the Costume Institute Gala in New York, New York, May 2013. Photo by Rabani and Solimene Photography/WireImage.
Since signing on as a face of Chanel, Stewart has started to wear Lagerfeld's designs to nearly all her premieres and screenings — and the occasional posh luncheon.
Kristen Stewart in Chanel at the premiere of Equals in Venice, Italy, September 2015. Photo by John Rasimus/Barcroft Media.
Lagerfeld has recruited Stewart for campaigns — and to fill his front row.
Kristen Stewart in Chanel at the Chanel Metiers d'Art Fashion Show in Rom, Italy, December 2015. Photo by Getty Images.
Sometimes, the occasion just calls for "Ladies Who Lunch" — and when that look calls, Lagerfeld delivers.
Kristen Stewart in Chanel at the Film Society of Lincoln Center luncheon in New York, New York, January 2015. Photo by Mike Pont/WireImage.
And even after all these years, Stewart knows how to take it back to where it all started. Her look at this year's Sundance festival nearly echoed her self-professed awkward phase of 15 years prior.
Kristen Stewart at the Sundance Film Festival's Certain Women premiere in Park City, Utah, January 2016. Photo by Getty Images.
Butterflies of Paris: How Street Style Stars Do Paris Fashion Week