Sofia Coppola Now Has Two Movies Out This Summer
In addition to her feature 'The Beguiled', the director is celebrating Cartier's Panthère watch with a film that will actually be in select theaters, as well as on social media.
---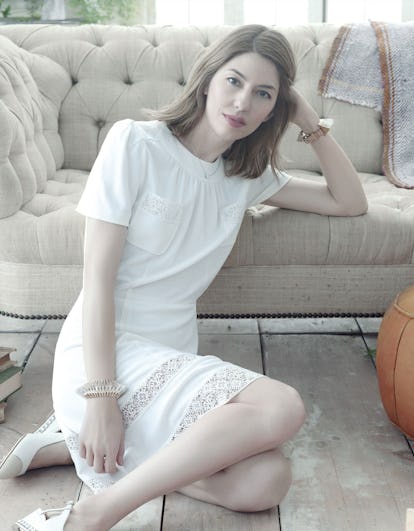 Still shaken from the creepy trailer for Sofia Coppola's upcoming film The Beguiled? Don't worry, the director has something a bit more palatable up her sleeve.
Coppola, no stranger to luxury collaborations, has teamed with Cartier to create a movie in honor of the house's soon-to-be-relaunched Panthère watch, which originally debuted in 1983 and has been temporarily discontinued since 2004.
"I love the era when the Panthère debuted and I think of it as glamorous and sexy, and thought about films and the women of that era," Coppola told Business of Fashion. "I wanted it to feel like a perfect fun day in the life of the Panthère watch and the woman who is wearing it. I imagined she's visiting LA and away from work, and is enjoying the sun, romance and her friends."
The Cartier film, which is set to debut on social media and in select cinemas in June to coincide with the watch's June 1st launch, will focus around three girls, played by Courtney Eaton and Brooklyn and Amanda Sudano, set in Los Angeles in the '80s. Eaton most notably played one of the five wives—alongside Abbey Lee, Zoe Kravitz, Rosie Huntington-Whitely, and Riley Keough—in 2015's Mad Max: Fury Road, while the Sudano sisters are the daughters of Donna Summers.
Sofia Coppola Takes You Inside Valentino's "La Traviata"
We begin at the Valentino atelier in Rome.
Coppola: "I love what a perfectionist he is and his great love of beauty. They had to shorten the train of this dress for Violetta's entrance because it was too long for her to walk in. There was a lot of discussion about this train!"
Chiuri: "It was a real challenge trying to find the exact shade of color Mr. Valentino wanted."
Piccioli: "Are we sure we want to shorten and decrease the tail? Never big enough for Violetta's entrance."
Unless noted, all photos courtesy Valentino SpA.
Violetta's much discussed train.
An opera is an intimidating undertaking, and there is many competing elements to consider for "La Traviata."
Coppola: "Valentino was really involved in every detail, and it was great to see how Maria Grazia and Pierpaolo worked with him so that all the costumes worked together. I tried to keep the focus on the music, the costumes and the character of Violetta – being her story. Nathan and I wanted the sets to support the costumes, not compete with them."
Chiuri: "We have shared with Mr. Valentino the spirit of the costumes for La Traviata. They had to be timeless and at the same time loyal to the spirit of the opera."
Piccioli: "Moodboard: Hues of turquoise, rose, lace and red. Of course, a timeless Traviata."
Valentino Garavani: "The inspiration board in the ateliers. I wanted platform shoes…had to discard them later because the soprano couldn't walk very well in them."
On the one hand, there's sets to build, all in the opera house's famed workshops, the Laboratorio di Scenografia del Teatro dell'Opera.
Chiuri: "The laboratories ove viewing the Circo Massimo are a magical place for Pierpaolo and I, we love this place."
But then, there's also tiny touches that no one except the actors will likely notice. Coppola: "Craftspeople painting the vases for Flora's party scenes, which are based on de Gournay wallpaper."
Chiuri and Piccioli: "Maurizio Varano at work. Since we met in 2014, we have been accomplices."
Luckily, the best of the best are hard at work: Coppola: "Great to see how their costumes all worked together. Maria Grazia and Pierpaolo have such respect for Valentino and the Couture tradition. I love how they embrace this and add a modern feeling to it."
Piccioli: "It takes two to tango, three could be better."
The A-Team gets down to the nitty gritty.
Their commitment to craftsmanship is on vivid display throughout the process.
Coppola: "Violetta's dress for her party scene—which I love—a great cape made of black tulle."
Piccioli: "White is the color of couture, black is our colour."
The role of Violetta is one of the greatest in opera, once played by the legendary diva Maria Callas and in this production by Francesca Dotto. As the show's lead, her costumes, seen here, receive lavish attention.
Chiuri and Piccioli: "Basically, this dress has occupied Antonietta's laboratory for three months."
Valentino Garavani: "The Couture ateliers at work day and night..hours and hours of work."
Coppola: "The incredible couture details by the women who have worked there for many years. Pierpaolo told me they started a school there so they can carry on the tradition."
Coppola: "It was nice to hear that a lot of young people are interested to learn this craft."
Chiuri: "They are not only costumes, they are Haute Couture dresses."
The other major female role is Flora, Violetta's friend, typically played by a mezzo soprano, Anna Malavasi in this case.
Coppola: "This is Flora's dress designed by Maria Grazia and Pierpaolo. I love the dresses they did for this scene—the ball of Flora with masks and everyone in sheer black."
Chiuri: "Pierpaolo and I are a 'Noir' generation, therefore this dress and this scene, with the chorus all in black, is cherished by us as it reflects us perfectly."
Piccioli: "Flora and the choir all in black. Doing opera costumes is rock."
Even the footwear is up for debate.
Coppola: "Francesca, was worried about walking in very high platforms. Valentino wanted her to be taller… they found a compromise."
Chiuri: "Finding a compromise between the requirements of the theatre and fashion spirit that resides in each one of us has been the most challenging and funny aspect."
Valentino Garavani: "With Sofia, Maria Grazia and Pierpaolo chatting with Francesca Dotto to be sure she was comfortable in the dress."
The A-Team approves of the process so far.
Act 1, Violetta's Party. Coppola: "Nathan made that staircase because I wanted her to make a dramatic entrance. This is also while we worried about her being able to walk in her shoes! That's Flora in the white dress next to Violetta."
Chiuri: "We wanted for Flora and for the chorus dresses in light and impalpable colors, in order to define the festive beginning of the story."
Piccioli: "Layers and layers of dyed pastel tulle for the chorus to create harmony and lightness to make Violetta shine."
Photo by Yasuko Kugeyama.
A scene from "La Traviata."
Photo by Yasuko Kugeyama.
Coppola: "This was a possible red cape for Flora's party scene, but Valentino preferred a cinnamon tulle cape in the end."
Chiuri: 'With our rebel spirit, we proposed to Mr. Valentino an alternative to Violetta's cape, more theatrical and dramatic, but like in the past, his firmness won!"
Garavani: "That red theatre coat ..I changed it later for a tulle gold cape."
A scene from "La Traviata."
Photo by Yasuko Kugeyama.
A scene from "La Traviata."
Photo by Yasuko Kugeyama.
Almost a decade after he stepped down from his namesake label, the maestro has not lost his touch.
Coppola: "Amazing to see Valentino at work! This is the costume for Act 3—Violetta's death scene. The set is all dark blue and she stands out alone in pale pink."
Chiuri: "We know very well Mr. Valentino's attention to detail, and to those who ask us how it was working with him we answer: nothing has changed."
Piccioli: "Hidden faded roses in the puff sleeves. We love them faded, he loves blossoming."
A detail on a costume for "La Traviata."
The whole gang ends up at the historic Teatro dell'Opera Di Roma.
Coppola: "It's a beautiful theater and was so great for me to get to work there!"
Piccioli: "Dream team!"
Coppola was officially named a "friend" of Cartier last year, appearing in a series of images for the brand's Clé de Cartier watch. Beyond the jewelry brand, she is perhaps most famously a friend, both professionally and personally, of Marc Jacobs, frequently sitting front row at his fashion shows and wearing his designs on the red carpet. In 2001, she appeared as the face of his first fragrance; over a decade later, she stepped behind the camera for one of his many scents to come since then. It certainly pays to be in Coppola's corner.
Related: The Best Advice Sofia Coppola Received From Her Dad, Francis Ford Coppola: "Don't Wait for Permission"