Five Minutes with Sofia Coppola
The stylish filmmaker shares her beauty secrets.
---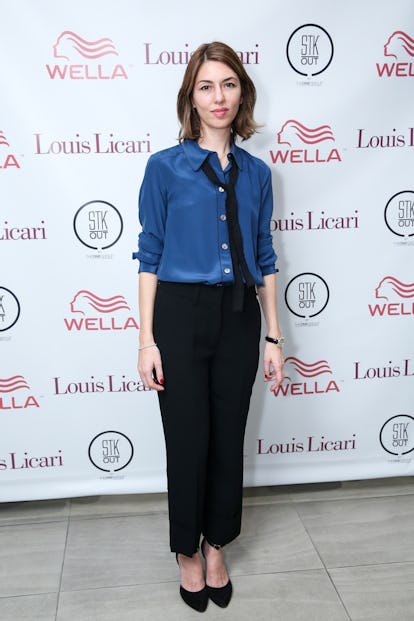 On Tuesday night, the always-chic filmmaker Sofia Coppola donned pieces by her friends—a Marc Jacobs top, Sonia Rykiel pants by Julie de Libran, and Celine shoes by Phoebe Philo—to celebrate the success of another friend, the colorist Louis Licari, at the opening of his new Manhattan salon. Now that she's revealed the secret to her impeccable locks and wardrobe, here are her favorite new products, her morning routine, and her worst beauty mistake.
What's your first beauty memory? The Erno Lazlo counter at Niemen Marcus in San Francisco, and buying their black soap. I was probably around 13, I thought it was glamorous. I remember the marbleized case the soap came in.
What was your biggest beauty blunder? Over tweezed brows and red hair! In the early '90s, when I was around 20, I lost my brows on a Steven Meisel shoot (I think).
What's your 5-minute beauty routine? Joelle Ciocco toner, hydrogel and face cream in the morning, and Eminence lip balm.
If you had an extra ten minutes in your routine, how would you spend it? Massaging my face with the new Philips Face Massager that a friend gave me. I think they come out next year—you can change brush head for different massages.
What beauty items are in your purse? Fresh Rose Tinted Lip Treatment.
What's your beauty peeve? Super glossy lips, unnaturally long lashes, and contouring.
Which discontinued shade do you wish would come back? Fresh concealer and my favorite discontinued lipstick, L'oreal Caress 707. Can you talk them into making again?
What are you currently obsessed with? I love the radio frequency facials at Joanna Vargas, Anne Marie Borlind Orange Blossom Energizing Face Oil, Tom Ford Illuminating Face Primer (I get compliments when I use it!), SKII face masks, and I'm enjoying Mindy Kaling's new book.