Sofia's Choice
She rides with Keanu, inspires Karl, poses for Donna and Calvin. She's Sofia Coppola, the queen of Hollywood's cool pack.
---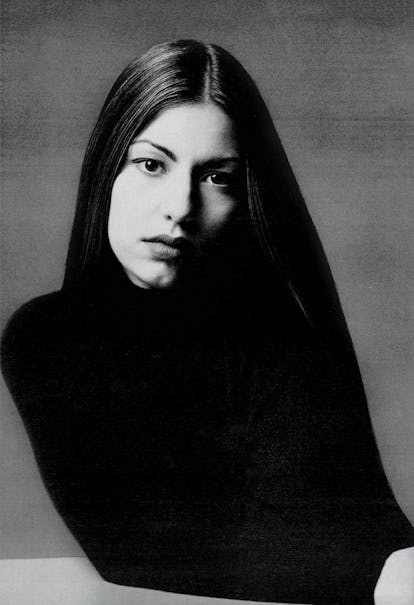 She's IT.
Think back to Edie Sedgwick, Twiggy, Jean Shrimpton or any of those ephemeral hipsters who rocked and rolled the social landscape, who knew absolutely everyone, were pursued by absolutely everyone, and who turned the conventions of style and beauty in their time.
Sofia Coppola is the new IT Girl.
Her best friends are fashion photographers Dewey Nicks and Paul Jasmine and Hollywood cool kids Donovan Leitch, Keanu Reeves and Zoe Cassavetes. She runs around with Anna Sui, Marc Jacobs, and Calvin Klein, and she refers to Karl Lagerfeld as "like my uncle, or something." She walked the runway for Calvin Klein's AIDS Project Los Angeles extravaganza at the Hollywood Bowl recently, creating a Hollywood sensation simply by dyeing her dark hair cherry red the day before.
Although Sofia is currently enrolled in art school, she's lately taken to modeling—you'll see her in DKNY's fall campaign paired with Amber Valletta and Shalom. She's producing her own TV show. She's appeared in MTV clips for the Black Crowes and Madonna. Iggy Pop wanted her in his next video, but she had to pass. "I don't want to be a video babe," she says. And her almond eyes, oversized pout, pronounced Roman nose and frail body have created a new standard of beauty that's made her the darling of Steven Meisel, Bruce Weber and Peter Lindbergh.
Take that, Godfather III critics!
Sitting at an outdoor table at a friend's restaurant, Quality Food and Beverage on Third Street, Sofia is incognito in a shrunken white T-shirt, black jeans and running shoes. Her waist-length locks are tied back, and the Modigliani eyes and mouth are unmade-up and almost subtle. "I'm totally into these T-shirts for little boys and little girls," she explains. "I buy them at Sears. Have you discovered Sears yet? They have the best T-shirts."
Half of L.A. will be wearing them in a week.
As she dawdles over a cappuccino and one lone waffle, theres is almost nothing to give away her It-ness, except that ever passing hipster stops by to say hello.
"I guess I know a lotta cool people," she mumbles modestly. "Some of that's from my dad and stuff. Some I just met 'cause I have a lot of interests."
Until recently, Sofia had only lived in L.A. for one year, when she was 10 and her father, Francis Ford Coppola, was direction One From the Heart. Otherwise, her childhood was spent in Napa Valley, on an estate that includes the family vineyards. "I take it fro granted, always having great red wine around," she smiles. "My dad will bring out these 100-year-old bottles and have us taste them. My friends always want me to pick the wines when we eat out. I don't know much about them—but growing up in Napa, I know the families, and I'll say, "Oh, let's get this one, these people are really nice."
Her burgeoning career as a muse obviously started at home. She was the inspiration for Coppola's segment of the tri-directed New York Stories, and it was Sofia's taste in all things Chanel that inspired the costumes. When she was 15, Sofia spent the summer in Paris assisting Karl Lagerfeld.
"I thought everyone at Chanel would be like these old ladies, really uptight. And they all thought I was going to be this bratty Hollywood girl they had to do a favor for." This admission makes Coppola blush. "But it turned out they were all really cool and fun. Gilles Dufour is like my uncle now, and had me come back the following year. They piled my arms with clothes, but I think they were pretty surprised how I wore them. I'd wear my ripped jeans with Chanel sweaters and stuff."
"Now, if I have an idea for them, I'll send them a sketch. As a joke, I told them to make Chanel clogs, and they made them—and sent me a pair. They looked like conceptual art. And I had them make a Chanel gun holster belt and a Chanel motorcycle wallet on a chain. I went there recently, and they had the prototypes."
She became friendly with Marc Jacobs, Anna Sui and Calvin Klein last year during the New York collections, when she was scouting for clothes for her TV project, "High Octane." Calvin recently asked her to find hip young Hollywoodites to star in his June show. "Everyone kept asking about my hair at that show," moans Sofia. "Kelly Klein came over to me and said, 'Is your hair—red?' I couldn't believe anyone cared. Peter Savic, the hairdresser, came over the night before and dyed five of my friends' hair red. He's an artist. It was his Red Period." Louis Licari has recently taken her back to her natural dark brown.
Her own style runs the gamut from those shrunken T-shirts ("It's all about prepubescence—I've always been into a Lolita thing") to full length velvet gowns. "Sometimes people think I raided the Dracula wardrobe closet," she laughs. She's probably best known for putting together designer pieces with rags and waltzing off with a brand new look. "I'm a bit bored with the whole flower dress thing," she sighs. "But it is comfortable. Grunge is not a movement. It's the way art students have always dressed because they are broke and don't care." Lately, however, Sofia confesses to certain fashion restlessness. "My friend and I are going to invent some new look," she hints, "because we are sick of everything."
Her influence is extending beyond clothes these days. "One night I took her to a party for Kelly Klein at the Beverly Hills Hotel," Paul Jasmine recalls, "and we were talking to Isabella Rossellini. And I looked at these two fabulous Italian women, and I remember what Mrs. Vreeland said about noses! She's so beautiful, and she doesn't have a clue she's beautiful. I knew that would make her the most interesting woman to photograph."
All this makes her squirm and stare into her waffle. "It started with Steven Meisel wanting to take my picture. I collect photographs, fashion pictures from the Fifties, and I thought that when I was older, I'd love to have this Steven Meisel portrait. It's great to watch him work, and Bruce Weber. Paul took a picture of me topless. And it's not a big deal that I'm flat chested. My dad made me have large breasts in The Godfather 'cause he wanted me to look like an Italian movie star. But I hated it, 'cause everyone was staring at my chest. I couldn't wait to take them off! That whole era of Cindy Crawford, the super-models, was so scary—that big hair, the whole Barbie thing. I don't know anyone like that."
"I just think photographers stopped wanting to take pictures of eight-foot girls with huge tits. They started to realize people can be into other forms of beauty. I don't feel like a 'model.' But if someone's into paying me to take my picture, and it's someone great—well, OK. Sometimes, when I look at my own pictures, I think I look awful—or really good. Everyone's insecure. But it's interesting to see how lighting can make you look like a different person. I think it's cool that people are now into more diverse ideas of beauty. 'Cause when I was in high school, the pretty girls were blonde and perfect. Those were the girls they guys were after."
These days, a lot of guys are after Sofia—as they were with Anjelica Huston—the IT girl of her day, also daughter of a famous director.
"Why are all these men hitting on me?" Sofia asks Paul Jasmine. "Because you're interesting and vulnerable." he tells her. She's been spotted on the back of Keanu's bike—"he's a friend," she smiles shyly—and couple-watchers of the highest Hollywood order make daily calls to check on the status of her love life, "I loved it when the tabloids said I was fighting with Madonna over [Red Hot chili Pepper] Anthony Kiedes," she laughs, but doesn't quite deny. "I'm not into long-haired bad boys anymore. My idea of a hip man is Steve McQueen in The Thomas Crown Affair crossed with Howard Roark , from The Fountainhead."
Her real passions these days are cars, and "High Octane" which was inspired by her thing for automobiles. She stares lovingly at her red '69 convertible GTO parked just a few feet away. "I'm gonna sell my Saab," she says. "It was my first car, and it's real safe, but these days it makes me feel like a junior agent. My dad and my brother, Roman, are really into cars, and about a year ago, I got into cars in a serious way. It's such a boy thing, all these boys have muscle cars, so I had to get my own."
Along with friends Andrew Durham and Zoe Cassavetes, Coppola just finished a six-hour shoot for the pilot of "High Octane." It's sort of a non-talk show in which Sofia and Zoe drive around and interview cool people, essentially their friends.
"I wrote the script 'cause I was so into cars. And I have access to all these interesting people—these actors and musicians. But when you see them interviewed on television, they just talk about their characters and it's so boring. The sets are always hideously ugly. TV people always say they want to cater to people my age, but they have no idea how to do it. So we just wanted to incorporate the things we're interested in—cars, painting, music."
MTV and Madonna's company, Maverick, were both interested in picking up the project, but "issues of creative control came up," says Sofia. Eventually, Zoetrope, Francis Ford Coppola's production company, wound up footing the bill. "Dad's company wants to get into television, and he wouldn't have backed me if he didn't think it was good," says Sofia defensively. "He hasn't indulged all of my ideas." After the editing's done, she'll start to shop it around to Fox and various cable outlets.
Beyond "High Octane," Sofia has yet to figure out her next move. She has modeled and painted, but is thinking of taking up photography. Some major fashion magazines have offered her positions. "And that would be cool, but I don't wanna live in New York," says Coppola.
One thing she doesn't want to be labeled is "actress." "There are enough of them in this town. I wouldn't mind working with an interesting director on something different. I play a pregnant lesbian in Steve Antin's movie, Inside Monkey Zetterland, which is opening soon. But I think I like the behind-the-scenes stuff better. That's where the fun is; you don't have to worry about how your hair looks."
And in a sea of possibilities, another thing's for sure: "I'm not going to be cool for a living. I don't see myself as cool, I don't know anyone who sees themself as cool. Whoever's doing what they want is cool Steve McQueen in The Thomas Crown Affair was cool. Dewey Nicks is cool. It's about sensibility and humor, and not taking yourself too seriously. When you have an idea you want to get across and it's really important to you and you make art—that's cool."
This article originally appeared in the August 1993 issue of W Magazine.