Sofia Coppola Weighs In on The Beguiled Controversy
Coppola, who won Best Director at Cannes for her remake of The Beguiled, addresses criticism head on.
---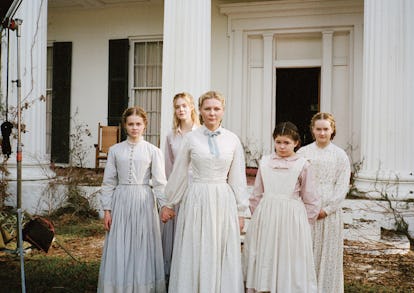 Courtesy of Sofia Coppola
In remaking the 1971 Don Siegel film The Beguiled, Sofia Coppola set out to reclaim the traditionally macho story so that it was for "[her] people," aka women and gay men, instead. (Exhibit A: Her careful casting of a dashing Colin Farrell as the welcome object of complete obsession for the women at the center of the story, including Nicole Kidman, Elle Fanning, and Kirsten Dunst.) And while the film has been widely acclaimed for its female gaze—and made her the second woman ever to win Best Director in the Cannes Film Festival's history in May—it's now found some backlash for the fact that, in adapting the film, Coppola left out the original film and novel's only person of color, a slave named Hallie.
On Friday, Coppola released a statement to IndieWire defending her decision to remove the film's only black character—and to erase any trace of slavery in a Civil War-era film—starting off with the facts. "According to historians and several women's journals from the time, many slaves had departed, and a great number of white women of the South were left in isolation, holding on to a world whose time had rightly come to an end—a world built on slave labor," Coppola wrote, calling her decisions "historically accurate." Plus, she continued: "I felt that to treat slavery as a side-plot would be insulting."
Still, a slave named Hallie was undoubtedly present both in Siegel's 1971 film and its original 1966 novel version by Thomas Cullinan. But seeing as Hallie was also the only character who "doesn't speak proper English" and whose voice is "not even grammatically transcribed," the director decided not to include her in the end. "I did not want to perpetuate an objectionable stereotype where facts and history supported my choice of setting the story of these white women in complete isolation, after the slaves had escaped," she wrote.
That decision, Coppola continued, "comes from respect," as well as a desire to avoid becoming one of the "many examples" of white artists appropriating slaves and "'giving them a voice.'" Indeed, Coppola wrote she's hoping the conversation around the issue will help to avoid such situations in the future: "I sincerely hope this discussion brings attention to the industry for the need for more films from the voices of filmmakers of color and to include more points of views and histories," she added.
Sofia Coppola on the Best Advice She Ever Received From Her Dad, Francis Ford Coppola: