Premiere: Soko Is Confronted with Her Exes in "Diabolo Menthe" Video (Exclusive)
The French actress and singer-songwriter has a released a hazy, somber cover of "Diabolo Menthe" in collaboration with director Drake Doremus.
---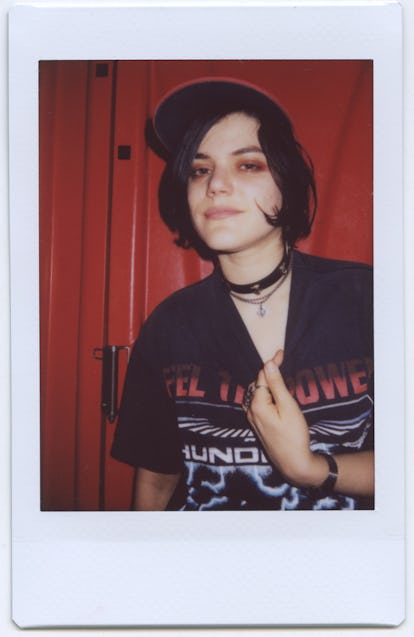 Photo by Kimberley Ross for W magazine.
In her latest music video, Soko confronts the ghosts of her past relationships by putting her own spin on a cover of a French classic called "Diabolo Menthe."
"The only way I know to be creative is to make things that are vulnerable and emotional and feels like it's my entire raw heart delivered for everyone to see," the French singer-songwriter said of her decision to film a hazy, somber cover of "Diabolo Menthe" with director Drake Doremus. She first came across "Diabolo Menthe" (originally sung by Yves Simon) years ago, while watching the 1977 cult comedy film of the same name. "Listening to the song made me live in the movie, in that innocent feeling of discovering intimacy and feelings and romance when you're a teenager, and feeling everything for the first time," Soko explained. "It feels like that is the most important thing in your life, learning how to have feelings for someone."
After sharing her own acoustic cover of "Diabolo Menthe" on YouTube, Yves Simon reached out to Soko's team, and she recorded a version of the track with Sean Lennon to include on a compilation of Yves Simon cover songs. When deciding what type of visuals would accompany the track, Soko felt that since "Diabolo Menthe" is not technically her song, she'd try something she's never done before—get someone else to direct the music video. The singer had wanted to work with director Drake Doremus for a long time, initially thinking she might reach out to him to convince him to cast her in one of his movies, then realized that she wanted to collaborate with him in a different creative capacity.
Doremus—known for directing romantic tearjerkers such as Like Crazy and Newness—had some mutual friends in common with Soko, and after a bit of persuading they met up. Fresh out of a long-term relationship himself, Doremus agreed to direct the video after the two discussed their past relationships, or the "ghosts" in each other's lives as Doremus put it, and quickly shot the video over the course of a few days in a Silver Lake home where Soko herself used to live.
Though the lyrics are in French, you don't have to speak the language to pick up on the longing and yearning in Soko's voice. "The video is really about… being in your head surrounded by your ghosts all the time and remembering touches and fingerprints and scenes and mornings and nights and eating," Soko said. "All of the little things. When you've been intertwined together for so long it's hard to detangle," she went on. An English translation reveals that the song follows a high school-aged girl writing through her heartache in her notebooks, but Soko's version follows her relationships with three people—two girls and one guy—and as she lives in the same house, they pass through her home and her life.
"Timing and person are so important," Doremus said of the generally finite nature of most relationships. "The right person at the right time is everything, as opposed to the wrong person at the wrong time or the right person at the wrong time."
While Soko used to live in the home in which they shot the video, she made sure to film in a bedroom that was not the one she used to stay in, and casted actors with whom she has never been romantically involved. "The house is a metaphor for the human heart in a way, where no matter where you go or what you do people will remind you of things and feelings linger in a nostalgic sense," Doremus said. When asked if she took inspiration from any past relationships (some of which have been more public than others), Soko said, "I mean, definitely but also… I don't know. I wanted to find a connection with whomever was acting in front of me." As tensions between her lovers escalate in the video, Soko also found that she needed to really act and not necessarily draw from her real experiences in relationships. "I don't get in fights with people," she said. "So none of the fight scenes are really real. Because I don't like being in fights in real life. That was just to add a little bit of tension in the video, but that's the part where I'm like, oh I would never do that."
In final shot of the video, which shows all three former lovers in one frame as Soko leaves the house, Doremus drives home the point that the house is a metaphor for the heart. "Even though she leaves, all of those feelings and emotions are still in the house and are waiting for her to return," he said. "No matter where she goes or what she does, she's going to come back to it and they're lingering there inside of her heart and her head forever."
Related: See Soko's Intimate Photo Diary of Her Enviably Stylish Trip to Italy