Solange Knowles Talks Music, Style Icons and Her Upcoming Museum Tour
In a surprise appearance during Coachella, the singer appeared in a conversation where she touched on everything from the making of A Seat at the Table, color theory and the impact of her own legacy.
---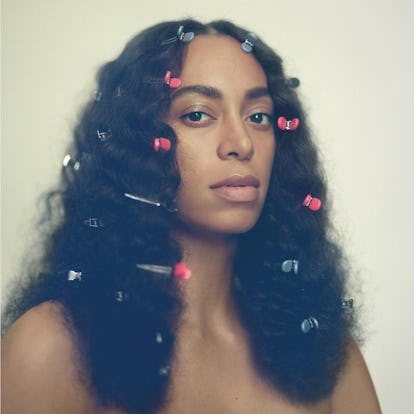 On Saturday afternoon in the brilliant Palm Springs sun and nearly-100 degree heat, Solange Knowles and her backup singers tilted their heads back while singing "Mad" and let out a harmonic scream so etherial that it replaced the desert air, yet chilling enough to give even the sweatiest listener goosebumps.
Knowles was far from the crop tops, flower crowns, and main stage of the 2017 Coachella Music Festival. Instead, she performed songs from her latest album, __A Seat at the Table, for an intimate crowd at the Reebok Classics Crib.
Following the performance, Kimberly Drew, the creator of the Black Contemporary Art Tumblr and current social media manager at the Metropolitan Museum of Art, led a discussion on the fusion of music and style. Knowles expressed her desire to exist outside the traditional boundaries of the music industry, and explore all of her creative interests.
While Knowles isn't formally touring for A Seat at the Table, she will continue on the festival circuit and is also working on a performance art-inspired "museum tour," which she'll perform at the San Francisco Museum of Modern Art as well as the Guggenheim Museum in May.
On the process of writing A Seat at the Table:
"For this album, I went to my grandmother's birth town and Iberia, Louisiana. In terms of the writing process, it was a hell of a journey. It was draining at times, and I lost perspective and context many times. I'm also a mother, and so I don't have the luxury of saying, 'I'm going to go away and write this album.' I had to be conscientious about both of our times. That is something I wish more female/women/mother artists would talk about; that balance is really difficult."
On combining her passions:
"In this generation and climate, it's much more acceptable and encouraged for artists to be able to say, 'Hey if I'm good at another thing, why can't I try it, explore it, and have hiccups?' I think one of the things I'm most proud of in myself is that I'm okay to fail in front of the world; I'm okay to make mistakes and get back up and try again. You have to have that attitude when you want to experiment with different mediums."
On wanting to be more than just a singer:
"Singer is probably at the bottom of the barrel in terms of what I'm trying to achieve as an artist. Visually, through many mediums—through dance, through art direction, through color theory—there are so many things that I've dabbled in that I've yet to immerse myself in fully. But I think right now, I'm creating the live show and music composition, production, and creating from the ground up is when I feel the most at home."
On her history as a dancer:
"I used to want to be a modern dancer when I was younger and go to Juilliard and do the whole thing, but I had a knee injury when I was 15. I was actually dancing for Destiny's Child. And that was how I started to write, because I thought I was going to be an [Alvin] Ailey girl somewhere."
On developing her own style and voice at a young age:
"I grew up in a house with three older sisters. Kelly Rowland moved in when I was 5, so my sister had a built-in best friend and that was just really unfair to me. And then my first cousin Angie, who I call my sister, also moved in and she was ten years older than me. So I was always really trying to make sure that my voice and my perspective was heard in a house of four older girls, two of which were BFFs and in a band together. Looking back, I hear these stories that even at 2 I was doing the most. But I do think that part of that was me trying to communicate and carve out a way to be heard."
On her goth phase:
"One of the girls in my band, Franchelle, we went to junior high school together and decided to be goth for a month. Actually, the teacher pulled her to the side and said, 'Black girls don't be wearing all this black s–t! You gotta take this off!' And of course, that just made us go even harder."
Style icons:
Björk, Kate Bush, Lauryn Hill, and Erykah Badu.
On letting go of fashion and thinking more about style:
"I used to be really interested in fashion years ago, and the more and more I kind of got pushed into that world, the more it actually motivated me to write this album… [Laughs.] I felt that I was maybe setting my intentions too much on fashion and not enough on style. So, once I kind of made that decision to really kind of do this for me, my style has kind of evolved and changed so much over the last ten years."
On transitioning to minimalism:
"Moving to New Orleans, people are so one-hundred-percent distinctively themselves. That really gave me the courage to express myself in a ways that maybe in New York I was a little bit more self-conscious about… And then after like three years of that, I just wanted to wear t-shirts every day. I'm kind of easing into this minimalist phase, where I think I'm so focused on my work and my craft… Everything is so much more fun now that I've gotten to a place where I'm like, 'It's just clothes!'"
On styling the costumes for her festival shows and museum tour:
"I'm touring two shows this spring/summer/fall, and one takes place in museum lobbies. For me, Donald Judd's idea that we take on our surroundings as a part of the art itself really, really punctured me in the way that I look at performance art. It's really rare that an artist gets to perform in daylight, unless it's at a festival. So I really wanted to play with creating a strong color palette. I've been playing around with a lot of neutral tones since the record came out and Issey Miyake has been a huge influence. We're also wearing a lot of Phillip Lim and really comfortable, moveable fabrics. On stage, I've really been empowered by the color red. I think it's associated, especially with women, as this fiery, super volatile, and strong-willed color. Almost stubborn, if you will. So we're wearing all-red for our festival shows and playing with the lighting for all the moods red can express. Color theory is this really nerdy side of me that I've been wanting to explore more of."
On embracing the weight of her influence:
"I remember when I first cut my hair, women would come up to me all the time and say, 'You inspired me to cut my hair and go natural.' The weight that that put on me and the weight that I possessed—I internalized a lot of that. It was really a journey for me to appreciate and love that, and embrace it and learn how to deal with it. Even with this album, it was really a concern for me: Can I handle the weight of what this might mean to people, the good and the bad?"
This conversation has been edited and condensed.
Watch 62 Fashion Insiders Speak Out in a Powerful Video for International Women's Day
Photos: A Night Out in Harlem with Solange Knowles
Solange Knowles. Photo by Leandro Justen/BFA.com.
Cleo Wade, Trombone Shorty. Photo by Leandro Justen/BFA.com.
Sarah Jones, Zoe Buckman, Sade Lythcott, Sarah Sophie Flicker. Photo by Leandro Justen/BFA.com.
Leyla McCalla. Photo by Leandro Justen/BFA.com.
Photo by Leandro Justen/BFA.com.
Casey Fremont, Bettina Prentice. Photo by Leandro Justen/BFA.com.
Solange Knowles. Photo by Leandro Justen/BFA.com.
Trombone Shorty. Photo by Leandro Justen/BFA.com.
Fabiola Beracasa. Photo by Leandro Justen/BFA.com.
William Richmond Watson, Sophie Oakley. Photo by Leandro Justen/BFA.com.
Photo by Leandro Justen/BFA.com.