Solange Drops Some Hints About Her Jazz-Infused, Still-in-Progress Next Album
"I want it to bang and make your trunk rattle."
---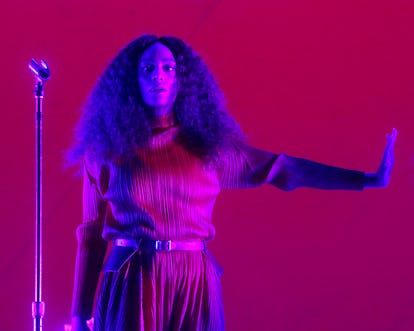 Gary Miller/Getty Images
It's been two years since A Seat at the Table dropped and shot straight to the top of the charts, and now, Solange's fans are more than ready for her to blow their minds once again. Solange, it seems, is ready to acquiesce: In a new interview with The New York Times' T magazine, she drops hints about her next album, which isn't quite complete, and probably won't be until the second she decides to release it to the world—likely sometime this fall.
According to T, Solange has put the album together while traveling between New Orleans, Jamaica, and Topanga Canyon in California, and, though she didn't record it in Houston, her hometown continues to influence her sound and message. "There is a lot of jazz at the core," she said of the ongoing project. "But with electronic and hip-hop drum and bass because I want it to bang and make your trunk rattle." The 32-year-old added that the new music will be "fluid and more sensual" than A Seat at the Table, and that recent influences on her music include Aaliyah, experimental composer Sun Ra, soul band Rotary Connection, and Stevie Wonder (specifically, his 1979 album Journey Through the Secret Life of Plants).
As sure as she is of the album's content and style, though, Solange said she'll be editing and tweaking until the last possible minute. "I like to be able to tell the story in 13 different ways, then I like to edit," she said, then explained her nervous tendency toward perfectionism, saying, "I have this fear living in my body about releasing work. I don't know any artist that doesn't feel that before they hit the send button." She'll hit that button in the coming months, "probably sometime soon," per T, when the album will "arrive into the world fully formed at some mysterious and unexpected moment, like a meteor cratering into the culture."
The world has never awaited a meteoric collision so eagerly.
Related: Solange at the Guggenheim