Friends and Family Remember Sonia Rykiel
Plus, Aurora James speaks out, and the Venice Film Festival is Miuccia Prada's show. Going on holiday for the long weekend? Catch up on your fashion news during the trip, here.
---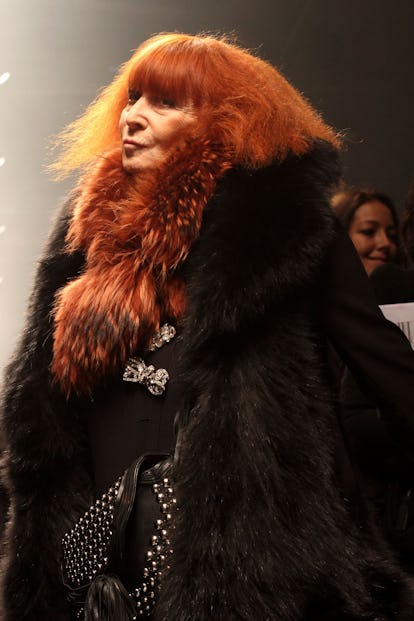 WireImage
Ailes, Roger How Gretchen Carlson and many other women employed by Fox News took down the man who brought Fox News into the world.
Film Festival, Venice Come for the marquee premieres like La La Land and The Light Between Oceans; stay for the plethora of Italian fashion on the red carpet.
James, Aurora Like so many before her, James's designs have been co-opted by fast fashion chain Zara. But the Brother Vellies creative director is speaking out.
Knowles, Solange Can officially make anything look good. Especially things that aren't strictly clothes.
Linnetz, Eli Russell Former assistant to David Mamet, now a director in his own right with Kanye West's stamp of approval.
Miu Miu Premiered a new, Crystal Moselle-directed short film at the Venice Film Festival — the 12th such short that Miuccia Prada's label has commissioned.
Rykiel, Sonia The legendary French designer died late last week; for her memorial service Thursday, friends and peers like Alber Elbaz and Peter Copping came to the Cimitière du Montparnasse, which is also the burial site of Jean-Paul Sartre, Charles Baudelaire, and Simone De Beauvoir.
Seydoux, Léa Stars in the new Louis Vuitton campaign, shot by Patrick Demarchelier in South Africa, for its new, revitalized fragrance line. When you're LVMH and you're promoting your flagship brand's first line of perfumes in 70 years, you don't hold back.
Talent Agency, United Opened UTA Fine Arts a year ago. Now it's opening a gallery space. And still, we're not quite sure what any of it means.
Watch: Léa Seydoux opens up about her cinematic crush: