Sophia's Beauty Choices
The actress Sophia Bush on blunt bangs and her beauty must-haves.
---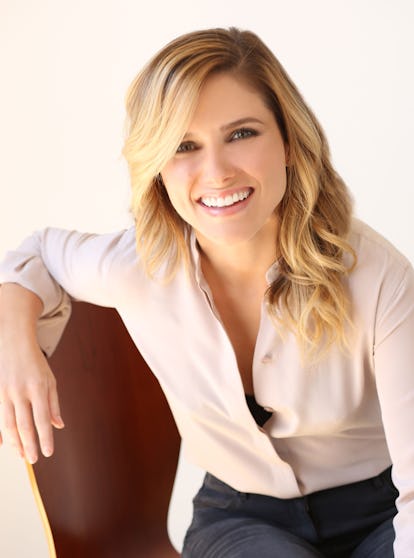 Sophia Bush first made an impression on the teen drama "One Tree Hill," but now she's playing a much more grown-up role as a tough detective on the Dick Wolf procedural "Chicago P.D." The actress, a spokeswoman for Philips Sonicare, has been in the limelight for a while, yet she still can't figure out how to duplicate at home her hairdresser's light touch with her coif.
What's your first beauty memory? I remember sitting on the floor in my mom's bathroom, watching her get ready. I remember the smell of her lipstick – it was such a specific smell.
What was your worst beauty blunder? Take your pick. Haven't we all had horrible ones?! The first time I cut my bangs, I got sick of doing them after a while. Sometimes I'd run an errand and think no one would see me, and of course that's when paparazzi are in front of Whole Foods or CVS, so there are terrible pictures of me with my bangs dried in weird directions! Lesson learned – if I'm going to cut the blunt bangs, I'm going to have to do them every day.
What beauty products are currently in your purse? Osea Hydrating Oil, in a travel size that I take everywhere. It's a beautiful organic skincare line out of Malibu that I love. Two different scents of my fragrance brand I Smell Great – Wild Honey and Angel Cake. I love the way they smell, and I love that you can layer them. They activate all day. We wanted to design fragrances that you could layer and customize to make your own scents. I'm still having a ball creating scent combos! I actually have some big news – we just entered into a partnership where $1 from every bottle of I Smell Great we sell is going to benefit The Girl Project.
What's your 5-minute morning beauty routine? I always devote two minutes for my teeth –that's non-negotiable. I love how Philips Sonicare DiamondClean's new Amethyst Edition has a two-minute timer. And if it helps whitens teeth in one week and improve gum health, I'm in. The three other minutes I spend drinking a glass of water, washing my face, throwing on a little serum and moisturizer with sunblock, then I'm out the door.
If you had an extra 10-15 minutes in your routine, how would you spend it? I would do my hair with a flat iron and throw on a little tinted moisturizer with SPF and mascara, but I generally keep it pretty easy.
Which discontinued product or shade do you mourn? Chanel does that to us all the time with their beautiful eye shadow quads. They disappear, and then they're gone forever!
What's your beauty peeve? That I still haven't managed to figure out how to make my hair look the way it does when it's done by a hairdresser. They always say "Oh, it's easy" and then I'm always saying, "But, it isn't!"
What are you currently obsessed with? Currently obsessed with the book Big Magic by Elizabeth Gilbert