Game of Thrones' Sophie Turner and Maisie Williams Channel Ned Stark in Carpool Karaoke Clip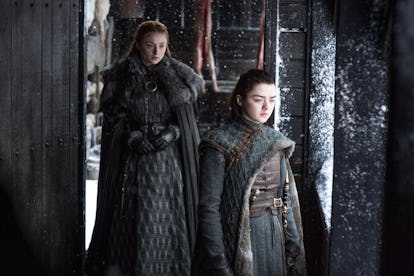 HBO
While Sophie Turner and Maisie Williams have undoubtedly learned many important lessons while spending most of their formative years on the Game of Thrones set, hands down the most important of all is how to recite the lyrics to "Baby Got Back" in the voice of Ned Stark. Lucky for us, the onscreen sisters and offscreen best friends show off their masterfully honed skills in a new promo for their upcoming episode of Apple Music's Carpool Karaoke series.
The clip opens with Williams harkening back to the pair's younger days, asking Turner, "Do you remember when we used to read normal sentences, but like Sean Bean? Like Ned Stark?" Turner immediately slips into character, uncannily channeling her dearly departed onscreen father as she says, "Aye, that I do. Aye." Williams goes on to reveal that she's prepared a game for the two of them to play while Turner drives them around Austin, Texas, in which they'll read random phrases as Game of Thrones characters, "like you were on top of the wall and you're, like, staring out to all the wildlings," Williams explains in her equally impressive Ned impression.
First, Turner, 21, reads lyrics from the Lion King's "Hakuna Matata," throwing in a somber chuckle and dramatic pause before imagining a slow fade into the Game of Thrones opening credits. Then, Williams, 20, reprises her role as Arya Stark to quote the immortal words of a Nintendo powerhouse, proclaiming, "It's-a me, Mario!" and humming the Super Mario theme. Finally, the girls pull out all the stops when quoting the iconic intro to Sir Mix-a-Lot's "Baby Got Back," screaming for the imaginary Becky to "look at her butt" exactly how Ned Stark would — if Ned Stark was desperate for his friend Becky to "cop a look" at the impressive backside of someone who looks like one of those rap guy's girlfriends.
A previously released promo video for the friends' episode of the series, a spinoff of the Late Late Show with James Corden's own "Carpool Karaoke" segments, shows Turner and Williams singing along to Justin Bieber and Miley Cyrus before sneaking into a GoT event at the South by Southwest festival (SXSW) to surprise fans of the show. Hopefully the episode, which debuts Tuesday at 9 p.m. ET, will tide you over until the season seven finale of Game of Thrones on Sunday.
Of course, if you need to see more celebrities putting their own spin on "Baby Got Back," you can always watch our version with Jennifer Lopez.
Related: The Best in Westerosi Couture, As Seen on Daenerys Targaryen, Cersei Lannister, and More
Kit Harington Auditioned for "Game of Thrones" With a Black Eye