The Latest Carpool Karaoke Trailer Features So Many Celebrities
Celebs, celebs everywhere you turn.
---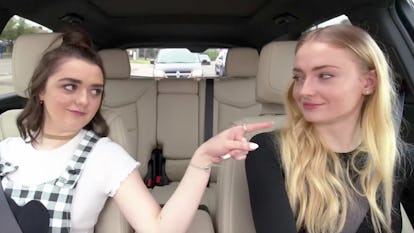 Apple/YouTube
Once Jimmy Fallon turned his "Lip Sync Battle" segment into a Spike series, it was only a matter of time before James Corden spun off his viral celebrities-and-music bit: Carpool Karaoke. (A "Carpool Karaoke" special even beat Lemonade for an Emmy last year.)
The new trailer for the show, airing on Apple Music, is a jam-packed famous people caravan spanning, it looks like, multiple states and musical tastes, though it's set to Willie Nelson's "On the Road Again," presumably both for thematic and streaming-rights reasons. The minute-long montage features more celebrity cameos than Charli XCX's "Boys" video, but in the name of journalism, we will attempt to list as many as we can:
Jessica Alba, Will.i.Am, and Gwyneth Paltrow
Michael Strahan and NASCAR driver Jeff Gordon (in the driver's seat, of course)
Tracee Ellis Ross and Big Sean
LeBron James and, duh, James Corden
Ariana Grande and Seth McFarlane
Alicia Keys and John Legend
Shakira and Trevor Noah
Billy Eichner and Metallica
Blake Shelton
Chelsea Handler
John Cena
Will Smith
Maisie Williams and Sophie Turner (finally, a Stark sister reunion.)
Camila Cabello and Joe Jonas
The Family Cyrus (Noah, Miley, Tish, Billy Ray, The Other One)
Shaq
Sheryl Crow and Dierks Bentley (it sounds like the name of a car, but actually he is a person!)
Jada Pinkett Smith and Queen Latifah
See all the star power for yourself in the trailer, below:
An earlier trailer gave us a sneak peek at some of the songs (and at Taraji P. Henson!), like Grande and McFarlane belting out "Suddenly Seymour" from Little Shop of Horrors, Gordon rapping, Legend joking that "old white women think I'm Pharrell," and Corden having the gumption to sing the Fresh Prince of Bel-Air theme along with Will Smith. Good sir, sit in respectful silence as the prince tells his tale!
New episodes of Carpool Karaoke will be on Apple Music every week starting August 8, according to Rolling Stone.
Related: Madonna Definitely Broke Some Laws During Her Carpool Karaoke
See What's Trending in W Video: