Madonna Definitely Broke Some Laws During Her Carpool Karaoke
Ever the rulebreaker, Madonna definitely violated some New York traffic laws while appearing on James Corden's "Carpool Karaoke."
---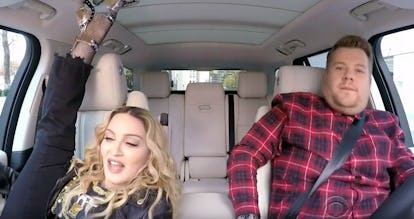 Screenshot via YouTube
As James Corden emceed Madonna's Art Basel blowout last weekend, we should have seen it coming that Madonna would repay the favor and by appearing on Corden's insanely popular "Carpool Karaoke" segment, which has previously featured the likes of Mariah Carey, Lady Gaga, Adele, and Britney Spears.
It seems Madonna knew that, as the Queen of Pop, she had to out-do her predecessors. And she did exactly that, the same way she's always done it: by breaking the rules. Of course ,this time, she's not breaking the rules of social norms, gender roles, societal expectations, or various bible verses. She's doing it by breaking actual New York State traffic laws.
Mind you, carpool karaoke is filmed on out-of-the-way low traffic routes, and at least two cars follow and surround Corden's car while filming, with the hope of keeping other cars away from the vehicle. Corden also apparently never drives more than 20 miles per hour during the segment (not that it's possible to drive faster than that on most Manhattan streets anyway). So Madonna probably wasn't endangering anyone, but, you know, laws are laws.
Failure to Wear an Occupant Restraint "No person sixteen years of age or over shall be a passenger in the front seat of a motor vehicle unless such person is restrained by a safety belt approved by the commissioner."
Madonna's Erotica-era proved she definitely has an interest in restraints, but apparently not of the seatbelt variety. She's clearly unbuckled here. Come on Madonna, remember "Click it or ticket?"
Obstruction to driver's view or driving mechanism "No passenger in a vehicle shall ride in such a position as to interfere with the driver's view ahead or to the sides, or to interfere with his control over the driving mechanism of the vehicle."
She's clearly obstructing Corden's view to his left. How can he be expected to see his side mirror when Madonna's twerking away. A clear violation.
Whatever Law This Breaks Apparently, New York State traffic law doesn't specifically have a law that spells out that it's illegal for a passenger to stick their body parts out of the window, but this at least violates the above two laws, and likely a few more we missed.
At least it was worth it.
Cordon and Madge jam through classics like "Vogue," "Express Yourself," "Music," and "Don't Cry For Me Argentina."
Madonna also drops some bombs during the chit-chat in between. First, she reminds everyone that's she's been excommunicated by the Catholic church at least three times, and then she says she once french kissed Michael Jackson. Everyone knew the pair showed up as each other's dates at the 1991 Academy Awards, but, apparently, things got a little friskier than that. Madonna says she's made the first move after plying Jackson with a glass of chardonnay, or, as Jackson would have called it, "Jesus juice."