Sophie Turner Is Reportedly Pregnant, But Please Don't Tell Diplo
Delivery rooms must remain a Diplo-free zone.
---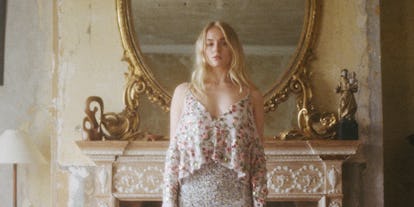 Cole Sprouse for W magazine
It appears that the Jonas empire is once again expanding. On Wednesday, Just Jared reported that Sophie Turner, who is 23, is pregnant with her first child, less than a year after marrying the 30-year-old singer Joe Jonas. (The outlet vaguely credited the news to "multiple sources," and noted that Turner and Jonas's representatives declined to comment on their clients' personal lives.)
Turner and Jonas got married in May 2019, on the night of the Billboard Music Awards. After hanging out with Madonna and Taylor Swift, the pair impulsively headed off to Las Vegas, where an Elvis impersonator officiated their wedding. (Much to their chagrin, Diplo live-streamed the entire thing on Instagram.) As celebrities are wont to do, Turner and Jonas also had a second wedding in France, which took place the following month.
If Turner is indeed pregnant, Joe will be the second Jonas brother to become a dad. His brother Kevin, who married Danielle Jonas back in 2009, has two daughters, who are ages 3 and 6. Nick Jonas, who infamously used to wear a purity ring, does not have children, though he and his wife, Priyanka Chopra, have repeatedly said they will in the future. ("As many as god would give us," Chopra said in September.)
The pregnancy will no doubt bring Turner and Jonas closer, but it could signal an end for Turner's second most important relationship—the one with her Juul. Only time will tell, but in the meantime, it can't hurt to start saying your prayers that Diplo and his iPhone come nowhere near the delivery room.
Related: Sophie Turner's Bachelorette Whirlwind in Europe Looks Like a Wild Time
How Sophie Turner Has Grown Up on the Red Carpet, From Game of Thrones to X-Men
Sophie Turner attends the DVD premiere of Game of Thrones at Old Vic Tunnels on February 29, 2012, in London. Photo courtesy of Getty Images.

Getty Images
Sophie Turner attends the Elle Style Awards on February 11, 2013, in London. Photo courtesy of Getty Images.

Getty Images
Sophie Turner attends HBO's Game of Thrones season three San Francisco Premiere on March 20, 2013, in San Francisco. Photo courtesy of Getty Images.

Getty Images
Sophie Turner attends the Another Me photo-call during the 8th Rome Film Festival at the Auditorium Parco Della Musica on November 15, 2013, in Rome. Photo courtesy of Getty Images.

Getty Images
Sophie Turner attends the Another Me premiere during the 8th Rome Film Festival at Auditorium Parco Della Musica on November 15, 2013, in Rome. Photo courtesy of Getty Images.

Getty Images
Sophie Turner attends the Game of Thrones season four New York premiere at Avery Fisher Hall, Lincoln Center, on March 18, 2014, in New York City. Photo courtesy of Getty Images.

Getty Images
Sophie Turner attends the Arqiva British Academy Television Awards at Theatre Royal on May 18, 2014, in London. Photo courtesy of Getty Images.

Getty Images
Sophie Turner attends the Glamour Women of the Year Awards at Berkeley Square Gardens on June 3, 2014, in London. Photo courtesy of Getty Images.

Getty Images
Sophie Turner attends Entertainment Weekly's annual Comic-Con celebration at Float at Hard Rock Hotel San Diego on July 26, 2014, in San Diego. Photo courtesy of Getty Images.

Getty Images
Sophie Turner attends the 21st Annual Screen Actors Guild Awards at the Shrine Auditorium on January 25, 2015, in Los Angeles. Photo courtesy of Getty Images.

Getty Images
Sophie Turner attends HBO's Game of Thrones season five premiere and afterparty at the San Francisco Opera House on March 23, 2015, in San Francisco. Photo courtesy of Getty Images.

Getty Images
Sophie Turner attends the 67th Annual Primetime Emmy Awards at Microsoft Theater on September 20, 2015, in Los Angeles. Photo courtesy of Getty Images.

Getty Images
Sophie Turner attends Entertainment Weekly's Celebration Honoring the 2016 SAG Awards Nominees held at Chateau Marmont on January 29, 2016, in Los Angeles. Photo courtesy of Getty Images.

Getty Images
Sophie Turner attends the 88th Annual Academy Awards at Hollywood & Highland Center on February 28, 2016, in Hollywood. Photo courtesy of Getty Images.

Getty Images
Sophie Turner attends the X-Men: Apocalypse Global Fan Screening at BFI IMAX on May 9, 2016, in London. Photo courtesy of Getty Images.

Getty Images
Sophie Turner arrives at the premiere of HBO's Game of Thrones season six at the TCL Chinese Theatre on April 10, 2016, in Hollywood. Photo courtesy of Getty Images.

Getty Images
Sophie Turner attends the Louis Vuitton show as part of the Paris Fashion Week women's wear fall/winter 2016/2017 on March 9, 2016, in Paris. Photo courtesy of Getty Images.

Getty Images
Sophie Turner attends the Kineo Diamanti Award Ceremony during the 73rd Venice Film Festival on September 4, 2016, in Venice, Italy. Photo courtesy of Getty Images.

Getty Images
Sophie Turner arrives at the 68th Annual Primetime Emmy Awards at the Microsoft Theater on September 18, 2016, in Los Angeles. Photo courtesy of Getty Images.

Getty Images
Sophie Turner attends the Louis Vuitton show as part of the Paris Fashion Week women's wear spring/summer 2017 on October 5, 2016, in Paris. Photo courtesy of Getty Images.

Getty Images
Sophie Turner attends the 74th Annual Golden Globe Awards at the Beverly Hilton Hotel on January 8, 2017, in Beverly Hills. Photo courtesy of Getty Images.

Getty Images
Sophie Turner attends the Louis Vuitton show as part of the Paris Fashion Week women's wear fall/winter 2017/2018 on March 7, 2017, in Paris. Photo courtesy of Getty Images.

Getty Images
Sophie Turner attends the 70th EE British Academy Film Awards (BAFTA) at Royal Albert Hall on February 12, 2017, in London. Photo courtesy of Getty Images.

Getty Images
Sophie Turner attends the 23rd Annual Screen Actors Guild Awards at the Shrine Expo Hall on January 29, 2017, in Los Angeles. Photo courtesy of Getty Images.

Getty Images
Sophie Turner attends "Rei Kawakubo/Comme des Garçons: Art of the In-Between" Costume Institute Gala at the Metropolitan Museum of Art on May 1, 2017, in New York City. Photo courtesy of Getty Images.

Getty Images
Sophie Turner attends the Louis Vuitton 2018 resort show at the Miho Museum on May 14, 2017, in Koka, Japan. Photo courtesy of Getty Images.

Getty Images
Sophie Turner attends an event in honor of Louis Vuitton and Nicolas Ghesquière at Lincoln Center in New York City on November 30, 2017. Photo courtesy of Getty Images.

Getty Images
Sophie Turner attends the Louis Vuitton show during Paris Fashion Week fall/winter 2018 on March 6, 2018, in Paris. Photo courtesy of Getty Images.

Getty Images
Sophie Turner attends the 2019 Billboard Music Awards at MGM Grand Garden Arena on May 1, 2019, in Las Vegas. Photo courtesy of Getty Images.

Getty Images
Sophie Turner attends a screening of Game of Thrones season eight at the Waterfront Hall on April 12, 2019, in Belfast, Northern Ireland. Photo courtesy of Getty Images.

Getty Images