Spike Lee Is Proud to Be a New Yorker in Donald Trump's America
"There's no other place I'd rather live," said the director Spike Lee at a bash for Moncler's new Madison Avenue flagship, just around the corner from Trump Tower.
---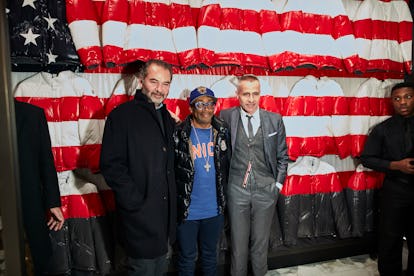 Spike Lee chose to open his short music video celebrating the colorful city of New York with a famous refrain from Emma Lazarus's sonnet "The New Colossus," the poem inscribed on the Statue of Liberty.
"Give me your tired, your poor, your huddled masses yearning to breathe free, the wretched refuse of your teeming shore…" booms Lee, providing his own opening narration to the film, made in collaboration with fashion brand Moncler. Entitled Brave, the short is set to a rendition of the song "Brave Suffering Beautiful", from the Off-Broadway Musical Total Bent. It features dancers Lil Buck, John Boogz and Damaris Lewis prancing throughout various New York locales, and is intercut with images of New York locals of all stripes.
"Living in New York, a lot of times we forget the rest of the country is not like New York City. It never became more evident than during this past presidential election," he explained. "I wanted to demonstrate visually that one of the things that make New York City one of the greatest in the world is the diversity of the people. Eight and a half million people live here. That's not to say there's not static, but for the most part, we get along. For the most part, but there's no other place I'd rather live."
While Lee made the film in the midst of the presidential election during which immigration was, perhaps, the hottest policy issue of all, he didn't actually intend for it to have much political resonance. "I'm not going to lie. I thought he'd never go in til like a month ago," Lee said during a reception to celebrate both the film and Moncler's capsule collection collaboration with designer Thom Browne. "Then I was like, 'oh, st, this m** f could win!"
It was hard to get the state of America off your mind at the event, which was held at Moncler's Madison Avenue Flagship, just a few minutes stroll from Trump Tower. The store was decked out in red, white and blue almost everywhere you looked in honor of the Thom Browne collaboration. The designer put a patriotic twist on the French luxury brand's signature down jackets. Different versions feature different combinations of blue and white stars and red and white stripes, but assembled together on a wall, like they were last night, they make up a replica of the American flag. Not that the jackets didn't look nice on their own (they do, actually, and guests like Joan Smalls, Jacquelyn Jablonski, and Hari Nef proved the point by trying them on that night), but it's almost like they're, well, stronger together. Hats, scarves, mittens, sweaters and cardigans are also available to complete the patriotic look.
Moncler Toasts a Spike Lee Short and a Thom Browne Collaboration
Martha Hunt, Joan Smalls, Hilary Rhoda, Laura Love

Matteo Prandoni/BFA.com
Sean Avery, Remo Ruffini, Hilary Rhoda

Matteo Prandoni/BFA.com
Stefano Tonchi, Remo Ruffini

Matteo Prandoni/BFA.com
Iouri Podladtchikov, Larry Nun

Joe Schildhorn /BFA.com
Peter Kadin, Jason Rembert

Joe Schildhorn /BFA.com
Olivia Palermo, Johannes Huebl

Joe Schildhorn /BFA.com
Sally Singer, Virginia Smith

Matteo Prandoni/BFA.com
Moncler CEO Remo Ruffini and Browne were both on hand as well. Models like Laura Love, Hillary Rhoda, and Grace Mahary mingled about with the likes of photographer Arthur Elgort, New York Giant Victor Cruz, and stylist Jason Rembert. Though, it seemed the guest Lee spent most time with was rapper Desiigner, who seemed extra stoked to hang out with the director.
It wasn't quite the full eight and a half million people, but it did seem representative of New York, and for the most part, everyone got along, for the most part.