St. Vincent Loves Falling Asleep to Podcasts, Except When They're About the Manson Family
Annie Clark, who records as St. Vincent, shares the books she's been reading and art she's been admiring, as well as the surprising new uses she's found for her elaborate music video props.
---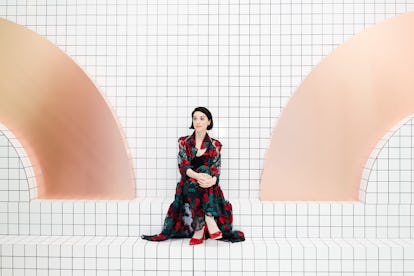 Erik Melvin
Just a week before the release of her forthcoming fifth album, Masseduction, the musician Annie Clark, better known as St. Vincent, was sitting cross-legged on a tiled pedestal with teal cushions—a plush, sculptural imagining of a hot bath—in mesh, rose-embroidered trousers and a long, matching trench by Adam Selman.
"I just had Megan, from my office, take a picture of me in the whole getup," Clark said. "I was going to send it to Adam—he's a very casual friend—just to be like, thank you. Totally representing."
She had just arrived in New York from Seattle, and before that from Marfa, Texas, where she made her customary guest appearance on the stage of the Trans-Pecos music festival, this year sharing the stage with none other than Fiona Apple. She returned to the city just in time to inaugurate the second installment of the House of Peroni, for which she curated a selection of works (and even a dance performance choreographed by Annie-B Parson) inspired by the Memphis design group.
Memphis design is a timely fixation for Clark, given this year is the 100th anniversary of the birth of Memphis founder Ettore Sottsass. The hot bath-cum-lounge chair was part of a room designed by Lauren Machen, who also worked on the art director for Masseduction as well as Clark's previous self-titled record; David Byrne, with whom Clark recorded a record—2012's Love This Giant—was also among the artists on display.
From her perch, surrounded by clouds and rainbows carved from copper, a couple hours before the opening of the House of Peroni (which would be visited by the likes of Aziz Ansari and Nina Agdal), Clark laid out the books she has been reading, the art she's admired, and the podcasts lulling her to sleep, in her culture diet.
What is the first thing you read in the morning?
The first thing I read in the morning… it's a bad answer, but I go to Twitter and I look at the news. So every morning is a bad morning.
Lately, yes. What books are on your bedside table right now?
There are a lot. There's Rebecca Solnit, A Field Guide to Getting Lost. There's James Baldwin, not Giovanni's Room but another novel that I'm spacing out on the name of. There is Yukio Mishima, the Japanese writer who's sort of like a Japanese Proust. He wrote about World War II. He committed suicide by seppuku.
What TV shows are keeping you up at night?
What have I seen lately that I really enjoyed? Obviously, I really loved The Handmaid's Tale. That was great. I watched The Conformist [by Bernardo Bertolucci] recently, but that's not a TV show.
What is the last movie that you saw in theaters?
Oh, I saw this movie, Aubrey Plaza is in it. Ingrid Goes West, that's the one.
What did you think?
I thought that it was, I guess, a satire of Instagram fame and how people aspire to that.
But how did you feel about it?
[Shrugs.] It was a movie, and I sat there and I watched it for an hour and a half. And I really like going, I like the ritual of going to movies.
What was the last thing you saw at the theater?
I saw The Object Lesson at the New York Theater Workshop. I walked in and I thought it was going to be—oh, wait, that's not the last thing I saw, technically. The last thing I saw was the Checkhov thing with Cate Blanchett on Broadway, The Present, which was great. But The Object Lesson is maybe something more worth talking about: It was a one-man show, but before that, you walked in and there were all these items you would find in a garage sale. People were encouraged to walk through and pick up things and explore, so when I walked in, I thought, Oh, no, this is sort of an experiential theater thing that I wasn't prepared for. I just wanted to see someone perform and be taken away. But then it turned into this really beautiful one-man show where the actor made use of all of the props in this most beautiful narrative way that was a cycle of life and death and heartbreak. It was really devastating. It was so beautiful.
What was the last piece of art that you bought, or admired?
My friend has a picture of Joan Didion that I really want to buy from him. Sam McKinniss—he did the new Lorde record cover. He did the most beautiful painting of Joan Didion, and I would love to buy it. And then, also, I worked with Alex DaCorte on a video ["New York"], and he made the most beautiful curtain, so I just commissioned him to make another funhouse mirror curtain with this woman with fangs. It's something that I'm using for a show but I'll probably just try and hang it in my house after.
Do you keep things from set when you make videos?
I do. Well, I've worked with Lauren Machen, who did this room, on a number of things, so I kept the podium from the tour announcement video. I went out in front of this pink podium that she made. That's in my house, and a number of other smaller items, too.
What do you use the podium for now?
Just delivering speeches to my friends. Everyone loves a bloviating presence in the corner. Pink podium—at a party, everyone wants to listen to a speech.
What was the last museum exhibition that you loved?
Kerry James Marshall, ["Mastry"]. I loved it so much; it was so moving.
What is the last song that you had on repeat?
This was a while ago, but probably Perfume Genius, "Queen." [sings] "Don't you know your queen?" So good.
What's the last thing you do before you go to bed?
I sometimes fall asleep to podcasts. A lot of time I'll fall asleep to a podcast called "You Must Remember This." Do you know that one? It's all the tales of old Hollywood, and [the host, Karina Longworth] has a very soothing voice. I really love that. It's okay to sleep to, unless you start getting to the Manson series. It's so good, but if you fall asleep to that, it works its way into your dreams in a kind of abominable way. But most of them are fine.
Robert Pattinson tells the story of his first kiss: