On Her Marque
Stacey Dash gets intimate with a new line of vintage-inspired lingerie.
---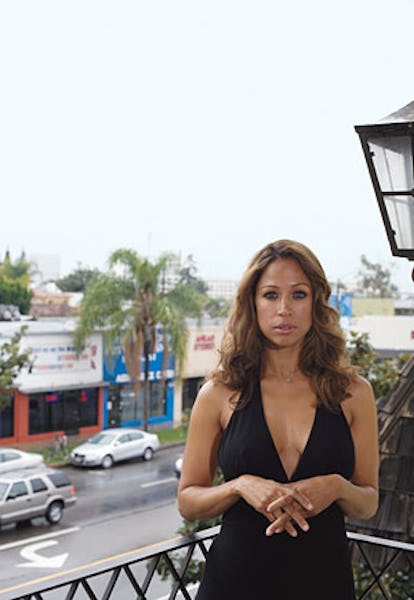 I thought Hollywood was tough. The fashion world is…"
Actress Stacey Dash is searching for just the right word, trying to be polite. She eventually settles for the relatively safe "tougher," refraining from something more colorful that could be taken as a slam. But then, Dash has recently joined the hyphenated career ranks of actor-designers, and she's not about to rock the fashion boat with snippiness. "I can't," says the Bronx native, laughing. "I don't want to be that girl!"
What Dash—best known for her turn as Dionne Davenport in the 1995 hit Clueless—also doesn't want to be is just another in a laundry list of celebrities gone Seventh Avenue. Which is why she named her year-old line of romantic boudoir lingerie Letters of Marque and not, she likes to make clear, after herself. "It's not Letters of Marque by Stacey Dash," she points out. "It's about the lingerie, not me." Dash even proved her budding garment chops by making the trade-show rounds last fall, taking a booth at the Curve Expos in New York and Las Vegas—no easy task, as anyone who's walked the mile-long aisles can attest. "I've never worked so hard in my life," she remarks. "God bless the salesmen."
Letters of Marque's cotton lace bra
The handle Letters of Marque has a provenance as eclectic and intriguing as Dash's Clueless costumery. (Refresher: The duds in her opening scene included a tartan blazer with black patent-leather lapels and a fearlessly flamboyant hat that even Alicia Silverstone's character referenced as Dr. Seuss–esque.) Several years ago Dash discovered that she had an actual pirate in the family tree (her great-great-grandfather on her father's side) and stumbled upon the term "letter of marque" while doing additional research on buccaneers. Basically, it was a license to seize and capture. "[The document] was given to a pirate by a particular country to act on behalf of that nation," she says. "It's permission to invade. I thought, That's perfect for lingerie." Translation? "When you wear Letters of Marque, you're giving whoever you're wearing it for permission to invade."
Cotton lace bloomers
With a notion like that, one might reasonably expect the collection, which sells at Lingerie on Lex in New York and Ann Dessous in Berlin, to veer toward salacious. After all, Dash is talking pirate booty here. On the contrary, Letters of Marque is subtle, demure even, and—pop tarts, take note—that's the way the actress thinks it should be. "I want to bring pretty sexy back, without being too provocative. I feel like it's all gone too far," Dash explains. The inspiration behind that attitude, not to mention the line's conception, was a vintage bed jacket she bought 15 years ago at Paris 1900, a Santa Monica store famous for its Belle Epoque wares, some of which have been used in films, including Titanic and Legends of the Fall. According to Dash, the jacket is more than 150 years old.
"After I had my daughter [in 2003], I wanted something sexy and comfortable, and I wanted to feel pretty," says Dash, who also has a 17-year-old son and has been married to actor and Seventh Day Surf Company designer Emmanuel Xuereb for a year. (Dash, a gorgeous 42, made for a minor Clueless controversy when she was cast to play a teenager at age 28.) "That [jacket] was the only thing I could put on to achieve that. But it's quite old, and I can't wash it very often. I went looking and couldn't find anything like that. I was so frustrated, I thought, You know what? I'm going to do it myself. And that one piece inspired 26."
Cotton voile and Leavers lace slip
There's a girlish, coquettish quality to Letters of Marque, fragile cotton and silk numbers trimmed with ruffled Chantilly and Leavers lace, in an evocative turn-of-the-century style. And there are buttons: a number of tiny ones at necklines, on bloomers, tracing the side seam of a chemise. "I still have to fight this with my people," Dash says of her button usage. "Everyone said, 'People want to get in and out of [lingerie] easily.' I said, 'No, if your man wants it, he has to work for it.' You need to leave some mystery." At least most of the time—Dash bared all for the August 2006 issue of Playboy.
The designer is hoping that Letters of Marque will develop into something more than a collection of charming intimates. Her vision? "La Perla meets Martha Stewart." She wants to do bedding and "towels, home, fabrics. We're going to do a candle." Dash has even mapped out the interior decor for possible future boutiques: "Whites, creams and crystal quartz chandeliers," she says. "Louis XVI chairs all around." None of which means she's given up on the celluloid life. Since Clueless, and the subsequent two-year stint starring in the television spin-off, she has worked steadily, albeit in low-profile roles, in such films as Gang of Roses (2003) and I Could Never Be Your Woman (2007). Now she just finished shooting Phantom Punch, in which she portrays Geraldine, the wife of heavyweight-champion boxer Sonny Liston, played by Ving Rhames. Also in the pipeline for 2008: the drama American Primitive and the romantic comedy Close Quarters.
If all of this sounds like an über eager game plan, there is precedent elsewhere in her family for working the celebrity-fashion union. Damon Dash, of music-vodka-fashion renown, is her first cousin. But don't think the hip-hop mogul and husband of designer Rachel Roy has lent any guidance on how to navigate the fashion world. "I didn't even tell him about it. He only just now found out," Dash says. "We're so close, like brother and sister. He would have wanted to tell me every single thing to do."
Cotton voile and Leavers lace thong
It's not as if Dash is, pardon the pun, clueless about the ins and outs of fashion. Back in the Eighties, she enrolled at New York's Fashion Institute of Technology before dropping out her freshman year to pursue acting. And her clotheshorse mother instilled a sense of style and love of fashion in her emerald-eyed daughter from the very start. "She wore Chloé, a lot of Nina Ricci, Oscar de la Renta," Dash recalls. "She wore tight leather pants, mesh halters—my mom was hot. And she always took me vintage shopping." You could say the actress has come full circle. Dash remembers one trip in particular to a store named Norah's in Bel-Air. She was 12 and rummaging through the shop's bins. Her final buy: a pair of vintage silk tap pants, which, she notes, "I would wear out with a T-shirt."
Hair and makeup by Kiki Benet for Dermalogica for TraceyMattingly.com; lingerie: John Aquino