New 'Star Wars: The Last Jedi' Trailer Features Carrie Fisher in Her Final Turn as Leia
Plus, lots of Adam Driver looking very intense.
---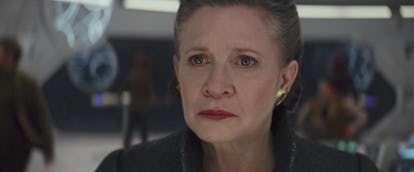 Disney
A full-length trailer for Star Wars: The Last Jedi debuted last night during Monday Night Football, making the film's promo strategy very clear: it is all about Carrie Fisher. In the official trailer, director Rian Johnson provides an extended glimpse at Fisher, who died suddenly last year at the age of 60, in her final turn as Leia—and while the scenes of her are brief, they're striking nonetheless.
In the clip, Fisher does not speak, but instead shows her sharing an intense stare down with Kylo Ren, the breakout villain of the film's predecessor, Star Wars: The Force Awakens, portrayed by the perpetually intense Adam Driver. As we learned in The Force Awakens, the evil Ren is actually Fisher's long lost son with Han Solo, but by the looks of it, this isn't going to be a particularly joyful family reunion. At one point, it seems as though Ren is contemplating blowing up Leia's space station, with her on it. Hey, mother-son relationships are complicated.
Fisher had reportedly finished shooting all of her scenes for The Last Jedi before she tragically passed away, but it's rumored the movie filmed reshoots to explain why her character won't be in the next installment. Of course, the trailer gives very little away, as Star Wars trailers are wont to do.
But here is what we do know for the time being thanks to this new clip: Daisy Ridley's Rey is back, discovering her new powers and learning the force with Luke Skywalker; noted Internet boyfriend Oscar Isaac looking a bit perplexed; a new puffin-like creature hanging out with Chewbacca and giving BB-8 a run for its plush toy royalty numbers; and Driver just generally brooding, in an intense fashion, and sporting a brand new face scar to remind you that, no, he's not Hannah Horvath's boyfriend anymore.
Watch for yourself, below:
Related: Carrie Fisher Remembered: Hollywood Mourns Another Celebrity Gone in 2016
Adam Driver Hates Halloween, But Loves His Dog More than Anything