Track Premiere: Starchild & The New Romantic's "Mood"
He looks like Tupac, sounds like Prince, and performed with Solange and Blood Orange while he was still in college. Meet 23-year-old Bryndon Cook, and hear his new single here.
---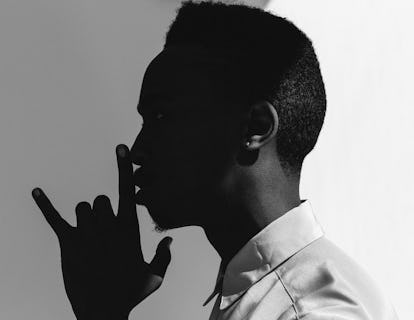 Photo by Siyoung Song. Produced by Biel Parklee.
Bryndon Cook, the musician better known as Starchild & The New Romantic, didn't always plan on a career in music. But while enrolled in the acting conservatory at SUNY Purchase, he began rapping over tracks by Toro Y Moi, Washed Out, Chairlift, and Nite Jewel — "the hot hits of 2010," he said on a recent July afternoon — infusing them with his own sensibility. Since then, he's gone on to record and perform with Dev Hynes, Solange Knowles, and Chairlift (all while still an undergrad!), experiences that offered a masterclass in lending his own voice to another musician's project.
Now, he's bringing his own funk sensibility to the woozy Porches ballad, "Mood," which W is premiering exclusively, here. Where Porches singer Aaron Maine — whom Cook first met when both were students at Purchase — sleepily croons, "I'll just wait around / To hear the good news," Cook's version murmurs, "I know the last time I saw you, you had doubts about whether I was the one for you, and you're the one for me / But now that I see you in this room, alone, I just have one question: Are you in the mood?" With a jittery synth line and thumping, syncopated drum rhythm, it's sensual, seductive, and self-assured. There's a complacency at the core of the original Porches track that lends it its pathos, but Starchild's version is anything but ambivalent.
It's Cook doing what he does best: repurposing and reimagining old patterns and tropes into something wholly his own, and it's why he insists that, rather than a cover, "Mood" is a "rework." He's a person for whom the precision of his words matters immensely — when we spoke, he took long, pensive pauses before answering — and the changes he makes to Maine's lyrics fundamentally alter the direction of the song.
The 23-year old Cook, whose debut album Language is slated to be released next year, grew up in a community infused with singing and performing. He was raised in Prince George's County, Maryland, before moving to Atlanta for several years, and then back to a different D.C. suburb to complete high school. He spent summers and the odd Christmas at his family's home in Mississippi; his mother played piano and his father performed in a marching band, though no one was a professional recording artist.
But his ties to music are more than just familial, he explained. "The community's the black community … It's something that you can see in all communities where there's a history of disenfranchisement, this connection to music that I think everyone kind of understands at some level. Blues and soul and stuff like that — it's just a means of survival and a means of being."
"I'm a surprisingly introverted kid who's dealt with his introverted insecurities by performing a lot," Cook said. Still, it didn't really occur to him that writing and playing music could be a viable career until midway through his time at SUNY Purchase's acting conservatory. He met Maine, as well as Mitski and Gabriel Garzón-Montano (a musician who has toured with Lenny Kravitz and Mayer Hawthorne and been sampled by Drake), and his friends and peers encouraged him to begin recording his own verses, both rapped and sung. (It's worth noting that, with his almond-shaped eyes and careful goatee, he also bears a striking resemblance to a young Tupac Shakur, whom Cook has said he'd like to play in a movie one day.)
It stuck. Soon, Cook met Patrick Wimberly of Chairlift through a fortuitous Twitter encounter, and Wimberly introduced him to Solange in 2013. She was recording an album and needed someone to replace Dev Hynes as her touring guitarist. It all fell into place within a couple weeks: Cook had been practicing Hynes's guitar lines since high school, and he landed the gig. (Cook also rapped on a 2012 Blood Orange track, "Neptune," and he is featured on four tracks on Hynes's latest record Freetown Sound and in his new video, "Augustine.")
"I spent so much time cutting my teeth being a session musician or touring musician for other artists," he explained. "I've learned so much about how to be a part of someone's mission — and also be myself in it."
Starchild & The New Romantic
All the while, Cook was also writing his own material — he began working on his debut EP, Crucial (which was released in March), back in 2010. Much of it was written in his dorm room at Purchase, which is also where the project crystallized into Starchild & The New Romantic. Cook is adamant that Starchild is not an alter-ego, a stage persona, or a discrete entity, but rather a sort of youthful, uninhibited part of his actual personality. It's always been there; he's just given it a name. And as the name might indicate, Cook is given to a certain measure of spirituality — there's a mystical quality to his music that bears out in conversation. While we talked, he referenced dreams and premonitions, and he shares the Starchild moniker with late Parliament-Funkadelic guitarist Garry Shider.
Crucial is full of funk-laden tracks of seduction and romance and has earned Cook countless comparisons to Prince. While he admits that Purple Rain was dominant in his sonic mood board for the record — as well as more recently for "Mood" — he also recognizes it as a code word: a convenient, relatable analogue for a black man with a guitar and a sense of flamboyancy.
But like Prince, Cook hopes to transcend any one context with the forthcoming Language, an album that was inspired in part by an affecting breakup. "It doesn't make any sense to get on a song and hurt this person in front of a lot of people," he said. "But you run it through that channel and you can make those really subjective, specific kinds of things very large and get at a big thing. … The next record is going to be a good canvas to display the concept that musical language, especially rooted to black music, is so wide and huge."